Cabaret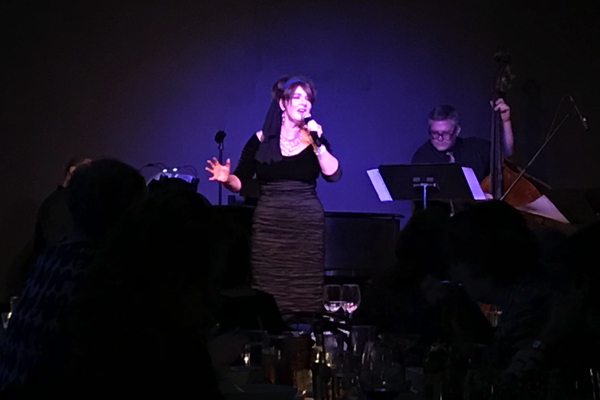 Review: Debby Lennon brings bubbly holiday cheer to the Blue Strawberry
Written by

Chuck Lavazzi
The Blue Strawberry Showroom and Lounge unwrapped an early Christmas present for St. Louis audiences last night (December 5) with a jazz-inflected holiday show by local singer/actress/educator Debby Lennon that definitely made the evening (in Irving Berlin's words) "merry and bright."
"My Favorite Christmas" combined two dozen seasonal songs from the Great American Songbook and Broadway with a sprinkling of traditional favorites to produce a tasty holiday treat that went down quite well with an enthusiastic audience.
Backed up by a combo of Nick Schlueter on piano, Jeremy Pfeffer on bass, and Joe Weber on drums, Ms. Lennon's flawless voice rang out loud and clear, while her ebullient stage persona (which bears a striking resemblance to her ebullient offstage persona) won the audience over from the very first notes of her opening medley of "The Most Wonderful Time of the Year," We Need a Little Christmas" (from "Mame"), and Irving Berlin's "Happy Holiday" (from "Holiday Inn," where it's actually performed on New Year's Eve).
When she enthusiastically told us a bit later that "Christmas songs make me high," she was just confirming what was surely obvious to everyone: that she was having a great time up there and wanted all of us to be a part of it. You could see that in her happy interactions with the band and in the polished assurance with which she delivered each number, be it comic novelties like "Never Fall in Love (With an Elf)" (a hilarious song from a forgettable musical) or the sentimental 1970 Carpenters classic "Merry Christmas, Darling," dedicated to her husband.
Debby Lennon at the Blue Strawberry
Stringing this all together were personal reflections on Ms. Lennon's own Ghosts of Christmases Past that went deep enough to provide context without ever descending into the "this is my life" school of cabaret that erroneously assumes everyone else finds the intimate details of your biography as interesting as you do.
So, for example, her comments about past dating failures were just detailed enough to provide background for the "Elf" song without slopping over into "too much information" territory, and her thoughts about spending the holidays without loved ones who have moved on to the Grey Havens told us just enough to set up the medley of what she called "sad Christmas ballads": "I'll Be Home for Christmas" and "Have Yourself a Merry Little Christmas."
True to the show's jazz roots, the band was featured prominently. That included a purely instrumental medley of "O Christmas Tree" and "God Rest Ye Merry, Gentlemen" during which Ms. Lennon retired to the sidelines and turned the stage over to them. The medley gave all three band members a chance to show off, with some smokin' solos, especially from Mr. Schlueter and Mr. Pfeffer, who also did the arrangements for the show. Not every performer is that generous with her time.
At just under 90 minutes, "My Favorite Christmas" was perhaps a bit on the long side, but there were so many entertaining moments that it hardly mattered. Some of my favorites included her take on the manic version of "Jingle Bells" Jack Gold and Marty Paich created for Barbara Streisand's 1967 "A Christmas Album" and her smoldering "Santa Baby," as well as a "White Christmas" that sounded a bit more provocative than Mr. Berlin might have had in mind.
Debby Lennon now moves on to her next theatrical project, Max and Louie Productions' local premiere of Joanna Murray-Smith's one-woman play "Songs for Nobodies" in January 2020. Meanwhile entertainment, seasonal and otherwise, continues at The Blue Strawberry pretty much every weekend; check out their calendar for details. St. Louis's newest cabaret space boasts clean sightlines, excellent sound, and a small but very well balanced food and drink menu. It's a welcome addition to the local scene, to say the least.
Related Articles