Cabaret
Cabaret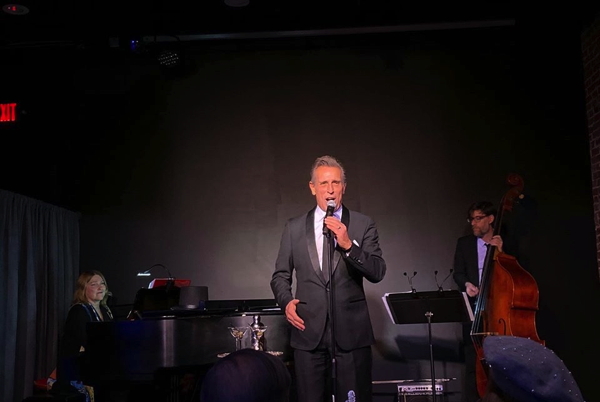 Review: David Giuntoli delivers swinging season's greetings at the Blue Strawberry
By Chuck Lavazzi
"A Swinging Holiday Soiree," David Giuntoli's show at the Blue Strawberry this Thursday (December 19th), was exactly that: a genial gambol through a mix of holiday classics and Great American Songbook standards in a style reminiscent (but not imitative) of Frank, Deano, and Sammy.
Nice to see some truth in advertising now and then.
David Giuntoli
Photo courtesy of The Blue Strawberry
Speaking of which, here's a disclaimer: Mr. Giuntoli and I both serve on the board of The Cabaret Project STL, a non-profit dedicated to promoting, developing, and sustaining the art of cabaret locally. He has also been a regular at the monthly open mic I host for the Cabaret Project. So we're not what you would call strangers.
The evening was, in any case, a clear hit with the audience. Mr. Giuntoli's amiable stage presence and obvious love for his material were hard to resist, and he was backed up by a pair of well-known local musicians: Ben Wheeler on stand-up bass and Carol Schmidt on piano. Both had some nifty solo moments, most notably in Sammy Cahn and Stan Applebaum's rarely heard "The Goin's Great," from Sammy Davis Jr.'s 1969 LP of the same name.
Ms. Schmidt, who has served as music director for a number of local performers (including yours truly) also provided the well-crafted arrangements, which were an excellent fit for Mr. Giuntoli's rough-hewn bass-baritone. She also put together some ingenious medleys, the most impressive of which combined Ted Shapiro's "(I Love the) Winter Weather" (originally recorded, in separate releases, by Peggy Lee and "Fats" Waller in 1941) with a pair of 1930s Irving Berlin's hits: "I've Got My Love to Keep Me Warm" and "Top Hat, White Tie and Tails." There was even a quick quote from Berlin's "Blue Skies," which was a nice touch.
Carol Schmidt
Mr. Giuntoli delivered it all in a smooth, carefree style that conjured up images of intimate, smoky Las Vegas lounges, dry martinis, and maybe a lightly draped "showgirl" or two. For me, though, some of his best moments came in the small number of ballads that punctuated the program. His medley of Sammy Cahn and James Van Husen's "All My Tomorrows" and "All the Way" (both Sinatra standards) was especially touching and made good use of his mellow lower register.
So, yeah, although not every aspect of "A Swinging' Holiday Soiree" necessarily worked for me, it was nevertheless exactly what it promised to be, leaving the audience with a seasonal glow and a number of plastic leis that Mr. Giuntoli handed out during his performance of Robert Alex Anderson's "Mele Kalikimaka." A friend of mine looked at hers and quipped, "Now I know it's Christmas; I just got lei'd."
(Rim shot)
Shows continue well into the New Year at The Blue Strawberry, St. Louis's only dedicated bar/restaurant/cabaret showroom. Check their web site at bluestrawberrystl.com for details.
Related Articles