Cabaret
Cabaret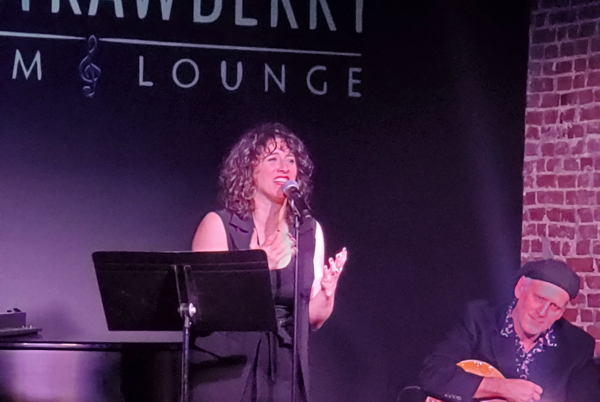 Review: Sara Sheperd uses her powerful voice to showcase female songwriters at the Blue Strawberry
By Chuck Lavazzi
"Don't sing a song an icon has made famous." Someone once gave Sara Sheperd this advice and the capacity crowd at the Blue Strawberry last Saturday night (January 25th) was very happy she didn't adhere to it.
The Toledo-born New York actress used her powerful belt in "Female on Fire, a Celebration of Female Singer/Songwriters," to showcase some of music's best female composers and lyricists. Literally, this whole show was made up of songs made famous by such icons as Carole King, Patsy Cline, Joni Mitchell, Eva Cassidy, Melissa Manchester, Nina Simone, Grace Slick, Dolly Parton, Barbra Streisand and icon-in-the-making Sara Bareilles.
Ms. Sheperd most recently appeared in the Broadway production of "Beautiful, the Carole King Musical," so songs from the musical were featured prominently. She has also been seen locally at the Muny in various productions. She was accompanied by her father, Scott Sheperd, on piano and Dave Black on guitar.
The show opened strongly with King's "Beautiful", then Cline's "Walking After Midnight" and Mitchell's "The River". Ms. Sheperd showed nice range and control with Eva Cassidy's arrangement of "I'm in Heaven." I share her appreciation of Ms. Cassidy, who, Sheperd rightly pointed out, "could sing anything." Next came "Beautiful" tunes "Natural Woman," written by King and her husband, Gerry Goffin, who Sheperd felt could "tap into the female psyche," and Barry Mann and Cynthia Weil's "He's Sure the Boy I Love." Sheperd's father took a proud dad moment to tell a story about seeing his daughter play Carole King on Broadway. It was very cute!
Ms. Sheperd then sang one of my personal favorites, "Come in From the Rain" by Melissa Manchester. She also resembles the 80's Manchester with her curly brown locks.
Van Morrison's "Moondance" was the tightest song musically and Dad Scott's piano solo was incredible! "It doesn't really fit the theme, we just wanted to do it," said Sheperd. Although they were all talented musicians in their own right, the show seemed a bit hastily constructed and under rehearsed. Ms. Sheperd seemed surprised several times when she looked to the piano for a solo and the guitar strummed in or vice versa.
The show was, in fact, more of a concert showcasing Ms. Sheperd's strong musical voice than an intimate cabaret until she sang Nina Simone's "You Can Have Him," where she seemed to have a real connection with the material. Dave Black's psychedelic guitar intro for Jefferson Airplane's "White Rabbit" really transported us back to the 60's. Ms. Sheperd lost her way in the lyrics for one verse but the audience, who was singing along, was happy to help her out. It is nice to know, as a performer myself, that even Broadway people sometimes forget their lyrics.
Ms. Sheperd has a powerful musical theatre voice, no doubt cultivated by her time at the Cincinnati Conservatory of Music, and she featured those chops with show tunes such as "She Used to Be Mine" (from Bareille's "Waitress"), "Gimme, Gimme" ("Thoroughly Modern Millie"), Dolly Parton's "9 to 5", and "My Man", featured in the movie "Funny Girl" (but not the Broadway original) and also recorded by the great diva Billie Holiday. Ms. Sheperd played Fanny Brice in "Funny Girl" Chicago and was sad she never got to sing "My Man" in the stage version.
She closed the show by inviting the audience to sing along to two of King's Tapestry hits, "You've Got a Friend" and "I Feel the Earth Move," which received a standing ovation. She rewarded the audience with her encore of "Don't Rain on My Parade," again from "Funny Girl." A fine evening was had by all and as my guest stated, "She puts on a good little show."
For information on shows at The Blue Strawberry, St. Louis's only dedicated bar/restaurant/cabaret showroom, the place to surf is bluestrawberrystl.com.
Related Articles