Cabaret
Cabaret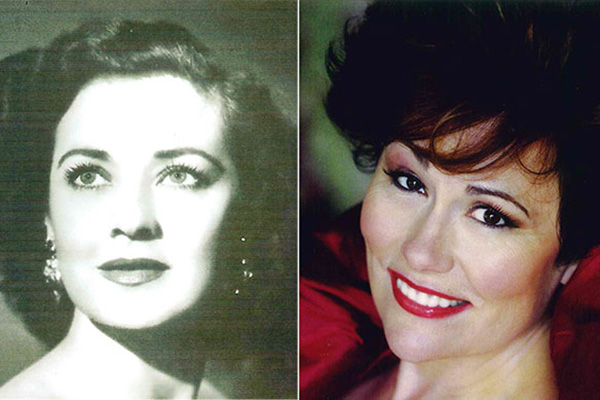 Review: A sweet time with Valerie Lemon at the Blue Strawberry
By Ronnie Wisdom
Established Cabaret singer Valerie Lemon recently took the stage at the Blue Strawberry in the Central West End for "The Jane Froman Songbook: With A Song in My Heart," an hour of the music of the late Jane Froman. Ms. Lemon, dressed elegantly in a navy blue ball gown and opera gloves, knew how to work a room and brought the audience gently into her performance.
Accompanied by Musical Director Phil Hall (who joined in on a couple of numbers), Ms. Lemon not only sang, but provided quite a bit of biographical insight about Ms. Froman, whose most popular period as a singer spanned the 1930s through the 50s. It appears that highlighting such an artist at the Strawberry was just made for St. Louis, given that Ms. Froman was born in University City, and spent much of her life not far away in Columbia, Missouri.
Although I'd never before heard the name Jane Froman, I am familiar with many of the songs she was associated with, and with which Ms. Lemon didn't disappoint. Although many of Jane's "hits" I was hearing from Ms. Lemon for the first time, I was more than familiar with such standards as "Somebody Loves Me" and "Summertime" by George Gershwin, "Blue Moon" by Richard Rogers, and "Get Happy" by Harold Arlen. For several of the Gershwin numbers, Ms. Lemon left the stage, wandering in and around the appreciative audience.
Also familiar to me was a section of America-associated (states and cities) standards that Ms. Lemon explained had made Jane a hit at performances for the troops of WWII. These included, among others, "America," "Chicago (That Toddling' Town)," "Deep in the Heart of Texas," "California Here I Come," and (most appropriately!), "Meet Me in St. Louis." Audience participation was encouraged, and forthcoming, for these popular songs.
Through almost three dozen numbers, an supportive audience was enjoying a sweet time with Valerie Lemon at the Blue Strawberry.
For future musical performances at the Blue Strawberry, check out their schedule at https://www.bluestrawberrystl.com/.