Cabaret
Cabaret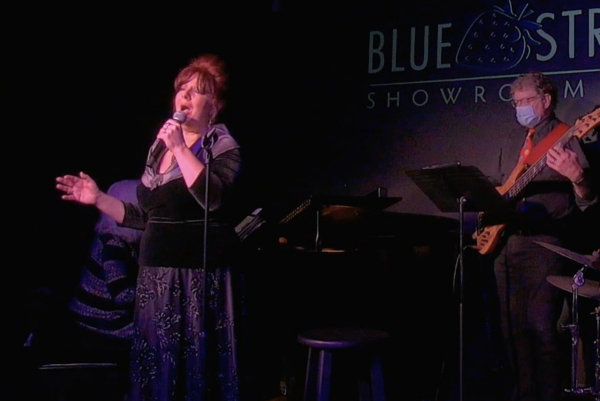 Cabaret review: Christmas and all that jazz with Debby Lennon and the Carolbeth True Trio
By Chuck Lavazzi
Last December local singer/actress/educator Debby Lennon brought a delightful jazz-inflected holiday show to the Blue Strawberry. The revised version she performed at Jim Dolan's Central West End club on December 12th featured less of her and more of local jazz legend Carolbeth True's band, but it was still the same "tasty holiday treat" I enjoyed so much last year.
"I'll Be Home for Christmas (due to COVID-19 Restrictions)" was performed live and via streaming video, which is how I saw it. Unfortunately, technical issues at the club cut off the first four songs of Ms. Lennon's opening five-song set, so this review is based on what transpired after that. In any case, the show was, once again, an excellent showcase for Ms. Lennon's flawless, clear vocals and for her on-stage persona, which was as effervescent as a glass of seasonal Champagne. She had clearly won the audience over early in the show and from there on it was smooth sailing.
Debby Lennon
With a heavy emphasis on Great American Songbook tunes, her set list was much the same as last year's, and it was delivered, once again, with a mix of vocal excellence and compelling sincerity.
Her "Have Yourself a Merry Little Christmas" was a touching elegy for her late mother, and "all the people we miss tonight" gave the lyric's wish that "someday soon we all will be together" added poignancy. A cheerful dash through the witty lyrical underbrush of  Irving Taylor, Dudley Brooks, and Hal Stanley's "(Everybody's Waitin' for) the Man With the Bag" (first charted by Kay Starr back in 1950) was more fun than a barrel of elves, as was her take on the manic version of "Jingle Bells" Jack Gold and Marty Paich created for Barbara Streisand's 1967 "A Christmas Album." And her "Santa Baby" was nicely lubricious but with more of a sense of swing than Eartha Kitt's legendary 1953 original. Credit Ms. True for that, along with the tight contemporary jazz sound of the whole evening.
In fact, the evening was as much a showcase for pianist/arranger Carolbeth True and her band as it was for Ms. Lennon. They had two great solo sets, the first of which combined an upbeat and bluesy take on "God Rest Ye Merry, Gentlemen" with a Latin-flavored version of "It Came Upon a Midnight Clear." That level of innovation and creativity could be heard in their longer second set of seasonal tunes towards the end of the evening, which included stylish solos by Glenn Smith on bass and David True on percussion in a celebratory "Feliz Navidad."
Their work got an enthusiastic reception from both the audience and Ms. Lennon when she took the stage afterwards. "That was fabulous," she declared joyfully. "I hope it feels as good out there as it does to be up here with these marvelous musicians." Judging by the applause, I'd say that was a safe bet.
The Debby Lennon/Carolbeth True Christmas show took place at Jim Dolan's Blue Strawberry Showroom and Lounge, where a mix of jazz, pop, and soul acts continue into the new year. The club is operating under a "COVID careful" arrangement with restricted indoor capacity and other precautions. Many of the shows are also available via live streaming video. Check the web site for details.
Related Articles