Cabaret
Cabaret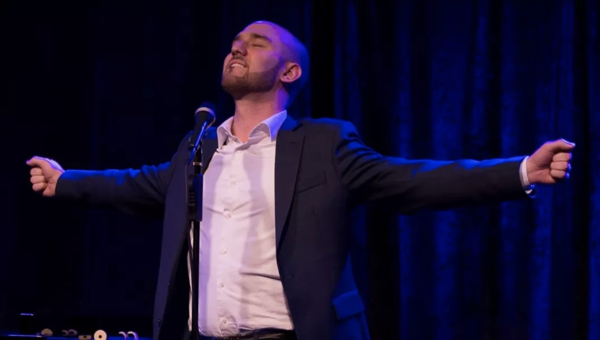 Review: Ari Axelrod celebrates Jewish Broadway at the JCC
By Chuck Lavazzi
New Jewish Theatre recently kicked off its 24th season as it presented two nights of a one-man concert by Ari Axelrod. It was sort of like the end of a long "intermission" as the first night's performance was the first in the Center's black box theatre since lockdown in the spring of 2020. Mazel tov!
Axelrod's contribution to the theatre's rebirth was a "Celebration of Jewish Broadway." Starting cold he gave the large, masked, audience a rendition of "Tonight" from "West Side Story." From the start, Axelrod demonstrated that his style of singing is unlike anyone else's. His gestures and pauses and emphasis on certain words and phrases were unlike any other renditions of his numerous songs that I've heard. He truly makes each song his own. Accompanied by a lone piano, played expertly by Carrie Smith, each song was a delight.
When first addressing the audience he very mistakenly told us that his spoken words would be few. I say mistakenly, as he proceeded throughout the next 90 minutes to give us a LOT of spoken words between songs that were entertaining, as well as informative. He spoke much about his dog, his own theatrical background, and his matriculation at St. Louis' Webster University, and also provided a fairly thorough grounding of history on the origins of nearly all Broadway musicals, then and now courtesy of Jewish composers, lyricists, and songwriters. Among them Irving Berlin, Richard Rodgers, Oscar Hammerstein II, Lorenz Hart, Jerry Herman, Leonard Bernstein, Steven Sondheim, George and Ira Gershwin, Steven Schwartz, Jason Robert Brown… the list goes on. He even gave us "Will You Love Me Tomorrow," by Carol "Klein" (King). Despite not being Jewish, even Cole Porter, he said, only became a successful composer and lyricist after he started writing "Jewish."
Breaking up his words were many songs, including "Miracle of Miracles" from "Fiddler on the Roof"; "So In Love" from "Kiss Me Kate"; "Some Enchanted Evening" from "South Pacific"; "Another Hundred People" from "Company"; and "Corner of the Sky" from "Pippin". Axelrod even played the conga to "Cool" from West Side Story.
In all, a satisfying night in the dark, surrounded by like-minded people, watching a performer giving their all for the mutual enjoyment of watchers and watched. Sounds like something I hope we can keep doing.
Related Articles