Cabaret
Cabaret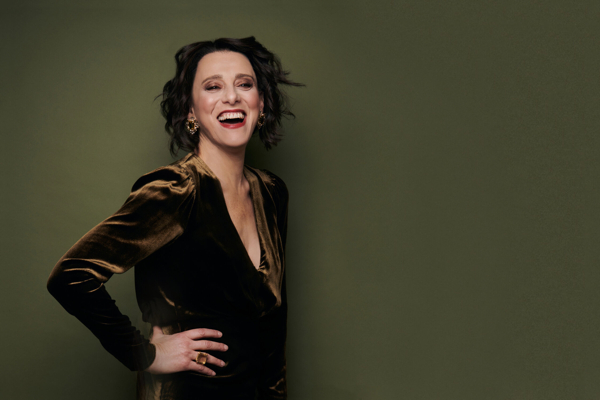 Review: A heavenly Judy Kuhn made us all fall in love!
By Chuck Lavazzi
It was shoulder to shoulder Saturday night at the Blue Strawberry when Judy Kuhn and her music director (and St. Louis native) John McDaniel took the stage. Without any preamble, Ms. Kuhn started in on Carole King's "Beautiful" and it did the trick. We did, indeed, feel beautiful from that moment on. A multiple Tony, Olivier and Grammy Award nominee, Judy is adept at making every song a story and making every story take you on a glorious ride with her.
The audience was a wonderful mixture of Pocahontas fans and Broadway geeks. She delighted everyone. Her backstage stories made us feel right at home with her as if we an old friend. The tale of her last evening with Stephen Sondheim was deeply touching and she gave beautiful tributes to him with renditions of "Marry Me A Little" ("Company"), "We're Gonna Be All Right" ("Do I Hear A Waltz"), "Dear Friend" ("She Loves Me"), and her glorious finale encore "Anyone Can Whistle."
Through lesser known Broadway tunes "Blame It On The Summer Night" ("Rags"), "Days and Days" ("Fun Home") and "Someone Else's Story" ("Chess") and more familiar ones "Hello Young Lovers" ("King and I") and "Dividing Day" ("Light in the Piazza") Judy gave us a treasure trove of musical theatre stories. Her flawless voice is matched by her acting which goes into every song.
She gave us more perfection with standards "I Love The Way You're Breaking My Heart," "The Best Is Yet To Come," and "I Don't Want To Walk Without You." Near the end of the evening she satisfied her "Pocahontas" fans with "Colors Of The Wind" which was stunning. Needless to say the crowd jumped to their feet a few times in gratitude for her voice, talent, and for making us all feel beautiful.
The Blue Strawberry Showroom and Lounge is at 356 N. Boyle in the Central West End. Information on upcoming shows is available at the Blue Strawberry web site
Related Articles