Cabaret
Cabaret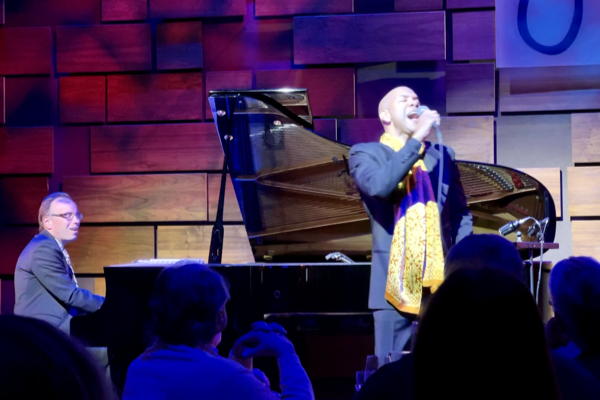 Review: De Haas does Strayhorn proud
By Chuck Lavazzi
Singer/Broadway actor Darius de Haas was known to me only as the singing voice of Sly Baldwin on the television show, "The Marvelous Mrs. Maisel".  But only minutes into his show "Daydream," presented by The Cabaret Project at Jazz St. Louis on Wednesday and Thursday night (April 26 and 27), I realized he was so much more - an amazing jazz singer with a strong, mellow voice reminiscent of Nat King Cole - and a jazz singer on a personal mission.
What mission?  To elevate one of the under-recognized great songwriters of the 20th Century, Billy Strayhorn.  As de Haas explained, Strayhorn was so closely associated with Duke Ellington that some of the credit that rightfully should have been given to Strayhorn has been awarded to Ellington.  In this show, de Haas sought to illuminate Strayhorn's genius as a composer.
And oh, the songs!  The show started with the one-two punch of two of Strayhorn's best-known compositions, "Take The 'A' Train" and "Satin Doll".  De Haas' impeccable phrasing lifted both songs out of the familiar and let the audience explore every word, hearing them as if new.  He sang with heartfelt emotion, turning an early composition, "Your Love Has Faded", into a polished gem about the agony of a broken romance.
De Haas revealed Strayhorn as a painter of pictures, literally, in medley of "Multicolored Blue" (aka "Blue Rose") and "A Flower is a Lovesome Thing". The later song, a beautiful ballad, moved me to tears. De Haas was in full command of the stage, softly singing as if he was confessing his deepening sadness to an intimate friend.
Among the dozen tunes that he performed in the show were the standard "Lush Life" and the hauntingly moving "Something To Live For" (both with amazing scat credenza).   De Haas prefaced "Blood Count", Strayhorn's final composition, by explaining the tune was written to the beat of an I.V. drip … and that later Elvis Costello wrote lyrics for the song.
De Haas' vocal range was extraordinary. "Daydream", the song which provided the title to this program, even included some wonderful falsetto singing. Never gimmicky, he used his talent in service of the songs, exploring each with appropriate improvisations without diminishing the oft-melancholy stories they contained.
The show ended with "I'm Checking Out - Goombye" (once recorded by Rosemary Clooney), which gave a smooth, upbeat end to the night.
Twelve incredible songs composed by an under-appreciated Billy Strayhorn.  One fantastic piano accompanist, Tedd Firth.  And one masterful singer/performer, Darius de Haas.  All in all, another thoroughly enjoyable evening from The Cabaret Project and Jazz St. Louis.
Related Articles