Cabaret
Cabaret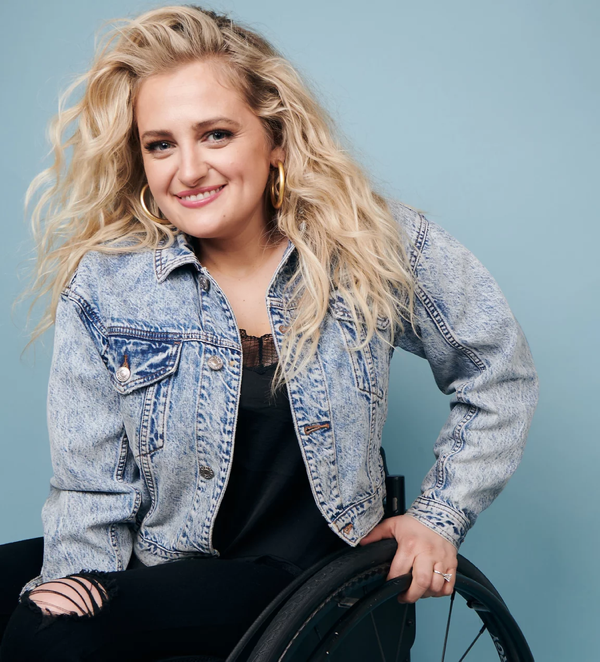 Review: An overwhelmingly joyous evening with Ali Stroker
By Chuck Lavazzi
Tony-Award-winning actress Ali Stroker brought her high-voltage, beautiful, mezzo-soprano voice to The Cabaret Project at Jazz St. Louis on Wednesday and Thursday night (May 17 and 18).
Stroker is oft-cited as the first wheelchair-user to star in a Broadway show. She is also the first to be nominated for, and to win, a Tony Award - for her performance as Ado Annie in "Oklahoma!".
In the intimate cabaret setting at Jazz St. Louis Stoker offered exuberant renditions of a dozen show tunes, interspersed with candid stories of her journey to stardom.
An explosive start to the evening was her anthem-like rendition of "(You Make Me Feel Like) A Natural Woman", originally a hit for Aretha Franklin in 1967, sung as a bold, provocative statement to anyone who might be fixated on her wheelchair instead of the beautiful blonde woman in the gorgeous, silvery gown.
She then shared the story of how at two years old a car crash (which she has no actual memory of) left her paralyzed from the waist down. To her, the wheelchair has always been part of normal life - and she didn't understand why people stared at her.
However, when Stroker was nine, she and friends put on a production of "Annie" in her backyard.  As she sang and acted, "the world stopped staring" - and she was hooked on performing!  As if to prove her point, Stroker wistfully serenaded the rapt adult audience at Jazz St. Louis with "Maybe Far Away" from "Annie".
Stroker next performed "Somewhere That's Green" from "Little Shop of Horrors".  With her crystal-pure voice, she perfectly captured the melancholy aspects of the ballad, in which the singer's greatest dream is a "normal life" - simply a little home, with dishes, a husband, a child and a green yard to take care of. Stroker allowed both the humor and the wistful nature of the song to come through.
Stroker followed with her Ado Annie show-stopper, "I Cain't Say No", from "Oklahoma!".  Her rendition was lively, funny, and (of course) perfectly sung. She admitted that the Tony Award completely changed her life - people in the business had been nervous and afraid to cast her - "a lack of trust" she said - but the Tony was a "stamp of approval." Stroker then sang the lovely "What I Did For Love" from "A Chorus Line". With a masterful range of dynamics and control, the song sounded as fresh as the first time I saw "A Chorus Line" back in the summer of 1975.
As the applause faded Stroker matter-of-factly announced: "I was cast as Cosette in high school but I really wanted Éponine" and launched into another incredible Broadway classic, "On My Own" from "Les Misérables". My eyes grew damp for a second straight time as she brought the great unrequited love song to life.  
The show then seemed to enter a second, more relaxed phase.  First, she introduced her marvelous piano accompanist and music director, Patrick Thompson, who was making his performing debut with her.
She then discussed how she had become a fan of country music while appearing in "Oklahoma!", and offered solid renditions of The Chicks' "Cowboy Take Me Away" and a Dolly Parton medley ("Jolene">"Here You Come Again">"9 To 5").  She also performed a quiet arrangement of The Beatles' "Blackbird".
Stroker mixed in tidbits from her personal life: her college years, her marriage to David Perlow, becoming a mother, and becoming an "advocate" for equal opportunity and against bullying.  She fights fear as an advocate, and has discovered that "joy melts fear" - so she shows up with joy.  As she explained this philosophy and offered examples of potential obstacles she had faced down, I found myself admiring Ali Stroker not just for her artistic skills but as a human rights advocate.
Stroker softened the mood when she confessed she initially worried about becoming mother, specifically, how she would take Jessie, her baby, out for walks … before she realized "I am a stroller". She also revealed that she created "Jessie's song list" to sing the baby to sleep.  Stroker sang us a short partial medley: "This Little Light Of Mine">"The 59th Street Bridge Song (Feelin' Groovy)">"Both Sides Now".
To end her show, Stroker returned to the Broadway catalog for "Be A Lion" from "The Wiz" - a song she called "my anthem song when I need courage and strength".  That anthem obviously works well, and when combined with her own incredible vocal talents, holds a promise of further great personal and professional accomplishments.  After seeing her cabaret show I suspect she will one day be an EGOT - that is, winner of an Emmy, Grammy, Oscar, and Tony - a rarified achievement indeed!
The show was presented by The Cabaret Project of St. Louis as part of their Cabaret Series co-presented with and at Jazz St. Louis.
Related Articles