Cabaret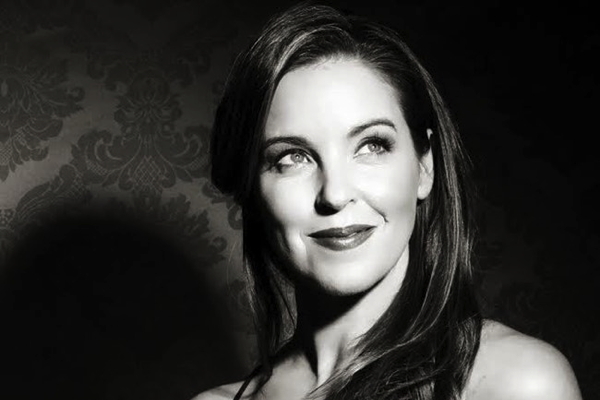 Meghan Kirk is perfectly out of her head at The Stage at KDHX
Assembling a cabaret show is a risky undertaking. More than one nationally renowned artist has discovered that the hard way, producing shows that had me glancing at my watch and wondering when I could order another drink.
At no time during Out of My Head, the latest undertaking from St. Louis' own Meghan Kirk, did I even think of glancing at my Fitbit. In fact, I have no idea how long the show actually was; I was too busy enjoying it. It was all I could do to remember to jot down a note now and then. If there is such a thing as a perfect, Platonic Ideal of a cabaret evening, it would surely look a lot like this.
When I first reviewed Ms. Kirk's work at the Gaslight Cabaret Festival back in 2015, I called her a tremendously talented and charismatic performer. It's an assessment I can only repeat now. She remains a classic singing actress with solid vocal technique and the acting chops necessary to inhabit a lyric. 
In fact, a sure sense of the theatrical informed every aspect of this show. Ms. Kirk and pianist/music director Ron McGowan put together a smart, well-paced evening with an impeccably balanced collection of Great American Songbook standards, numbers from both classic and contemporary musical theatre, and pop tunes from Billy Joel and The Carpenters. It was also great to hear the work of contemporary songwriting teams like Goldrich and Heisler and Kooman and Diamond, who craft brilliantly narrative songs that are like little one-act plays.
Ms. Kirk's day career is flight attendant on private jets, and so the show began with the a slow, seductive take on the familiar "Fly Me to the Moon" (complete with the rarely heard verse), followed by "The Jet Set," a clever "list song" from Marc Shaiman and Scott Wittman's stage treatment of the film Catch Me If You Can. The theme of flight returned at the end as the show wrapped up with an upbeat encore of "Come Fly With Me," immediately following a touching performance of the title song.
Tales of travel informed many of the song choices. A reflection on Bangkok's reputation as a "sex tourism" destination, for example, led to haunting version of Cole Porter's "Love for Sale" (including a dark verse I had never heard before). A vignette about a romantic misadventure in Ireland introduced Paddy Reilly's "The Fields of Athenry" (inspired by that awful event known to the Irish as "The Hunger") which then served as a segue into "Another Suitcase in Another Hall" from Evita, with backup vocals from local musical theatre luminary Ben Nordstrom.
Mr. Nordstrom got a brief solo set of his own at that point, consisting of a passionate performance of the title number from David Bryan's Memphis, followed by a perfectly hilarious rendition of Kooman and Diamond's absurdist stalker song "To Excess."  The set was just long enough to offer a nice contrast and just short enough to keep the focus of the evening on Ms. Kirk. It was, once again, a perfect choice.
Like many cabaret artists, Ms. Kirk used memories of her life, family, and unfortunate romantic choices to unify and organize the show. That "this is my life" approach can be risky--your audience might not find your personal story as interesting as you do, after all. But Ms. Kirk kept the anecdotes short, entertaining, and focused on the task of providing context for the songs, so her patter never degenerated into the kind of self-referential navel gazing that sometimes accompanies the approach.
So, yeah, perfect once again.
Ms. Kirk's band was perfection as well, with arrangements by Mr. McGowan that were ideally suited to her voice and great work from Ben Wheeler on bass and Aaron Brown on guitar. The balance between vocalists and instrumentalists was excellent, a tribute both to the performers and to the designers of The Stage. Located on the first floor here at KDHX, it has become one of our town's better music spaces. 
If you want to know what else Meghan Kirk is up to these days, your best bet is probably to view her Facebook page. Upcoming events at The Stage can be found at the venue's Ticketfly site.
Related Articles