Cabaret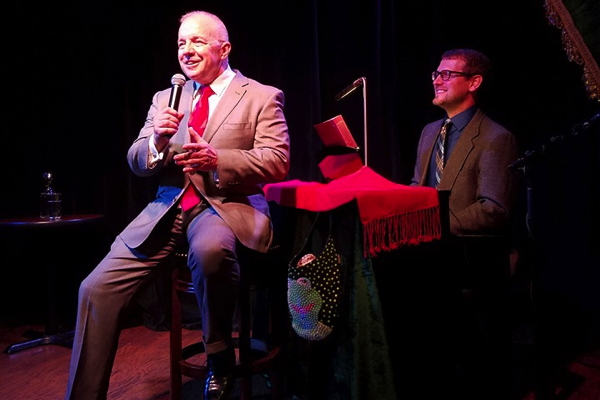 At the Gaslight Cabaret Festival, Dr. Ken Haller has the cure for all your holiday blues
The doctor is in, and he's got the cure for your holiday blues. All of them. 
Happy Haller Days!, the latest show from singer/actor/pediatrician Ken Haller, is a romp through a full calendar year of three-day weekends, starting with Christmas and working around the calendar. Peppered with insights from Mr. Haller's life in medicine and theatre, the evening is fun and funny, but also touching and profound. 
The song choices are varied and sometimes even inspired. Memories of the hard life of Mr. Haller's Swedish grandmother, for example, introduce an Independence Day segment that features a low-key version of Neil Diamond's "America." For Labor Day, reflections on his days as a resident physician on Manhattan's posh Upper West Side lead to Harburg and Lane's rarely heard "When the Idle Poor Become the Idle Rich" from Finian's Rainbow. 
Perhaps the most emotional moment, though, comes with the return to Christmas, as Mr. Haller's thoughts on his decade as a pediatrician in poverty-stricken inner city East St. Louis, make way for an inspiring arrangement of "Light," from Next to Normal. Based on an arrangement for the Gateway Men's Chorus by the late Neal Richardson, it blends the voices of Mr. Haller and his pianist and music director Marty Fox in tight and powerful harmony. The song's hope that the light will make "wasted world we thought we knew...look brand new" feels particularly relevant in the context of today's bleak political landscape.
Balancing out the drama are some true comic gems, like "I Want a Hippopotamus for Christmas," which the ten-year-old Gayla Peevey took to number 24 on the Billboard charts in 1963. Mr. Haller does an impressive job of channeling his own inner child in his charming performance. Perhaps the biggest laughs of the evening, though, came from the Valentine's Day entry, Marilyn Miller and Cheryl Hardwick's "Making Love Alone," a hymn of praise in beguine tempo to (ahem) taking matters into one's own hands. Bernadette Peters brought the house down with it on The Tonight Show in 1989. The Haller and Fox team got even more mileage out of it by taking it just a bit slower, giving the audience room to laugh at the song's many jokes.
As I have written previously, Mr. Haller never fails to deliver a combination of theatrical smarts and vocal authority that has made him one of our town's principal cabaret exports. He and Mr. Fox also have a great rapport on stage, something that was obvious in their last effort, The Medicine Show. Expert direction by Gaslight Cabaret Festival producer Jim Dolan kept everything moving at a good pace and helped insure the sense of a dramatic arc that, in my view, is a major characteristic of a well-designed cabaret performance. The capacity crowd at the Gaslight Theater clearly loved what they saw.
That said, I have to note that while it may be true that, as the old wheeze goes, an elephant never forgets, there's no escaping the fact that people do. On opening night, Mr. Haller occasionally got lost in a couple of lyric-heavy numbers, which suggests to me that there might be too many of those in the show. That's a very minor complaint, though, which is why it's at the very end of this review.
Ken Haller and Marty Fox will reprise Happy Haller Days! at 8 p.m. on Thursday, November 9, at the Gaslight Theater in the Central West End, as part of the Gaslight Cabaret Festival. It's a tremendously entertaining evening from one of our best and most prolific cabaret stars; go and enjoy.
Related Articles