Classical
Classical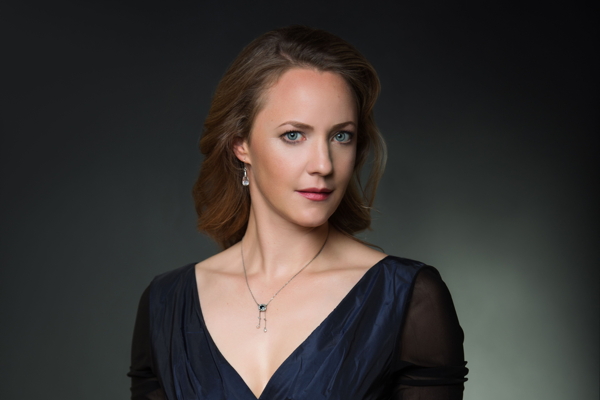 Symphony Preview: Lydia the classical lady
By Chuck Lavazzi
"The most glorious creature under the sun / Thaïs, Garbo, DuBarry all rolled into one." That's how Groucho Marx describes "Lydia the Tattooed Lady" in the otherwise forgettable film "At the Circus."
A very different (and non-fictional) Lydia--soprano Lydia Teuscher--will be the featured soloist this weekend (Friday and Saturday, March 16 and 17, 2018) singing a collection of Mozart arias with guest conductor Bernard Labadie the St. Louis Symphony Orchestra. And while nobody, as far as I know, has described compared her to those illustrious women, she has certainly come in for her fair share of praise around the world.
Born in Freiburg, Germany, in 1975, Lydia Teuscher studied at (among others) the Welsh College of Music and Drama and at the Hochschule für Musik in Mannheim. She has sung Haydn, Telemann, and Bach (including the "St. John Passion" with Mr. Labadie and the Academy of Ancient Music), but has also performed Mahler's song cycle "Des Knaben Wunderhorn" ("Youth's Magic Horn") under the baton of another name which will be familiar to SLSO regulars from her 2016 appearance here: Nathalie Stutzmann.
Most importantly for this weekend, though, is the fact that she has substantial experience with Mozart's operas. She has has sung Pamina in "Die Zauberflöte" ("The Magic Flute"), Susanna "Le nozze di Figaro" ("The Marriage of Figaro"), and Zerlina "Don Giovanni," all with multiple opera companies. Other operatic credits include the title role in Massenet's "Manon" and Gretel and "Hansel and Gretel."
She has been popular with the critics. Niels Swinkels at San Francisco Classical Voice, for example, called her "fantastic" in a 2015 notice. "Teuscher's voice," he wrote, "is simultaneously agile and lyrical; she sensitively but very precisely shifts from one mood to another." The following year, Lawrence Budmen at South Florida Classical review praised "the richness of Teuscher's vocalism and depth of emotion" in a concert appearance with Mr. Labadie. And reviewing her Susannah in "The Marriage of Figaro" with the Glyndebourne Festival at the London Proms, Huntley Dent at The Berkshire Review wrote that "she sang with remarkable purity and beauty of tone. Teuscher could make it big, I think."
Ms. Teuscher will be singing a mix of opera selections and concert arias (songs designed as stand-alone pieces) by Mozart. The earliest of them, "L'amerò, sarò costante" from "Il re pastore" ("The Shepherd King"), was written when the composer was just 19, while the latest, "S'altro che lagrime" from "La clemenza di Tito," comes from the final year of his life, so they effectively cover nearly all of his serious composing career. Since you can find excellent descriptions of them in Benjamin Pesetsky's progam notes, I won't go into details here. They're a good mix of lyrical and dramatic elements, and should be a nice showcase for Ms. Teuscher's abilities.
It won't be an all-Mozart concert, though. The program will open with a St. Louis premiere: the "Symphony in C minor," Op. 12, No. 4 by Mozart's older contemporary, Henri-Joseph Rigel. Born in Germany in 1741 (15 years before Mozart), Rigel spent most of his working life in Paris, where he composed extensively for the Concert Spirituel, one of the first public concert series in history. He had a respectable career and wrote 14 operas, along with harpsichord works, string quartets, concertos and symphonies, but these days he's not much more than a historical footnote.
The "Symphony in C minor" is a lively way to start the evening, in any case, with a fast and stormy first movement, a lilting and even danceable second, and a dramatic finale. And all in under 20 minutes.
The concerts will conclude with the "Symphony No. 99 in E-flat major," which Haydn wrote in 1793 for the second of his two visits to London. The trips were arranged by the violinist and impresario Johann Peter Salomon and proved to be very good for Haydn both artistically (the 12 "London" symphonies are some of his most popular) and financially ("I made four thousand guilders this evening," wrote Haydn after the 1795 premiere of his 104th symphony). Haydn himself conducted the February 10th, 1794 premiere.
In keeping with contemporary performance practice, he did so not from a podium but from the fortepiano, where he played the continuo part. These days orchestras that don't specialize in "early music" tend to dispense with the keyboard continuo, which I think is a shame. Mr. Labadie, however, is something of an authority on the music of the Baroque and Classical periods, as he demonstrated in concerts here in 2013 (an all-Mozart program), 2014 (Rameau, Haydn, and Mozart), 2015 (Handel's "Messiah" with Ms. Teuscher), and 2017 (an all-Bach program). Will we get to hear that keyboard after all? Come to the concert and find out.
The Essentials: Bernard Labadie conducts the St. Louis Symphony Orchestra and soprano soloist Lydia Teuscher Friday and Saturday at 8 pm, March 16 and 17. On Sunday, March 18, at 3 pm, Resident Conductor Gemma New conducts a Family Series concert featuring music by Rossini, Rimski-Korsakov, and a new work by Michael Gandolfi (who chairs the composition department at the prestigious New England Conservatory), "Pinocchio's Adventures in Funland." The concerts take place at Powell Symphony Hall, 718 North Grand in Grand Center.
Related Articles