Classical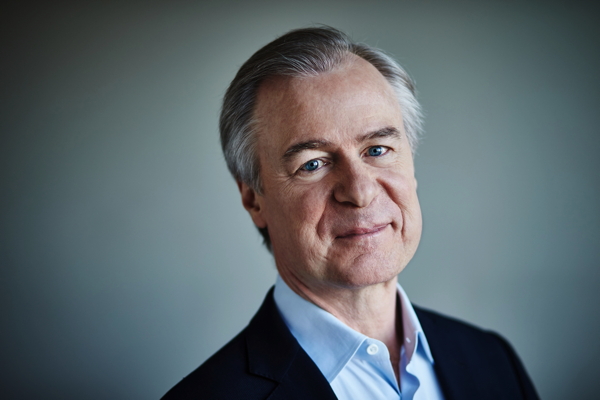 Symphony Preview: Exit music
Written by

Chuck Lavazzi
The old chestnut about all good things coming to an end plays out over the next four weeks at Powell Symphony Hall as David Robertson's tenure as the St. Louis Symphony Orchestra's Music Director--a thing widely acknowledged as very good, indeed--comes to an end at the close of the current season.
The SLSO is observing this passing of an era, not with lamentation, but rather with celebration. Specifically, it's giving local music lovers four big concerts--three with Mr. Robertson at the podium and one with Finnish conductor Hannu Lintu, who has proven to be very popular locally. The concerts are packed with flash and crowd-pleasing works, as well as with high-profile soloists like pianist Simon Trpceski, violinist Christian Tetzlaff, and, for the final concert series, celebrated trumpeter/composer Wynton Marsalis and the Lincoln Center Jazz Orchestra.
Not shabby, eh? Here is an overview of what you can expect.
Saturday and Sunday, April 14 and 15: David Robertson conducts the orchestra in Aaron Copland's rousing "Fanfare for the Common Man," Rachmaninoff's much-loved Piano Concerto No. 2 (with Mr. Trpceski at the keyboard), and Howard Hanson's Symphony No. 2 ("Romantic").
The Copland and Rachmaninoff surely need no introduction, but you might not be as familiar with the Hanson. Written on commission from noted conductor Serge Koussevitzky for the 50th anniversary of the Boston Symphony in 1930, it's a bold, expansive work, rich in appealing melodies. Because Hanson was then a guest conductor at the Interlochen Arts Camp, he offered the main theme of the second movement to the organization as a kind of theme song; it's still played there today at the end of every student concert.
Music from the symphony was also used (without permission) in the film "Alien." Mr. Hanson was reportedly less than thrilled with that appropriation.
Standing room tickets are now being sold for these concerts. The Saturday concert will be preceded by a pricey dinner-and-cocktails gala to honor Mr. Robertson.
Friday and Saturday, April 20 and 21: Hannu Lintu conducts the orchestra and chorus in a blockbuster of a program consisting of the original 1867 version of Mussorgsky's "Night on Bald Mountain," Tchaikovsky's "Nocturne in D minor" and "Variations on a Rococo Theme" (both for cello and orchestra with Armenian cellist Narek Hakhnazaryan as soloist), and Rachmaninoff's cinematically colorful oratorio "The Bells," based on poems by Edgar Allan Poe.
You undoubtedly know "Night on Bald Mountain" in Rimski-Korsakov's orchestration, which corrects what the older composer saw as Mussorgsky's "mistakes" in composition and orchestration. If you've never heard the original, though, you're in for a treat. It's loaded with raw power--as is the Rachmaninoff work.
Friday and Saturday, April 27 and 28: Mr. Robertson returns to the podium to conduct Jörg Widmann's 2007 Violin Concerto with Mr. Tetzlaff as soloist and Anton Bruckner's monumental Symphony No. 4, known as the "Romantic" (although the word seems redundant when applied to Bruckner's expansive symphonic vision).
I'm not familiar with the Widman concerto, but I can heartily recommend the Bruckner. Mr. Robertson has proved to be an impressively sympathetic Brucknerian, as he demonstrated forcefully in his excellent Bruckner 7th back in 2011, and I regret not having the chance to hear him conduct more of the composer's imposing musical cathedrals. Expect greatness.
Friday through Sunday, May 4-6: It's the grand finale as Wynton Marsalis and the Jazz at Lincoln Center orchestra join the SLSO for Leonard Bernstein's "Three Dance Episodes from On the Town" and "Preludes, Fugues, and Riffs" for clarinet and jazz band. The latter was written in 1949 for the Woody Herman combo but never actually performed by them; SLSO Principal Clarinet Scott Andrews has the solo spot this time.
The concerts will conclude with Mr. Marsalis's "Swing Symphony," featuring Mr. Marsalis on trumpet and the Lincoln Center band along with the SLSO. When Simon Rattle conducted this back in 2012 with the London Symphony, reviews were ecstatic. "It was the start of a journey through jazz's history," wrote Ivan Hewett at The Telegraph. "The energy and invention were amazing; at one point we had a swinging fugue. One could hear the sounds of America itself, above all the hoot of trains." Sounds like a good time.
And with that, we will draw the curtain on Mr. Robertson's remarkably successful time as SLSO Music Director, a post he has held since the 2005-2006 season. The orchestra's fortunes were a bit in decline at the time, partly because of labor issues and partly because Hans Vonk, who had been Music Director since 1995, had to resign abruptly in 2002 due to an illness that would later be diagnosed as ALS, a.k.a. "Lou Gehrig's disease." Under Mr. Robertson's direction, the SLSO once again commanded international attention, toured extensively, expanded its community outreach programs, and recorded several important works, including a truly wonderful Gershwin disc with Kirill Gerstein for Myrios. His cheerful podium presence and lively pre-concert talks will be very much missed, but he leaves behind a significant legacy.
Which, ultimately, is all any of us can hope for, seems to me.
Related Articles