Classical
Classical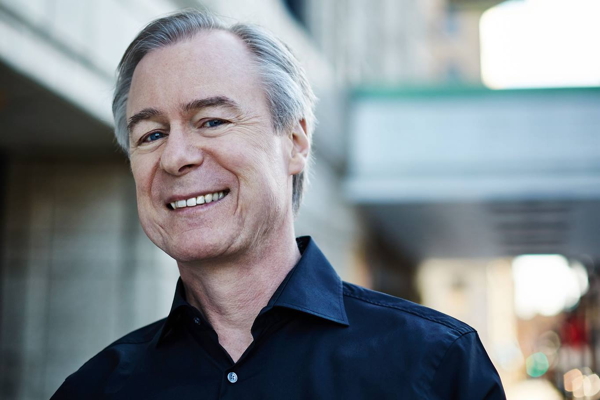 David Robertson brings his tenure as SLSO music director to a high-energy finish with Wynton Marsalis's 'Swing Symphony'
By Chuck Lavazzi
In her program notes for the St. Louis Symphony Orchestra concerts this past weekend (May 4 - 6, 2018), René Spencer Saller quotes composer and jazz trumpet virtuoso Wynton Marsalis as describing the final, quiet moments of his "Swing Symphony" this way: "It's a wistful feeling; it's not sad, and it's not happy. It's a feeling of contentment, a quiet celebration. It's like the last breath you take: 'We did this. We had a good time.'"
He could easily have been describing the mood among many at Powell Hall on Sunday afternoon, when the quirky, fade-out trumpet solo that brought Mr. Marsalis's piece to an end also brought to an end David Robertson's tenure as Music Director of the St. Louis Symphony Orchestra. I have no doubt that Mr. Robertson will return as a guest conductor at some point (as Leonard Slatkin continues to do), but these were the last notes of the last concert he will ever conduct as the orchestra's leader. The champagne toast to Mr. Robertson in the lobby at intermission had a celebratory air, but overall it was hard for me to ignore the fact that this marked the end of an era.
That era was marked by, among other things, a cheerful and well-considered advocacy for newer works in general and American music in particular. It seems only appropriate, then, that the program consisted entirely of American music composed since World War II, beginning with a nicely shaded performance of the "Three Dance Episodes" from Leonard Bernstein's wartime musical "On the Town." The final dance, "Times Square: 1944" had an especially nice swing and a cheerfully raucous trumpet solo by Associate Principal Thomas Drake.
Up next was another Bernstein composition, the "Prelude, Fugues, and Riffs" for clarinet and jazz band. It was written in 1949 for the Woody Herman combo, but the band broke up before the piece could be performed. The work didn't see the light of day in its final form until October 16, 1955, as part of an episode for the cultural television show Omnibus, to which Bernstein was a frequent contributor. It's a piece that crackles with energy, from the driving brass and percussion opening to the concluding "Riffs" section with its wild, keening clarinet solo.
SLSO Principal Clarinet had the solo spot this weekend, accompanied by guest instrumental ensemble the Jazz at Lincoln Center Orchestra with Wynton Marsalis on lead trumpet and the SLSO's Gerard Pagano on bass trombone. If there were any doubts as to whether a classically trained musician could but lose and "wail," Mr. Andrews's ecstatic performance surely put them to rest.
The concerts concluded with Mr. Marsalis's "Swing Symphony" (officially his Symphony No. 3), first performed by Simon Rattle and the Berlin Philharmonic in 2010. With seven movements and a running time of over an hour, it's an big work that encompasses, as Ms. Saller points out in her notes, "a whirlwind tour of jazz history, moving from ragtime to big band, bebop, hard bop, Afro-Cuban mambo, and the modal experiments of Miles Davis and John Coltrane." I'd add that there is also, in the penultimate "Think Space: Theory" movement, a nod to the jazz/classical fusion that Gunther Schuller called "third stream jazz" in the late 1950s in the form of a complex jazz fugue.
That's an ambitious undertaking made even more so by the fact that it's cast as a kind of modern version of the Baroque concerto grosso, with the larger ensemble (the full orchestra) set against the smaller solo group (the Lincoln Center jazz band). Unfortunately, the size of the Powell Hall stage made it impossible to clearly separate the two groups. The jazz band was surrounded on all three sides by the orchestra, which made it hard to clearly hear the differences between the two, at least from our seats in the Dress Circle.
Still, there is much that's powerful and ingenious in this work. The first movement, "St. Louis to New Orleans," moves seamlessly from the sounds of ragtime to low-down blues, while the "All-American Pep" movement that follows is a wonderfully hallucinatory tribute to 1920s jazz. "Midwestern Moods" is a driving tribute to the Kansas City style big band sound (described by Mr. Robertson as "eight beats to the bar and no cheating"), "Manhattan to L.A" evokes the infectious sounds of Latin jazz, and "Modern Modes and the Midnight Moan" includes a brilliantly manic trumpet solo by Mr. Marsalis, along with a final section that vividly evokes a smoky, late night club. The classical fusion sounds of "Think Space: Theory" act as a bridge to the final movement, "The Low Down Up on High," with its echoes of Afro-American sacred music and a final, oddly unresolved trumpet solo that fades out into breathy silence.
It's a vivid sonic tapestry, in short, with some especially inventive writing for the jazz band (I don't think have ever seen such a wide variety of mutes in a brass section, for one thing). The structure of the work is, perhaps, a bit too episodic for its length, but on the whole it was a great pleasure to hear it.
The "Swing Symphony" bristles with great solo moments for both the jazz band and orchestral musicians, and they got bravura performances from everyone when we heard the work on Sunday afternoon, under Mr. Robertson's deeply committed and well-paced direction. The packed house responded with multiple standing ovations for Mr. Robertson, Mr. Marsalis, and the musicians. As valedictory appearances go, it was unbeatable.
We did this. We had a good time.
This past weekend's concerts concluded the SLSO regular subscription season, but special events continue at Powell Hall throughout May and June, beginning with a showing of the classic musical film "An American in Paris" this coming Saturday and Sunday, May 12 and 13, 2018. The orchestra will perform the score live under the direction of Norman Huynh. The regular season resumes in September.
Related Articles