Classical
Classical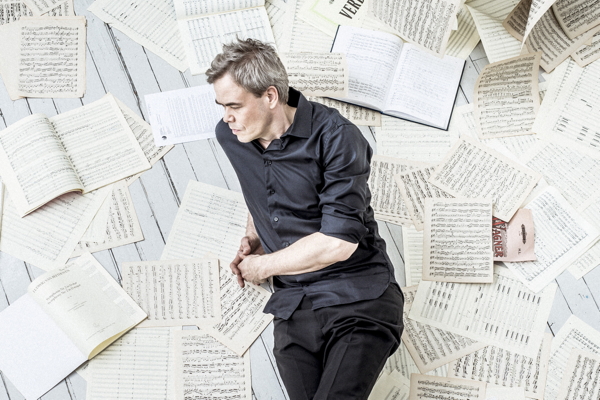 Symphony Preview: At home abroad with Hannu Lintu
By Chuck Lavazzi
In an interview with flautist and music writer Tim Munro in the St. Louis Symphony Orchestra's program book, SLSO Artistic and Operations VP Erik Finley notes that the 2018/2019 season is "an in-between time" for the orchestra. That's because, while former Music Director David Robertson's tenure ended at the end of the previous season, the orchestra's new Music Director, Stéphane Denève, won't officially take over until the fall of 2019.
In the interim, Mr. Finley put together the orchestra's program with substantial input from the musicians themselves, resulting in a season that has been dubbed "From Our Family to Yours." That includes what Finley refers to as the orchestra's "extended family" of guest conductors who have appeared on the podium frequently and whose names will be familiar to St. Louis music lovers.
Such as, for example, the man who will conduct the SLSO this weekend (Friday and Saturday, September 28 and 29): Finland's Hannu Lintu.
Maestro Lintu is no stranger to the Powell Hall stage, having made several appearances here over the years, most recently in an all-Russian program this past April. He is, as I have noted in reviews of some of his previous appearances here, a commanding and visually compelling figure on the podium. His big gestures are striking, but he can also coax delicate sounds with a minimum of physical display. He has, in short, a nearly ideal mixture of romantic intensity and intellectual control.
The degree of control would appear to be a result of his studies at the Sibelius Academy (where Mr. Lintu now has a part-time teaching assignment) with the noted conductor and teacher Jorma Panula (b. 1930) whose notable students also include Osmo Vänska and Jukka-Pekka Saraste. In a 2017 interview with Paul E. Robinson for Musical Toronto, Mr. Lintu said that Mr. Panula's secrets for producing such successful students are fairly simple. "First of all," he noted, "Panula has an instinct for recognizing conducting talent. He seems to know who is gifted even before teaching begins. Secondly, he doesn't teach technique. He lets his students do what they want as long as they show what they want and express their own ideas...Panula does not do so much teaching. He is more like Yoda. What he does is a kind of Zen. Just being around him and having discussions is really inspirational. Another point he emphasizes: a conductor must have the will, a strong need to express how he feels about the music he conducts or he will not succeed." That will shows up clearly in Mr. Lintu's forceful presence on the podium.
Composer Lotta Wennäkoski
Born in Rauma, Finland, in 1967, Mr. Lintu studied piano and cello at the Turku Conservatory and conducting at the Sibelius Academy, graduating with honors in 1996. He quickly found work as chief conductor of the Turku Philharmonic (1998-2001). He was chief conductor of the Helsingborg (Sweden) Symphony from 2002-2005, the Tampere (Finland) Philharmonic from 2009-2013, and Ireland's RTÉ National Symphony starting in 2010. In recent years he has been in demand world wide--so much so that he now spends a great deal of his time on the road. And unlike some performers who view travel as something of a necessary evil, Mr. Lintu finds it liberating.
"[W]hen I am in Helsinki, with my own orchestra," he observed in a 2017 interview with Ottawa-based arts journalist Peter Robb, "it means I don't have much time to study anything because I have lots of meetings, rehearsals, and interviews. When I am travelling I am sort of resting..I know this doesn't make much sense but why slow down? I still like travelling. I like hotels and airports and airplanes." Given that recent conducting assignments have taken him as far afield as Boston, Budapest, Tokyo, Detroit, and Paris, it's fortunate that he's a happy road warrior.
Since 2013, Mr. Lintu has also been Chief Conductor of the Finnish Radio Symphony Orchestra. During his tenure, he has been great advocate of the work of 20th and 21st century Finnish composers. That includes older and more traditional composers like Joonas Kokkonen (1921-1996), Einar Englund (1916-1999) and Erik Bergman (1911-2006) as well as younger voices like that of fellow Sibelius Academy graduate Lotta Wennäkoski (b. 1970), whose 2017 work "Flounce" receives it's USA premiere by the SLSO this weekend.
Conductor/composer Essa-Pekka Salonen
Photo by Minna Hatinen
In addition, Mr. Lintu has been a champion of the work of composer/conductor Esa-Pekka Salonen (b. 1958). Best known as the Music Director of the Los Angeles Philharmonic from 1992 to 2009, Mr. Salonen, like Mr. Lintu, studied conducting with Jorma Panula. His 2009 Violin Concerto will receive its St. Louis debut this weekend. The soloist will be Leila Josefowicz, who worked closely with Mr. Salonen during the composition process and gave the work its world premiere.
Part of what makes that advocacy of new and under-represented music possible is funding, as Mr. Lintu pointed out in the Robb interview. "Sometimes I think in Europe financing is automatic. It's a machine. They just feed us with money." As a result he feels that "we should take an even bigger responsibility to play things that haven't been played much and introducing new composers or those who have been forgotten. That is part of my job with the Finnish Broadcasting Company."
Not everything on this weekend's program is Finnish, though. Indeed, the longest work on the concert will be the Symphony No. 11, Op. 103, by Shostakovich. First performed in 1957 and subtitled "The Year 1905," it's a work that, on the surface, appears to be a patriotic tribute to the bloody events of Sunday, January 9th, 1905, when Tsarist troops opened fire on unarmed demonstrators--an event which would eventually lead of the 1917 Communist revolution.
Dmitri Shostakovich, 1950
Photo by Deutsche Fotothek
But, as is so often the case with Shostakovich, publicly stated intent and private intent were not necessarily in sync. Coming shortly after the brutal murder of Hungarian protestors by Soviet machine guns on October 25, 1956, many saw the Symphony No. 11 as a tacit tribute to that uprising rather than the one in 1905. As Rebecca Lentjes points out in her program notes for this weekend, the Eleventh Symphony "is by no means immune from the trend of reading Shostakovich's music for double meanings; according to musicologist David Fanning: 'appearing as it did in October 1957, its message concerning the abuse of dictatorial power invited Aesopian reading as a comment on the Soviet repression of the Hungarian uprising.' Shostakovich himself allegedly encouraged this interpretation, reportedly commenting to a friend: 'Don't forget that I wrote that symphony in the aftermath of the Hungarian Uprising.'"
Mr. Lintu has proven in previous appearances here to be a persuasive interpreter of the Russian repertoire in general and of Shostakovich in particular. His 2013 performance of the Symphony No. 8, for example, was especially striking. So it will be interesting to see how he approaches the somewhat more approachable Symphony No. 11.
But then, Mr. Lintu is a great admirer of the symphonic form in general. "I must say I always prick up my ears when I hear a new symphony is being played somewhere," he said in a 2015 interview with Lotta Emanuelsson, "because the symphonic tradition means a lot to me. The 'symphony' is a format affording endless different options while at the same time providing a strong sense of form. And it still has infinite potential to explore."
We'll all have the opportunity to join him in that exploration Friday and Saturday at 8 pm as he conducts The St. Louis Symphony Orchestra and violinist Leila Josefowicz in Lotta Wennäkoski's "Flounce", Esa-Pekka Salonen 's Violin Concerto by the composer/conductor, and Shostakovich's Symphony No. 11. The concerts take place at Powell Hall in Grand Center. The Saturday performance will also be broadcast on St. Louis Public Radio.
Related Articles