Classical
Classical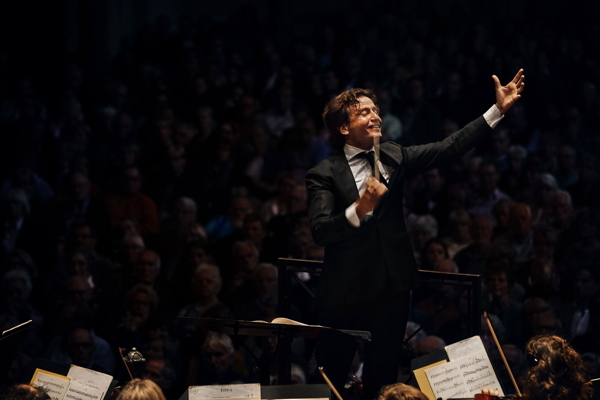 Symphony Preview: New kids on the block
By Chuck Lavazzi
This Friday and Saturday (October 12 and 13) the St. Louis Symphony Orchestra brings us new faces, both on the page and on the stage, along with a special Family Concert on Sunday.
The new faces on stage belong to Spanish-born conductor Gustavo Gimeno and his fellow countryman pianist Javier Perianes, so let's spend some pixels on them first.
Just last month, Mr. Gimeno was appointed Music Director of the Toronto Symphony Orchestra (he officially takes the job on in the 2020/2021 season), where he will replace interim MD Sir Andrew Davis, who in turn replaced Peter Oundjian. Those are big shoes to fill and big batons to hold, but as John Terauds points out in an article for the Toronto Star, he comes to the job with a solid background:
He is in his early 40s, and comes with a remarkable pedigree, having been mentored by three of the classical music world's finest maestros: the late Claudio Abbado, Bernard Haitink and Mariss Jansons. He began his career as a percussionist at the Royal Concertgebouw Orchestra in Amsterdam, and has been a regular guest there since replacing Jansons at the last minute four years ago.
Görgy Ligeti in 1984
Photo by Marcel Antonisse / Anefo
Mr. Gimeno's first appearance with the TSO was this last February, where he conducted a program that includes the opening work on this weekend's concerts, the "Concert Românesc" by Hungarian composer Görgy Ligeti (1923-2006). Ligeti was widely known as an avant-garde composer who developed an aurally dense and, in my view, listener-hostile technique he called "micropolyphony," some of which can be heard in the soundtrack for "2001: A Space Odyssey," but you won't hear any of that in his engaging and very entertaining "Concert Românesc."
Written in 1951 (but not heard until two decades later), this short (around 15 minutes) suite is a tribute to the Romanian music and folklore that were an important part of the composer's childhood and in particular to the folk tunes he collected in 1949 and 1950. Here's the composer himself discussing the music at his publisher's web site:
After spending some time in Romania in 1949/50, studying at the Folklore Institute in Bucharest, I participated in several trips to record partly Romanian, partly Hungarian folk music (in Covasint near Arad and in Inaktelke near Cluj in the region of Kalotaszeg). The present four-movement concerto for orchestra (with string and wind solos) is based on a large number of Romanian folk tunes recorded by me, most of which exist on wax cylinders and records of the Bucharest Folklore Institute. In Covasint, on the other hand, I got to know the common harmonic idioms of Romanian peasant music which I have used in the Concerto in a stylised form. This orchestral composition was one of the 'camouflage pieces', used to evade (1951) the imposed dictatorship in the field of arts. Though quite conforming to the rules, the piece nevertheless turned out to be 'politically incorrect' because of some forbidden dissonances (e.g. F sharp in B major). For today's listener, it is hardly understandable that such minor tonal jokes were declared subversive. The 'Romanian Concerto' reflects my deep love of Romanian folk-music (and of Romanian-language culture absolute). The piece was banned at once and not performed until many decades later.
In fact, I think you'll find his little "tonal jokes" to be thoroughly delightful. I draw your attention, in particular, to the high-speed final movement in which, as violist and music commentator Dale Armbrust writes in his program notes, "the concertmaster will earn his paycheck on some positively Van Halen-level solos." That would be our own David (no relation to Van) Halen, who will also be the soloist in the concluding work this weekend, Rimsky-Korsakov's popular "Scheherazade," Op. 35.
Written in the summer of 1888, "Scheherazade" is one of those works that needs little in the way of introduction or explanation. The four colorful movements vividly evoke the scenes from the "One Thousand and One Nights" that served as the work's inspiration. The composer himself sets the scene in a brief introduction, written for the first performance in St. Petersburg, with Rimsky-Korsakov conducting:
The Sultan Schariar, convinced that all women are false and faithless, vowed to put to death each of his wives after the first nuptial night. But the Sultana Scheherazade saved her life by entertaining her lord with fascinating tales, told seriatim, for a thousand and one nights. The Sultan, consumed with curiosity, postponed from day to day the execution of his wife, and finally repudiated his bloody vow entirely.
Aside from the virtuoso violin part, which represents the voice of Scheherazade herself, the piece is filled with brilliant orchestral writing, including some nice solo bits for the first-chair players. That's no surprise since Rimsky-Korsakov quite literally wrote the book on orchestration. His "Principles of Orchestration" was begun in 1873, completed posthumously by Maximilian Steinberg in 1912, and finally published 1922. It's still available today, in both print and digital editions, from Dover Books.
Javier Perianes
Photo by Daniel García Bruno
In between Ligeti and Rimsky-Korsakov this weekend, you will find Béla Bartók, represented by the "Piano Concerto No. 3", which he wrote in New York during 1945, the final year of his life. Unlike his first two concertos, which he wrote for himself (he was a formidable pianist), the third was composed for his second wife, Ditta. The hope, according to Geoffrey Norris in a 2016 article for The Gramophone, was "that it would give her some sort of legacy after his death, both in terms of her own profile as a pianist (though she seems never to have played it in public) and in the income she might accrue from royalties when it was taken up by others."
That was probably a good bet. Although Bartók's three concertos have never been as popular as those of Big Guns like Tchaikovsky or Rachmaninoff, they have always had their ardent supporters, including the noted Hungarian pianists András Schiff and György Sándor. And the third concerto is probably the most accessible of the three. It is, in Mr. Norris's words "altogether of a gentler, more reflective if scarcely (in the outer movements) less dynamic mien" than the first two. "András Schiff," he notes, "describes it as 'a wise man's farewell'." And so it was; when the composer died on September 26, 1945, it fell to his friend, the violinist and composer Tibor Serly, to complete the final 17 measures. The concerto was his last musical will and testament.
That's not to say it's funereal. Lively dance-like elements dominate both the opening and closing movements and the "Adagio religioso" that separates them is classic Bartók "night music", with emotionally intense chorales flanking a middle section that evokes the nocturnal sounds of nature. And all the way through, you can hear the influences of the folk music he collected during his life.
At the keyboard for the Bartók will be that other new face, Javier Perianes. Born in Nerva, Spain, in 1978, Mr. Perianes has, it seems, been nearly everywhere: Barcelona, Chicago, Amsterdam, Shanghai, Istanbul, and London. You name a country with a major orchestra and his passport will have been stamped there. The list of the conductors with whom he has played is equally impressive: Daniel Barenboim, Charles Dutoit, Lorin Maazel, Zubin Mehta, Gustavo Dudamel, and Rafael Frübeck de Burgos, just to name a few.
The range of composers whose work he has recorded is equally impressive: Beethoven, Mendelssohn, Schubert, Grieg, Chopin, Debussy, Ravel, Blasco de Nebra (18th-century Spanish organist and composer), Federico Mompou (the 20th-century Spanish composer best known for his solo piano works), Falla, Granados and Turina. That discography includes the Bartók Concerto No. 3, recorded earlier this year with Pablo Heras-Casado and the Munich Philharmonic for Harmonia Mundi. "An excellent performance," wrote Lee Passarella for Audiophie Audition, while Edward Seckerson praised the "great warmth" of his playing in a review for The Gramophone.
Omega D. Jones
Sunday brings a complete change of tone as Lee Mills conducts orchestra and narrator Omega D. Jones in "The Composer is Dead" by Nathaniel Stookey (another new face, although he won't be physically present, as far as I know) along with music by Haydn and Falla. I'll confess to a complete lack of familiarity with that first work, which is based on the book of the same name by the popular children's author Lemony Snicket (a.k.a. Daniel Handler), but the piece has been very popular with some high-profile orchestras since its 2006 premiere with the San Francisco Symphony Orchestra, so it looks like some good G-rated fun.
I am fairly well acquainted with the narrator, though. Mr. Jones is a talented local actor and singer who makes his cabaret debut this Friday at The Monocle. He played Coalhouse Walker, Jr., last year in Stray Dog Theatre's award-winning production of "Ragtime" (in which I also performed) and knocked out critics and audiences alike.
The essentials: Gustavo Gimeno conducts The St. Louis Symphony Orchestra and piano soloist Javier Perianes Friday and Saturday at 8 pm, October 12 and 13, in Ligeti's "Concert Românesc," Bartok's Piano Concerto No. 3, and Rimski-Korsakov's "Scheherazade". Lee Mills conducts orchestra and narrator Omega D. Jones in "The Composer is Dead "by Nathaniel Stookey on Sunday, Sunday, October 14, at 3 pm. The concerts take place at Powell Hall in Grand Center.
Related Articles