Classical
Classical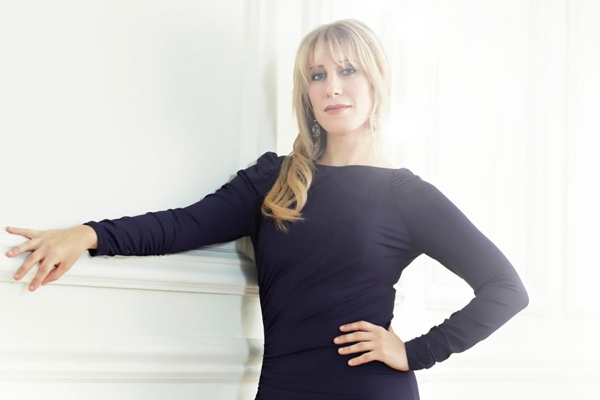 Symphony Preview: Hello, I must be going
By Chuck Lavazzi
"I am the A and the O, the beginning and the end, the first and the last," intones the bass Voice of God in Franz Schmidt's oratorio "Das Buch mit sieben Siegeln" ("The Book of the Seven Seals"). The reference is to Creation, but it could just as easily describe this weekend's (November 30, December 1) St. Louis Symphony Orchestra concerts.
Portrait of Mendelssohn by
James Warren Childe
(1778–1862), 1839
en.wikipedia.org
That's because the concerts consist of only two works: the first piano concerto by Mendelssohn and the last symphony by Anton Bruckner. Over six tumultuous decades separate the two works but, as Tim Munro points out in his program notes, there are parallels:
Both [composers] were old-fashioned in their time. Mendelssohn with his outmoded love of Bach, Bruckner with his adoration for Renaissance masters. Religion was central to both composers: Lutheranism for Mendelssohn (who had strong Jewish roots); Catholicism for the pious Bruckner...We might hear (faintly, very faintly) Mendelssohn's fingerprint on Bruckner's Ninth Symphony. The deeply personal final movement of Bruckner's symphony adopts a sequence of notes known as the "Dresden Amen." Mendelssohn used the same sequence in his Fifth Symphony.
I'd add that both composers, their "old-fashioned" status not withstanding, defied conventional models in these pieces. Mendelssohn, for example, did away with the usual three-movement structure for his Piano Concerto No. 1 (written in 1830-31) and opted instead for a single movement in which, as Mr. Munro points out, he merged "the expected three movements into one, connecting them with brass fanfares. And he brought back the concerto's opening melody in its finale." He also dropped the long orchestral introduction typical of concertos at the time. "Ambitious moves for a 22-year old," notes Mr. Munro.
Mendelssohn's innovations didn't stop his concerto from being widely accepted, though. As Roger Dettmer writes at Allmusic.com:
He [Mendelssohn] played the premiere himself in Munich on October 17, 1831, and often thereafter, with great success far and wide. Yet it was a performance by Liszt in Paris that made the work truly famous. A legion of young pianists took it up-- so obsessively that Berlioz, in Evenings with the Orchestra, wrote tongue-in-cheek of an Érard piano on which 31 contestants played the music competitively. He claimed that the instrument refused to quit playing the music until it was chopped into pieces and burned.
At the keyboard this weekend will be Argentine pianist Ingrid Fliter, last seen here in 2015 when she performed Chopin's Piano Concerto No. 2. I missed that concert, so I'm looking forward to seeing her live for the first time.
Anton Bruckner wasn't as lucky as Mendelssohn regarding the acceptance of his music. Plagued with crippling insecurity about the quality of his work, he didn't even attempt his first major composition until he turned 40, and spent far too much time rewriting his work in response to suggestions for "improvement" by students and acquaintances. "Bruckner regularly fell victim to the criticism and recommendations of others," writes Phillip Huscher in program notes for the Chicago Symphony Orchestra, "even though the criticism was often pointless and the recommendations were sometimes absurd--and contrary to the composer's own wishes."
"Anton Bruckner arrives in Heaven". Bruckner is greeted by (from left to right):
Liszt, Wagner, Schubert, Schumann, Weber, Mozart, Beethoven, Gluck,
Haydn, Handel, Bach. (Silhouette drawing by Otto Böhler)
en.wikipedia.org
As a result, he was repeatedly distracted from work on his final symphony by "helpful" recommendations for revisions on earlier works. "Because of all these unnecessary distractions," notes Mr. Huscher, "his weakening health, and a new wave of insecurity, Bruckner found that he couldn't complete his Ninth Symphony, even though he had been at it for nine years. (He once told a visitor, 'The Ninth will be my masterpiece. I just ask God that he'll let me live until it's done.')." He died with only the first three movements completed and the fourth only in sketches.
Nor did the attempts to "improve" his music end with his death. His body was hardly cold before conductor Ferdinand Löwe put together a heavily edited version of the three movements that fixed what he decided were Bruckner's errors in harmony and orchestration. The truncated result was, in Mr. Huscher's words, "mutilated almost beyond recognition" but it remained the standard version of the work until 1932, when Alfred Orel published a critical revision that got rid of Löwe's "improvements" and restored Bruckner's original. A subsequent 1951 edition by Leopold Nowak corrected some actual errors in Orel's version, and it's the Nowak revision that we'll hear this weekend.
Bruckner's symphonies, as I have written in the past, don't get the attention they deserve. That's probably because, as Mr. Munro writes, "Bruckner's nine mature symphonies divide opinion. They are long, straining musicians' stamina and concentration. Their shapes are ambiguous, supported by obsessive repetition, jolted by sudden shifts, halted by unexpected silence. Their harmonies are strange, floating from the known into the unknown."
Indeed, writers of music criticism seem unable to discuss the symphonies of Anton Bruckner without invoking the imagery of the Gothic cathedral. Perhaps that's because they so strongly suggest a connection between the material and ethereal planes--great blocks of sound alternating with moments of otherworldly beauty. In Bruckner's music you can hear both great, heaven-storming power and quiet mystery. Time seems to act differently in a Bruckner symphony, with each movement incorporating so much emotional depth that it can feel both shorter and longer than the clock indicates.
Amazing stuff, really.
The SLSO hasn't programmed that much Bruckner since the departure of former music director Hans Vonk in 2002 and, in fact, the Ninth hasn't been done by the orchestra in twenty years, when they played it in Madrid under the late Mr. Vonk. This time around, the baton will be wielded by John Storgårds, former Chief Conductor of the Helsinki Philharmonic, Chief Guest Conductor of the BBC Philharmonic Orchestra, and a frequent guest at Powell Hall, where he has accumulated plenty of critical praise. I have seen him deliver powerful Tchaikovsky, Nielsen, and Schumann in the past, so it will be interesting to see what he does with Bruckner's idiosyncratic sound world.
There's much more to the saga of the Bruckner Symphony No. 9 than I have written here, by the way. The mistreatment of the incomplete version after the composer's death and the many attempts to complete the symphony, based on the composer's sketches and painstaking musicological research, could form the basis for a soap opera. As it is, it makes for an intriguing article at Stereophile, which I highly recommend to anyone who'd like to dig deeper into this music.
The Essentials: John Storgårds conducts the St. Louis Symphony Orchestra and pianist Ingrid Fliter Friday at 10:30 am (a Krispy Kreme Coffee Concert) and Saturday at 8 pm, November 30 and December 1. The program consists of Mendelssohn's Piano Concerto No. 1 and Bruckner's Symphony No. 9. Kevin McBeth will conduct the orchestra in an evening with Broadway star Leslie Odom, Jr., on Sunday, December 2, at 7 pm. Performances take place at Powell Hall in Grand Center.
Related Articles