Classical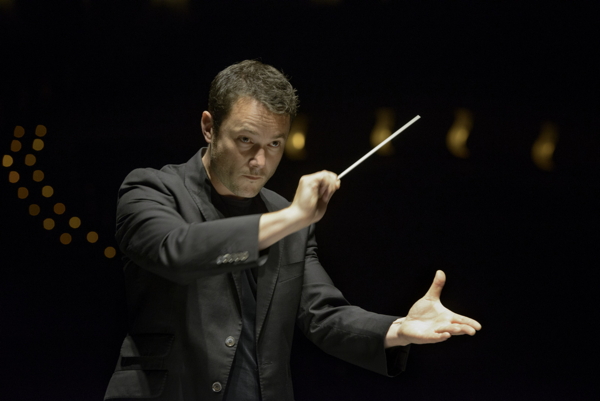 Review: SLSO's 'Messiah' combines a Baroque orchestra with Romantic sensibilities
Written by

Chuck Lavazzi
Even though it was originally written for an Easter season performance, Handel's 1741 oratorio "Messiah" has become a Christmas tradition. That tradition was upheld in fine style last weekend (December 7-9) as guest conductor Matthew Halls and the St. Louis Symphony Orchestra and Chorus presented a performance of Handel's Greatest Hit that combined Baroque orchestration with a Romantic sensibility.
[Find out more about the music with my symphony preview articles: Part 1 and Part 2.]
There was a time not so very long ago when the philosophy behind presentations of "Messiah" was "bigger is better." Throughout the 19th century and most of the 20th, massive orchestras and gigantic choirs were the rule. George Bernard Shaw, in his role of music critic, want to far as to lament the "multitudinous dullness" of the big band "Messiah" that had become the rule in Britain. That began to change in the late 1960s, especially after the success of recordings by Colin Davis and Charles Mackerras that used the smaller orchestras and choruses of Handel's own day.
Krisztina Szabó
Photo by Bo Huang
Conducting without a score or baton, Mr. Halls gave us a "Messiah" Sunday afternoon that was very much in that more historically informed tradition. The chorus was, perhaps, a bit on the large side, but with fewer than 30 musicians the orchestra was one that would have been familiar to late 18th-century audiences, right down to the use of harpsichord and positif organ (a small portable organ that went out of fashion after the 18th century) as continuo instruments. The balance between singers and orchestra could hardly have been better.
Working from the 1965 Bärenreiter edition of the score (there are around a dozen editions available), Mr. Halls assembled his own version of "Messiah," as many conductors do. I'm no "Messiah" expert, but the changes and cuts he made felt relatively minor to me. In any case, the performance worked very well, both as drama and music, and that's ultimately the real test.
Karina Gauvin
Photo by Julien Faugère
The four soloists were very well matched in terms of vocal power and style. Making her SLSO debut, mezzo Krisztina Szabó sang the alto role with authority and impressive precision. Her "But who may abide" conveyed the stern authority of the text very well, while there was real joy in "Oh thou that tellest good tidings to Zion." Her "He was despised" conveyed apparent grief at the sufferings of Christ.
With a light, clear voice, soprano Karina Gauvin convincingly conveyed the good cheer of "Rejoice greatly" and the simple grace of "How beautiful are the feet of them." Tenor Nicholas Phan, who did such a remarkable job with Britten's "Les Illuminations" back in 2014, brought great tenderness to "Comfort ye," followed by a bracing "Ev'ry valley."
Nicholas Phan
Baritone William Berger, also making his local debut, was an imposing "voice of God" in "Thus saith the Lord" and displayed both impressive virtuosity and dramatic commitment to "The trumpet shall sound." It's Handel's oddly celebratory invocation of judgment day, featuring a spectacular duet for the solo singer and trumpet. Associate Principal trumpet Tom Drake executed that solo line flawlessly. Indeed, the whole orchestra was in fine form.
Mr. Halls's interpretation, while not neglecting the festive aspects of Handel's score, included moments of compelling drama as well. You could see that in, to pick just one example, the progression from darkness to light that starts with "The people that walked in darkness" and ends with "For unto us a Child is born." His decision to have the chorus close their books and sing the famous "Hallelujah" chorus from memory was a neat theatrical touch, as was the placement of trumpeters Tom Drake and Mike Walk on the chorus platform for "Glory to God" in Part I. It allowed their bright, clear tones to project that much more effectively.
William Berger
Photo by Paul Foster Williams
Amy Kaiser's chorus never fails to elicit admiration on my part. They invariably sing with a gratifying power and precision. Every bit of the text came through clearly Sunday afternoon, as did the many polyphonic passages.
There have been some fine performances of Handel's "Messiah" at Powell Hall over the years, and while Bernard Labadie's 2015 version is still my favorite, this latest entry was a strong one and I'm glad I had the opportunity to see it.
The regular SLSO season pauses for the rest of December as Powell Hall fills with special holiday programming. This weekend (December 14-16) Joshua Gersen conducts the orchestra and Webster University Chorale in a showing of the film comedy Home Alone, with the score played live by the orchestra and chorus; only limited view tickets are available. Next week brings the sold-out "Gospel Christmas" with the IN UNISON chorus conducted by Kevin McBeth and special guests Take 6 on Thursday, December 20, followed by the annual Mercy Holiday Celebration Friday through Sunday with Gemma New on the podium.
The month concludes with "Walt Disney Animation Studios: A Decade in Concert" Friday and Saturday, December 28 and 29, followed by the popular "BMO Private Bank New Year's Eve Celebration" on Monday, December 31, with former Resident Conductor Ward Stare conducting. All concerts take place at Powell Hall in Grand Center.
Related Articles