Classical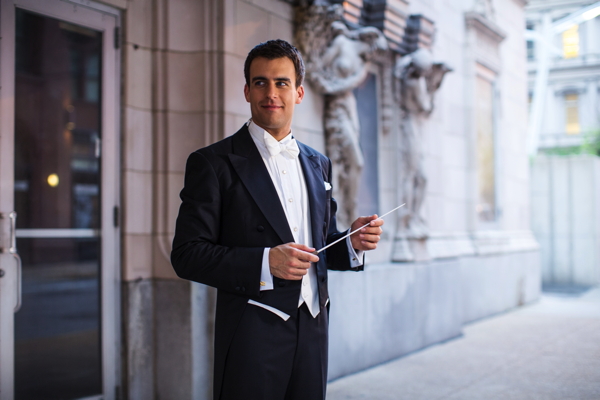 Review: Auld acquaintance is not forgotten at the St. Louis Symphony Orchestra's New Year's Eve concert
Written by

Chuck Lavazzi
During his tenure as Music Director, David Robertson made the St. Louis Symphony Orchestra's New Year's Eve concert an evening of light, celebratory music, dashes of comedy, and surprise guest appearances. This year, with Mr. Robertson gone and his replacement, Stéphane Denève, not yet in place, former Resident Conductor Ward Stare was brought in to assume the festive mantle, and he did it brilliantly.
The concert opened with an energetic performance of Berlioz's "Roman Carnival Overture," a work cobbled together in 1844 from bits of the composer's 1838 opera "Benvenuto Cellini." Mr. Stare's interpretation, which had him practically leaping off the podium at times, was both lively and nuanced, with brisk pacing, crisp attacks, and admirable work by Cally Bahnam in the prominent English horn solo.
Leonard Slatkin
Up next was a local premiere--four selections from Leonard Bernstein's 1980 "Divertimento." Written for the Boston Symphony's centenary, the work is, as Mr. Stare noted in his remarks form the podium, filled with little inside jokes for the BSO audiences. The comically tipsy "Turkey Trot," movement, for example, refers to a little road not far from the orchestra's summer home at Tanglewood, while the off-kilter "Waltz", in 7/8 time, is a nod to the 5/4 waltz in Tchaikovsky's "Pathétique" Symphony--a work which was a favorite of long-time BSO head Serge Koussevitzky. It's exceptionally entertaining music that also sounds challenging to play, but the orchestra did an excellent job with it.
Richard Rodgers' "Carousel Waltz" was next, followed by "Napoli," a set of elaborate variations on "Funiculì, Funiculà" originally written for cornet and band by Herman Bellstadt and performed here in an arrangement for euphonium and orchestra by Richard E. Thurston.
These turn-of-the-previous-century showpieces, once so prevalent, are rarely heard these days, so it was a real pleasure to see it done at all, much less with the kind of virtuosity it got from Principal Trombone Timothy Myers, who sailed through the increasingly extravagant solo part with impressive assurance. I played the euphonium as a youngster (although never this well!), so it was a pleasure to hear its rich, mellow tones again.
Timothy Myers
A sing-along version of "Meet Me in St. Louis" served as a bridge to the evening's big comic moment, a live version of Peter Schickele's "New Horizons in Music Appreciation." Originally a part of hilarious 1967 album "P.D.Q. Bach on the Air," "New Horizons" presents most of the first movement of Beethoven's Symphony No. 5 as a sportscast, complete with a penalty box, an umpire, and fights between the conductor and the players. Former SLSO Music Director Leonard Slatkin and Cardinals legend Ozzie Smith were the commentators for this somewhat under-rehearsed but still outrageously funny routine, which also included an unexpectedly touching tribute to SLSO bassist Don Martin, who is retiring after 56 years with the band. Bass trombonist Gerard Pagano was the harried umpire and Principal Oboe Jelena Dirks was the musician who gets into a dustup with the conductor over an "impromptu" solo.
Mr. Slatkin took over after intermission for a richly romantic arrangement of the folk song "Shenandoah" (complete with quotes from Dvorak's "New World" Symphony) for violin, flute, and orchestra by composer Cindy McTee, who is also his wife. Concertmaster David Halen and Associate Principal Flute Andrea Kaplan were the excellent soloists. Mr. Slatkin followed that up with "Carmen's Hoe-Down," a witty arrangement (or maybe derangement) of themes from Bizet's opera in country fiddle style by Mr. Slatkin's father Felix, long-time conductor of the Hollywood Bowl Symphony Orchestra (among others).
Eva Kozma
Mr. Stare came back to the podium for music by Johann Strauss, Jr. and the Hungarian violinist and composer Jeno Hubay. Strauss was represented by the "Éljen a Magyr" Polka and, inevitably, "The Beautiful Blue Danube"--fine performances in both cases--and Hubay by his "Scene from the Czarda No. 4 ("Hejre Kati)." The fiery solo in the latter got a fleet, graceful reading from Assistant Principal Second Violin Eva Kozma.
Rossini's venerable "William Tell" was next. The piece is so well known (and has been so often parodied) that it has become a cliché, but even so Mr. Stare found some interesting new things in it, including a particularly dramatic approach to the quiet opening for cellos and double basses, depicting the Alpine dawn.
A quick run through "The Missouri Waltz" and a final sing-along of "Auld Lang Syne" brought the evening to a celebratory conclusion. It was good to see Mr. Stare back on the Powell Hall stage again, if only briefly; let's hope we see more of him in the future.
The New Year's Eve concert concluded the St. Louis Symphony's holiday programming. The regular season resumes Friday at 10:30 am and Saturday at 8 pm, January 18 and 19, as Karina Canellakis leads the orchestra and violinist Renaud Capuçon in music of Beethoven, Schuman, Richard Strauss, and Hindemith.
Related Articles