Classical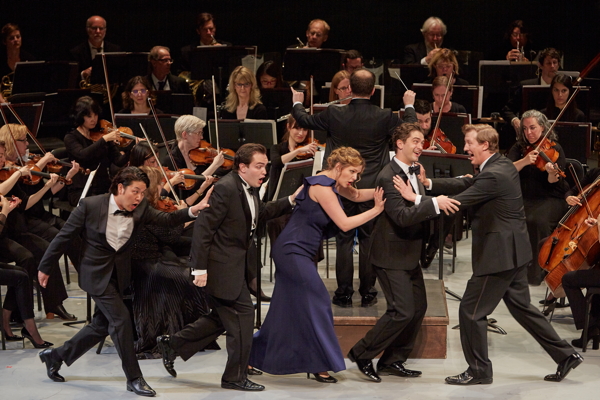 Review: Rising stars shine in Opera Theatre's Center Stage concert
Written by

Chuck Lavazzi
This past Tuesday night (June 25th, 2019) Opera Theatre offered the fifth edition of its annual "Center Stage" concert. If what I saw Tuesday was any indication, I'm pretty annoyed with myself for missing the last four.
The septet from The Merry Widow
Photo by Eric Woolsey
Center Stage features members of OTSL's Gaddes Festival and Gerdine Young Artists programs performing opera excerpts. They were accompanied by members of the St. Louis Symphony conducted by Roberto Kalb and, in two of the selections, by Assistant Conductor Jacobsen Woolen. Working in the limited space in front of the orchestra on the Loretto-Hilton stage, MaryAnn McCormick, James Blaszko, and Seán Curran provided some limited staging that provided a good sense of the dramatic shape of the selections without cluttering up the space with set pieces. The evening was a perfectly balanced mix of old and new, familiar and rare, comic and tragic, all delivered with a degree of professionalism that speaks well to the quality of OTSL's programs for emerging artists.
There were so many wonderful performances that I can't list them all here, so I'll content myself with listing some of my personal favorites, beginning with an enchanting "Qui di sposa eterna fede," the great "lovers' farewell" duet from Donizetti's "Lucia di Lammermoor" by tenor Matthew Cairns and soprano Elena Villalón. Ms. Villalón was also impressive earlier as Marzelline in "Jetzt, Schätzchen, jetzt sind wir allein," a comic duet from Beethoven's "Fidelio," with tenor Ryan Bryce Johnson as her hapless would-be suitor Jaquino.
There were other terrific love duets as well. Soprano Sydney Baedke and baritone Hayden Smith were touching in "The Zephyr/One Star: from Rick Ian Gordon's "Grapes of Wrath" while soprano Lisa Marie Rogali and Mr. Cairns got the delicate bloom of "Suzel buon di" (from Mascagni's "L'Amico Fritz") just right. Soprano Katerina Burton and tenor Ángel Vargas were properly tragic in "No, Non dir questo" from Puccini's "La Rondine."
"A Real Slow Drag" from Treeomonisha
Photo by Eric Woolsey
There was plenty of great comedy as well, in numbers like "To part is such sweet sorrow" from "Die Fledermaus" with Ms. Baedke, soprano Jessica Niles, and baritone Gregory Feldmann and "You're back where you first began" (from "The Merry Widow") with the male septet, headed by baritone Leroy Y. Davis as Danilovitsch, performing a kick line courtesy of Mr. Curran. The rapid-fire patter ensemble from "Il barbiere di Siviglia" in which everyone tries to convince poor Don Basilio that he has scarlet fever, was done to a fine comic turn. The quintet consisted of Mr. Feldmann as Figaro, mezzo Jamie Groote as Rosina, and baritone Heeseung Chae as an enraged Dr. Bartolo, with tenor Calvert Young as Almaviva and bass Griffen Hogan Tracy as the befuddled Basilio.
There were some immensely appealing rarities in the evening, such as the scene from Dvorak's "Rusalka" in which the sorceress Jezibaba (mezzo Rehanna Thelwell in a performance of hair-raising intensity) cons poor Rusalka (beautifully sung by soprano Greer Lyle) into giving up her voice so she can become human and wed her prince. One of my favorites was the brief scene from Ravel's "L'heure espagnole," with mezzo Courtney Elvira as Concepción, the wife of clockmaker Torquemada (tenor Ndumiso Nyoka) who smuggles her lovers upstairs in clocks. Everyone involved got the comic absurdity of the situation just right.
Elena Villalón as Marzelline in Fidelio
Photo by Eric Woolsey
The concert concluded with two great ensemble numbers: the complex "Tonight Quintet" from "West Side Story" with its multiple vocal lines and "A Real Slow Drag," the toe-tapping finale from Scott Joplin's "Treemonisha." The latter featured the entire ensemble led by Ms. Burton as Treemonisha and mezzo Tesia Kwarteng as Lucy, along with the graceful dancers from OTSL's "Fire Shut Up In My Bones."
It was a delight hearing the orchestra on the stage rather than down in the pit. The acoustics in the theatre are fairly dry, making it easier to hear individual instrumental voices in a way that's not really possible in Powell Hall. Although the band occasionally overwhelmed the singers, the balance was pretty good overall.
"Center Stage" was a one-night-only event and while I understand the necessity of that from a scheduling stand point, given its high quality, it's a pity there aren't more performances. You can, in any case, see many of these performers in the regular season shows, which continue through June 30th.
Related Articles