Classical
Classical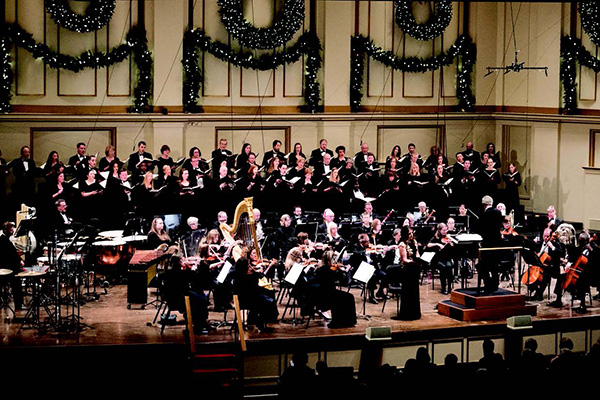 The Bach Society Of Saint Louis Rings In Christmas
By Ronnie Wisdom
How do you assemble every year a concert ranked as one of the top 20 holiday events of North America by the BBC, yet keep it fresh, with audiences eagerly awaiting more? You do it with hard work, creativity, commitment, lots of hard work and professionalism. You also need a lot of talent. Fortunately for our community, these qualities abound within the Bach Society of Saint Louis.
One of the challenges of holiday concerts is the need to feature traditional standards but yet present them with creativity and innovation. Beginning with a joyous fanfare based on "Joy to the World" and moving through such audience favorites as "The Holly and the Ivy," "Away in a Manger," "O Come, All Ye Faithful" and a host of others, what was once old was presented in sparkling new robes, sometimes almost making a casual listener wonder what familiar carol lay beneath. Perhaps credit for some of this is due to the Bach Society's commitment of fostering not only young vocal artists, but composers, conductors and arrangers as well. St. Louis composer-in-residence Stephen Mager, is one of those featured writers. His lively arrangement of "Shepherds, Shake off Your Drowsy Sleep" was commissioned by the Bach Society and has become a popular work with audiences. 
Music Director and Conductor A. Dennis Sparger has led the Bach Society for more than three decades now. Not only has he guided the Society artistically, but his leadership has spearheaded the commitment to nurturing new talent. Filling the roles of conductor and administrator is not an easy task, but he has done a beautiful job. His keen sense of phrasing, balance, dynamics and contrast have imbued the Society Chorus and Orchestra with the excitement and fullness that audiences have come to expect.
As part of its commitment to young performers, the Bach Society includes the Saint Louis Children's Choirs as part of the Christmas Candlelight programs. These young people are an excellent example of what youth can accomplish. Directors Whitney Cairns and Emily Pikaard have forged a large yet tightly cohesive ensemble of young voices that is second to none.
This year the Society was joined by the Chamber Singers of Webster University, directed by Trent Patterson, for a performance of the "Gloria" by Francis Poulenc. The choral ensembles of Webster University surely rank among the finest in the country. Their voices added yet another layer of resonance and depth to the already solid sound of the Society Chorus, noticeable in bold, precise diction and an even fuller range of projection throughout Powell Hall.
Soprano Michelle Kennedy appeared as soprano soloist in the Poulenc "Gloria." Although her smooth and velvety timbre rose to a polished sheen above the combined forces of the Chorus and Orchestra, the fact that she is an experienced ensemble singer was apparent as she melded beautifully with the other performers. The music of Poulenc is always bright and incisive, and therefore generally challenging to performers. In a perfect world, a work such as this would be granted numerous rehearsals and detailed attention, but the demands of contemporary performance don't always permit this. Nevertheless, the Society crafted a beautiful and colorful presentation of this work that displayed Poulenc's bouncing rhythms and gently rolling lyricism in a beautiful light. Adding this work to the body of a concert featuring traditional selections made a good innovative programming move.
The candlelight procession is always the centerpiece of the Bach Society's yearly programs. Amidst the new, audiences always look forward to the beautiful pilgrimage of the Chorus members throughout the hall. When hearing the singers in such close proximity, it is always striking to realize how carefully and accurately each member of the ensemble knows his or her part. This precision, and the confidence it engenders, is surely one of the qualities that has made the Bach Society such a prominent force not only in our own community, but noticeable even across the Atlantic.  
This year's encores were a particular treat. Craig Courtney's "A Musicological Journey through the 12 Days of Christmas" was not only a brilliant whirlwind tour of music history throughout the ages, showcasing the traditional verses in historical garb, but it was also educational as well, showing young and old just how music has evolved.  The capacity audience immediately jumped to its feet, as they rightly should. Following that, Sir David Willcock's shimmering arrangement of "Jingle Bells" ushered in the holiday season once and for all, leaving the audience already eager for next year.