Classical
Classical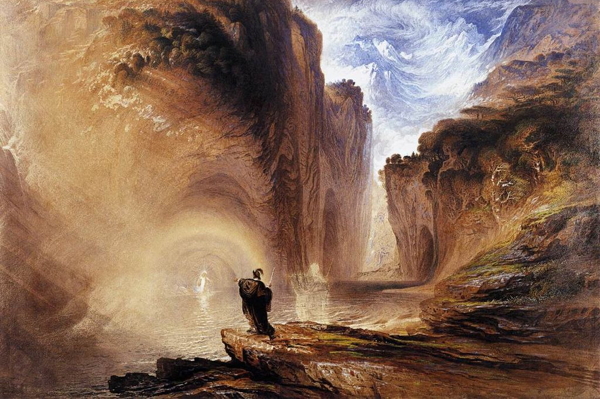 Symphony Preview: It was a dark and stormy night
By Chuck Lavazzi
The St. Louis Symphony Orchestra (SLSO) concerts this weekend (Friday and Saturday, January 31 and February 1) open with a pair of works by two composers who, despite significant differences in temperament and musical style, were close friends.
Manfred on the Jungfrau
Painting by John Martin, 1837
The concerts open with the overture to Robert Schumann's 1848 "Manfred: Dramatic Poem with Music in Three Parts," Op. 115. Based on Byron's "Manfred: A dramatic poem," Schumann's complete "Manfred" consists of the overture we'll hear this weekend along with 15 additional numbers for orchestra, choir, and soloists, dramatizing scenes from Byron's three-act work.
The titular Manfred is not the animated sidekick of Tom Terrific but rather a brooding count living in the Alps and tormented by guilt for somehow (it's never really clear how) causing the death of his beloved Astarte. He summons seven spirits from the deep, hoping to be granted forgetfulness. They can't manage it, but the demonic spirit Nemesis does summon up the shade of Astarte. She grants Manfred the forgiveness that will allow him to die.
In the last scene the spirits return to convince the dying Manfred to join them by preying on his guilt. Manfred, however, isn't having any of it:
Thou didst not tempt me, and thou couldst not tempt me;
I have not been thy dupe nor am thy prey,
But was my own destroyer, and will be
My own hereafter.-- Back, ye baffled fiends!
The hand of death is on me-- but not yours!
An elderly Abbot offers to pray for him, but Manfred rejects all forms of spiritual intervention. He will be his own man to the end. "Old man! 't is not so difficult to die," he exclaims. And proves it by promptly expiring. "He's gone," cries the Abbot; "his soul hath ta'en its earthless flight -- /Whither? I dread to think -- but he is gone."
That would be when the curtain would descend if "Manfred" were an actual play. But, although written as a script complete with scene descriptions and minimal stage directions, "Manfred" was actually an example of the genre known as "closet drama": a play never meant to be staged but rather to be read, either silently or aloud. Schumann, however, fully intended his version to be performed.
Presented for the first time in 1852 at the Leipzig Gewandhaus, Schumann's "Dramatic Poem" never really caught on with audiences, probably because Byron's deliberately archaic poetry didn't translate well into German and partly because (as Judith Chernaik writes in a recent biography of the composer, "Schumann insisted that the work was not an opera, a Singspiel, or a melodrama, but 'a dramatic poem with music' which he considered 'completely new and unprecedented.''' It was, in short, a hard sell and, given the number of performers required, expensive to produce to boot.
The overture, on the other hand, has pretty much entered the standard repertory, even though the SLSO hasn't played it in over 32 years. Its appeal is not hard to understand, packed as it is with stormy drama.
The overture opens with three powerful chords which quickly yield to a slow, brooding introduction suggesting the opening scene ("a Gothic Gallery. --Time: Midnight") in which Manfred ponders the limits of human knowledge and prepares to summon the spirits. Trumpets announce the dramatic main theme, the tempo quickens to "Leidenschaftlich" ("impassioned"), and the music becomes anguished and filled with dark conflict. Lyrical interludes suggest memories of the lost Astarte. Finally, there's a massive climax (the final confrontation with the spirits?) that yields to what Shakespeare might have called "a dying fall" as Manfred slowly shuffles off this mortal coil in a few soft closing chords. The final moments suggest that he has passed in neither hope nor despair, the master of his own fate to the end.
Portrait of Mendelssohn by
James Warren Childe
(1778–1862), 1839
en.wikipedia.org
Schumann identified strongly with Byron's tormented heroes. Indeed, Ms. Chernaik suggests that the composer, who contracted syphilis at an early age, might have identified with Manfred's guilt as a result. "What is unquestionable," she writes, "is that the figure of the solidary nobleman, Byron's alter ego, guilty and despairing, spoke him in a profoundly personal way, inspiring some of his greatest music."
Up next is the Piano Concerto No. 2 in D minor by Felix Mendelssohn from 1837. It opens, like the "Manfred" overture, on "a dark and stormy night" as descending runs in the piano fight it out with a dramatic ascending theme in the orchestra. The exchanges become shorter and more insistent until the orchestra wins out. The piano uses that dramatic theme as the basis for a more lyrical second subject but, this being a movement in classical sonata form, the minor key drama forcefully returns at the end, only to die out, within a few measures from fortissimo (very loud) to piano (soft). The piano takes over again with a gently rising theme and mini-cadenza that leads without pause to the gentle second movement.
That theme, which starts out sounding very much like transformation of the dark melody of the first movement, slowly changes in a way that produces, in the words of Zoran Minderovic at allmusic.com, "a hypnotic atmosphere of tranquil meditation, mystery, and melancholy."
The pace picks up again in the Presto scherzando final movement as the key shifts to D major, but now there's a playful and almost terpsichorean grace to the piano part that's reflected in the interchanges with the orchestra. The opponents of the first movement have morphed into friendly dance partners in the third.
Unlike "Manfred," in short, there's a happy ending.
Mendelssohn found the composition process unusually difficult with his second concerto. Commissioned in 1837 by the Birmingham Music Festival for a performance that fall, the concerto was almost forgotten by Mendelssohn as he went on an extended honeymoon with his new bride, Cécile Jeanrenaud. "With his mind and body otherwise occupied," writes Georg Predota at Interlude, "he wasn't very excited about the prospect of having to travel to London and Birmingham and wrote to his friend Karl Klingemann, 'I really should compose a concert for England, but haven't even started yet; for some reason this is proving to be very difficult.'" He finished it just in time for the September premiere (where he was the soloist) but, as Mr. Predota notes, "even then he was not satisfied, as he wrote to the pianist and composer Ferdinand Hiller in December 1837, 'I believe you would abhor my new piano concerto.'"
Even Mendelssohn's friend Schumann wasn't very impressed--unusual, given how much he praised the composer's work in general. As he wrote in the Neue Zeitschrift für Musik (which he had founded three years earlier):
This concerto, to be sure, will offer virtuosos little in which to show off their monstrous dexterity. Mendelssohn gives them almost nothing to do that they have not already done a hundred times before. We have often heard them complain about it. And not unjustly!...It resembles one of those works thrown off by the older masters while recuperating from one of their great exertions." (cited in Schumann on music: a selection from the writings, edited by Henry Pleasants)
For many years, the Concerto No. 2 was largely eclipsed by the more popular Concerto No. 1. As SLSO program annotator Thomas May points out, however, "contemporary performers have been reclaiming the Second Concerto and making a persuasive case that Schumann's verdict sells the music short by a considerable measure."
The SLSO last presented it in 2007 with Jonathan Biss at the keyboard. This week's soloist is Saleem Ashkar, who has an unusual background for a successful classical pianist. "Born into a culture where Classical music played very little to no part at all," writes Mr. Ashkar (an Israeli-born Palestinian Christian), "my love for this music and eventual obsessive pursuit of it, was a journey, very much into the unknown, both mentally and practically. I simply had no path to follow!" Given that he made his Carnegie Hall debut at the age of 22 and has performed with orchestras such as the Wiener Philharmoniker, Royal Concertgebouw, London Symphony, Detroit Symphony, Deutsches Symphonie-Orchester Berlin, and Orchestre National de Lyon, it would seem that the path he has forged for himself has certainly not led him astray.
The concerts this weekend conclude with music that requires little in the way of an introduction: a suite from Tchaikovsky's 1890 ballet "Sleeping Beauty" assembled by guest conductor Nikolaj Szeps-Znaider. Based on Charles Perrault's retelling of the classic tale of an enchanted princess sleeping in a castle surrounded by impenetrable thorns, the ballet got a lukewarm reception from Tsar Alexander III at its premiere, but has been embraced by audiences all over the world.
Tchaikovsky's music even made its way on to the screen when George Bruns adapted large chunks of it for Walt Disney's 1959 animated version of "Sleeping Beauty." The "Grande valse villageoise" (which we'll hear this weekend) actually became a popular tune, "Once Upon a Dream," with lyrics by Jack Lawrence and Sammy Fain. Trust me, you'll recognize it.

The Essentials: Nikolaj Szeps-Znaider conducts The St. Louis Symphony Orchestra, along with pianist Saleem Ashkar on Friday at 10:30 am and Saturday at 8 pm, January 31 and February 1. Performances take place at Powell Symphony Hall in Grand Center.
Related Articles