Classical
Classical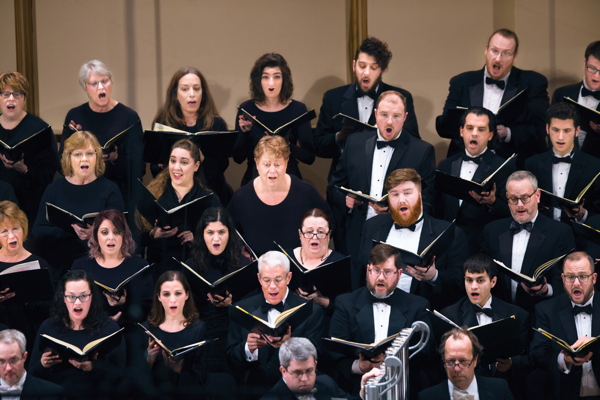 Review: Denève's historically informed Beethoven Ninth sets a new standard for excellence
By Chuck Lavazzi
I have been known to gripe about the tendency of local St. Louis Symphony Orchestra (SLSO) concert audiences to give a standing ovation to pretty much anything that, as the Venticelli say in Peter Shaffer's "Amadeus," has "a good bang at the end...so you know when to clap." Sometimes, though, that "standing o" is so wildly enthusiastic and so richly merited that even I find myself willingly swept along in the tidal wave of adulation.
[Find out more about the music with my symphony preview.]
Stéphane Denève
Photo by Dilip Vishwanat
Such was the case Friday night (February 7) when SLSO Music Director Stéphane Denève conducted the orchestra and chorus in what was the best damn Beethoven Symphony No. 9 ("Choral") that I have ever heard, either live or on recordings. Olympian in its grandeur, electrifying in its impact and stunningly perfect in its execution, this was perhaps the Ninth against which all others must now be measured.
In his pre-concert chat, Mr. Denève talked about Beethoven's enthusiasm for what was, in the early 19th century, a cutting-edge piece of technology--the metronome. Patented in 1815 by the composer's sometime friend Johann Nepomuk Maelzel, the device for precisely indicating a musical tempo was happily adopted by Beethoven. His Ninth symphony contains 14 separate metronome markings but, as Mr. Denève pointed out, conductors rarely (if ever) observe all 14 because some have been viewed as "just too crazy" to be credible.
Amy Kaiser
Photo: Gerry LOve
And so we've had a plethora of Beethoven Ninths in which it was assumed that those "crazy" tempo markings must have been mistakes, or signs of Beethoven's failing powers, or a symptom of his total deafness. Mr. Denève decided to observe all 14 of those metronome markings, on the now somewhat radical assumption that Beethoven actually knew what he was doing.
The result was a revelatory performance in which this familiar 1824 warhorse suddenly sounded brand new and, more importantly, so utterly compelling that I failed to take a single note about it. I was so transfixed by the drama of the work and, in particular, the pure exultation of the choral finale that my notebook lay forgotten in my lap.
Not that I really need written notes to remember that the singers in Amy Kaiser's chorus sounded as excellent as always and were apparently completely unfazed by the sometimes breakneck tempos. In fact, as one member of the bass section told me during intermission, going back to Beethoven's original ideas actually made the work easier to sing. The singers acquitted themselves brilliantly in any case.
The same must be said of the four soloists. Soprano Ellie Dehn, mezzo Jennifer Johnson Cano, tenor Issachah Savage, and bass Morris Robinson (a last minute substitute for an ailing Davóne Tines) all invested their singing with a complete commitment to the lyrics that made their performances very compelling. Mr. Robinson, in particular, projected extremely well, which is not always easy for the lower voices.
As for the orchestra, they surely all deserve laurel wreathes for their superb work Friday night, even in sections like the Trio of the Molto vivace second movement, which moved at something close to the speed of light.
It was, in short, a Beethoven Ninth for the ages. That, alone, would have been enough to make this concert one of my best experiences ever at Powell Hall. But the work that preceded the Ninth--the "Silent Night Elegy" by St. Louis-born composer Kevin Puts--placed the evening firmly at the top of the heap.
The "Elegy," which had its world premiere in 2018 in San Francisco, is based on themes from the composer's 2011 opera "Silent Night." The opera is based on the 2005 French film "Joyeux Noël," which in turn was inspired by an actual event: the legendary "Christmas truce" of December 1914, when around 100,000 British and German soldiers agreed to celebrate Christmas together. Carol singing and even football (or, as we Yanks say, soccer) matches were held.
The "Elegy" begins with elegiac and technically challenging solos for horn and cello (played quite well by Thomas Jöstlein and Daniel Lee, respectively) that shortly give way to increasingly complex battle music as themes associated with the French, German, and Scottish armies collide in the kind of precisely orchestrated chaos that Charles Ives did so well. It all builds into what I can only call a massive, anguished orchestral scream that abruptly gives way to a mournful duet for harp and flute (masterfully done by Allegra Lilly and Andrea Kaplan) as the soldiers bury their dead and plans for the impromptu truce begin, to the sound of a remarkably accurate imitation of bagpipes by the woodwinds.
Kevin Puts
Photo by David White, kevinputs.com
The mood changes again in the next section, "The Generals' Rage," as the guys at the top fume at the news that some of the troops have stopped killing each other for 24 hours. The musical depiction of their petulant anger takes the form of slashing, aggressive themes in the strings and angry banging on the anvil and brake drum in the percussion section. But this, too, comes to an abrupt halt with a cello solo that introduces the final section, "Sleep," as the armies drift off to exhausted post-battle slumber. The music becomes a calm, sweetly comforting string chorale that called to mind the Wilfred Owen poem from Britten's "War Requiem" in which the shades of two opposing soldiers meet:
I am the enemy you killed, my friend.
I knew you in this dark; for so you frowned
Yesterday through me as you jabbed and killed.
I parried; but my hands were loath and cold.
Let us sleep now...
That last melody slowly fades to silence--a silence which Mr. Denève made an integral part of the music by holding it for 30 seconds or so. And a good thing, too; we certainly needed it at that point. When Mr. Puts stepped out on stage to take his curtain call, he got the first of the two well-earned standing ovations for the evening.
It's worth noting that the 2018 "Elegy" is not just a moving depiction of the horrors of mechanized warfare. It's also a powerful declaration of human fellowship. It's a value that Beethoven--a fierce advocate of political liberalism and freedom--expressed so forcefully in his setting of Schiller's "Ode to Joy" in the Ninth Symphony. That made the combination of the two a courageous choice in an era when (to quote Mr. Owen again):
The scribes on all the people shove
and bawl allegiance to the state,
But they who love the greater love
Lay down their life; they do not hate.
In his program notes on the Beethoven Ninth, Tim Munro writes: "Perhaps this moment--repressive, divided--was perfect for Beethoven to launch a defense of progressive ideals in the most public forum he knew: the symphony." The moment he's referring to was in 1824, but it could just as easily be today.
There are two more opportunities to experience this crowning musical achievement: tonight (Saturday, February 8) at 8 pm and Sunday (the 9th) at 3 pm. The Saturday night concert will be broadcast live on St. Louis Public radio but, really, this is an event that can only be properly appreciated by purchasing a ticket at the SLSO website or by calling the box office at 314-534-1700.
Related Articles