Classical
Classical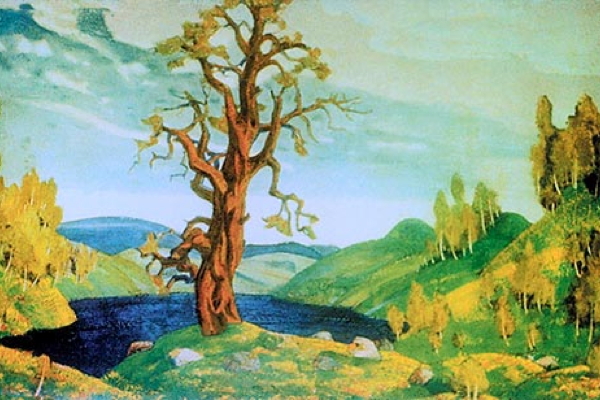 Symphony Notes: Inalienable rites of spring
By Chuck Lavazzi
In the early days of this Symphony Notes series, I had the somewhat ambitious goal of providing program notes for virtual recreations of planned (but cancelled) St. Louis Symphony Orchestra (SLSO) performances. The idea was to give you links to performances of the scheduled works using Spotify playlists provided by the SLSO and/or YouTube links uncovered by Detective Google.

This week, I have discovered the limitations of that approach.
Pierre Jalbert
The program originally scheduled for this weekend (May 8 and 9) would have consisted of the SLSO premieres of Pierre Jalbert's brief tone poem "Music of Air and Fire" and Guillaume Connesson's Cello Concerto, followed by a complete performance of Stravinsky's savage ballet "Le Sacre du Printemps" ("The Rite of Spring"). Finding links for the Stravinsky is easy enough; the SLSO's Spotify playlist has a performance by Vasily Petrenko and the Liverpool Philharmonic described by The Gramophone as " fierce, taut reading" with "a thumping good bass drum." What proved to be less easy was coming up with recordings of the other two pieces.

The Jalbert piece, which dates from 2007, runs around six minutes, so the four-minute excerpt from a 2016 performance by the Vermont Youth Orchestra under Jeff Domoto is as close to complete as you can get.

On his web site, Jalbert describes the work as consisting of two "contrasting ideas: one of quiet lyricism (air), and one of faster, more aggressive music (fire).":
The "air" music comes first and features the percussionists bowing their instruments in order to create a wafting, ethereal sound. This gradually turns into the "fire" music and features the percussionists playing various sets of drums in a more pulse-oriented, rhythmic manner.
The VYO recording consists of only the "fire" section, and there's no doubt that it fully delivers the driving, powerful rhythms Jalbert describes. As the curtain raiser for an evening that was to conclude with "Sacre," it feels completely appropriate.
Guillaume Connesson
Photo by Fanny Houillon
Connesson's Cello Concerto is an even bigger challenge. I couldn't find a complete recording at Amazon ("not even for ready money," to quote Lane in "The Importance of Being Earnest") or Spotify. YouTube yields only a performance of the fifth (final) movement (marked "Orgiaque," or "Orgiastic") by soloist Jérôme Pernoo (to whom the work is dedicated) and the Orchestre National du Capitole de Toulouse conducted by Tugan Sokhiev. It's from a broadcast of the 2016 Victoires de la Musique Classique awards, an annual French equivalent of the Classical BRIT Awards. It would be like a Grammy Award program devoted only to the classics, if we had one.

In his description of the work on his publisher's web site, Connesson describes this movement as "une danse finale, joyeuse et violemment rythmique" ("a final dance, joyous and violently rhythmic"), and you can certainly hear that in Pernoo's highly charged and stunningly virtuosic performance. If this doesn't make you want to move, then, to quote the title of a 1947 Louis Jordan single, "Jack, You're Dead." It's a pity we won't get to see noted French cellist Gautier Capuçon play the complete work with the SLSO and Maestro Denève, but this at least gives you a taste of it.
Stravinsky in 1903
By

Unknown

Photograf -
archives de FinitoR
Public Domain, Link
As for "Le Sacre du Printemps," there's not much I can add to the volumes that have already been written about this revolutionary and compelling work. The third in a series of series of successful collaborations between Stravinsky and impresario Serge Diaghilev's Ballets Russes (the previous two being "The Firebird" from 1910 and "Petruska" from 1911), "Sacre" was, like its predecessors, inspired by Russian folk elements.

Unlike them, its first performance--at the newly opened Théâtre des Champs-Elysées on May 29, 1913, with Pierre Monteux conducting--became a notorious succès de scandale. "It is arguably," writes Paul-John Ramos at classic.net, "the most famous debacle in western artistic history":
Audience members found the quiet, yet active, introduction ridiculous. When the curtain rose and [choreographer Vaslav] Nijinsky's dances began, the auditorium went into a rage, their sophistication insulted. Ravel and Debussy were both present and captivated by the music, but it was soon drowned out in the fracas. Debris was thrown, as well as punches. The work was performed in full, but only with the help of Nijinsky calling steps from atop an offstage chair.
Standing next to him was the composer, who had abandoned his seat in the theatre in disgust at the uproar. "Naturally, the poor dancers could hear nothing," he recalled later, "by reason of the row in the auditorium and the sound of their own dance steps. I had to hold Nijinsky by his clothes--he was furious and ready to dash on the stage at any moment and create a scandal."

Later performances were less riotous. In fact, when Monteux conducted a concert performance in the Casino de Paris the following year, Stravinsky was carried from the hall in triumph on the shoulders of audience members. Today the music sounds less radical but still packs a tremendous dramatic punch, as was the case when David Robertson opened the 2011-2012 SLSO season with it.

There are so many great performances of "Sacre" (both with and without dancers) for free on line that you could grow old and die listening to and/or watching every one. The Petrenko/Liverpool performance the SLSO has selected is a winner, but listening to it with the Spotify app, with its mandatory "shuffle" playback mode (happily absent on the desktop version), can be a trial.

Other options for the concert version include Jaap van Zweden conducting a wonderfully precise performance of the composer's 1947 revision at the Concertgebouw in Amsterdam and a high-intensity reading by the Radio France Philharmonic under Mikko Franck. Both boast great sound and videography that gives you close-up views of soloists impossible to achieve in real life. For a deeper dive into the music, there's a version of Leonard Bernstein's 1958 New York Philharmonic recording synchronized with pages from the score.
Supports and membes of the Ballets Russes
By General Nicolas Besobrasov (died 1912)
printed in book, 'Nijinsky' by Richard Buckle,1971,
Weidenfeld and Nickolson, London.,
Public Domain, Link
As for videos of the ballet itself, you can see not one but two recreations of Nijinsky's original choreography performed by the Orchestra and dancers of the Ballet Mariinski Theater under Valery Gergiev at the Mariinski Theater in 2008 and at the Théâtre des Champs-Elysées in 2013. The sound and videography are great in both cases. It's as close as you'll ever get to seeing what so excited and outraged audiences over a century ago.

For a radically different take on the ballet, check out Pina Bausch's typically idiosyncratic choreography by the Wuppertaler Tanztheater from 1978. The quality of the recorded sound is mediocre and Bausch's approach will come across as either revelatory or ridiculous depending on your taste, but its originality is remarkable in any case. You can also view versions by noted French choreographer Maurice Béjart and a massive 250-dancer production employing multiple companies with choreography by Royston Maldoom accompanied by the Berlin Philharmonic under Sir Simon Rattle.

OK, so I had more to say about "Le Sacre du Printemps" than I thought. In any case, you have a plethora of resources here for your homebrew re-creation of this weekend's original concert. Listen, watch, and enjoy. It would have been the SLSO's regular season finale, but the orchestra is scheduled to resume their regular concert season in September. Season tickets are on sale now.
Related Articles