Classical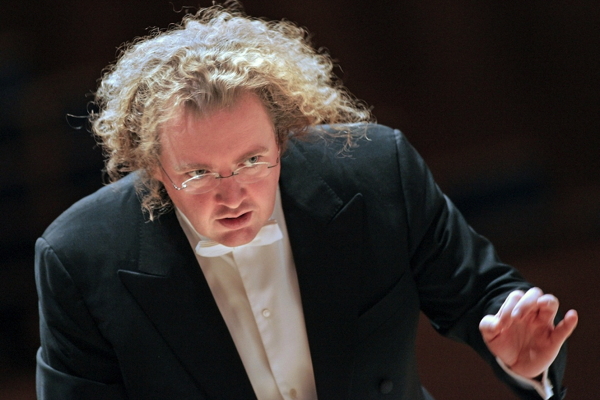 Review: the SLSO celebrates a return to Powell Hall with a reduced but mighty Beethoven 'Eroica'
Written by

Chuck Lavazzi
The mood was muted but celebratory Thursday night (October 15th) as Music Director Stéphane Denève and the St. Louis Symphony Orchestra (SLSO) took to the Powell Hall stage for the first time in almost seven months with the first in a series of chamber music and small-orchestra concerts scheduled to run through the first week of November.
[Find out more about the music with my symphony preview.]
A physically distanced tune-up
It was muted mostly because, due to pandemic concerns, the audience was kept small (100 people, around 3% of Powell's capacity) and physically distanced. The celebration came from the band's outstanding performances of music by Beethoven and contemporary violinist/composer Jessie Montgomery. Although the members of the SLSO haven't appeared together on the Powell Hall stage in what seems like ages, their playing Thursday night was accomplished and precise, and their teamwork as flawless as usual. For us, at least, it felt like a kind of homecoming.
Before the first note was played on stage, the party started with a video of Maestro Denève leading a quartet of SLSO trombones in the Part 5 of Joan Tower's six-part "Fanfare for the Uncommon Woman." The short piece built to a powerful conclusion, after which Mr. Denève took the stage with a heartfelt welcome message for the audience. "We are back," he said, "and you are, too!"
Jessie Montgomery
Photo by Jiyang Chen
He then led the symphony strings in a sparkling rendition of Ms. Montgomery's 2012 "Starburst." Originally composed for a nine-piece string ensemble and later arranged for string orchestra by Jannina Norpoth, "Starburst" is a delightful sonic explosion which, in the composer's words, refers to "the rapid formation of large numbers of new stars in a galaxy at a rate high enough to alter the structure of the galaxy significantly." To my ears, "Starburst" also calls to mind musical depictions of fireworks by composers like Stravinsky and Debussy while still speaking in a sonic voice that is entirely Ms. Montgomery's own. Rapidly ascending motifs shoot up, expand into musical stars, and then start over again in what the composer describes as "a multidimensional soundscape" that constitutes "a play on imagery of rapidly changing musical colors."
When I interviewed Mr. Denève back in February of last year, he observed that, when it came to new music, "my preference is for music that is very emotional, that is often very tonal, and that has a lot of melodies." That has certainly been true of the newer works he has conducted thus far, including "Starburst." Performed with pinpoint accuracy by the SLSO strings, it was an invigorating way to herald the orchestra's return to live performances at Powell.
The hour-long concert continued and concluded with one of Beethoven's Greatest Hits: the Symphony No. 3 in E-flat major, known as the "Eroica." It's a work that, as Mr. Denève points out in this weekend's program notes, is "a universal masterpiece. Something essential. The 'Eroica' is full of hope, and this is the right piece to begin making music together again." I couldn't agree more, especially with a performance as fine as the one we heard Thursday night.
The two big E-flat major chords that opened the symphony set the scene for a dramatic first movement that radiated energy and resolve. Here, as in the rest of the performance, clean, clear melodic lines and crisp articulation were the order of the day. The Marcia funebre second movement had dramatic heft, with especially plaintive oboe lines by Xiomara Mass and Cally Banham. That potent sense of tragedy made the contrast with the energetic Scherzo third movement that much more notable. The horn section under Thomas Jöstlein really distinguished themselves both here and throughout the performance. The triumphant finale, with its variations on what was apparently one of Beethoven's favorite themes, brought everything to a most satisfying conclusion.
Nobody does tragedy and triumph quite like Beethoven, and heaven knows the pandemic has brought us an ample sufficiency of both.
Stéphane Denève
Photo courtesy of the SLSO
One of the more remarkable things about this "Eroica" was the size of the orchestra. The need to provide safe physical distancing for the musicians limits the number of them who can be on stage at any one time—40 total, in this case. That's about half the size of most contemporary orchestras, but fairly typical of the forces that would have been available to conductors back in Beethoven's day. As a result, some musical details that are sometimes lost in "big band" performances came through clearly here. I was thinking, for example, of the burbling clarinet arpeggios in the finale as well as the fugal passages in the second movement. Everything was very clear and transparent, but still with plenty of power.
The small audience size also changed the acoustics of the hall. With fewer bodies to absorb the sound, the acoustic fog that I have sometimes noticed at Powell was lifted, and everything could be heard in greater detail. Maybe I'm just looking for silver linings here, but I thought the overall result was a bit of a revelation.
Performances of "Starburst" and the Beethoven 3rd continue Saturday at 7:30 pm and Sunday at 3 pm, October 17th and 18th. With only 100 tickets available for each performance, I expect the remaining two concerts to sell out quickly. You can find more information and program notes at the SLSO web site, along with details on the many changes that have been made in seating, ticketing, and even the hall's infrastructure in response to the pandemic. To purchase tickets, though, you have to call the box office at 314-534-1700; they're not being sold on line. Note that Saturday performances of this and other concerts in the "re-imagined" fall season will not be broadcast on St. Louis Public Radio, which continues to present rebroadcasts of earlier SLSO concerts every Saturday night at 8.
Next at Powell Hall: Maestro Denève conducts a program of Richard Strauss's "Metamorphosen for 23 Solo Strings," Takashi Yoshimatsu's "And birds are still...," and Dvorak's D-minor Serenade for winds Thursday through Saturday at 7:30 pm as well as Friday at 11 am, October 22-24. As with other programs in the fall series, the concerts will run around one hour with no intermission.
Related Articles