Classical
Classical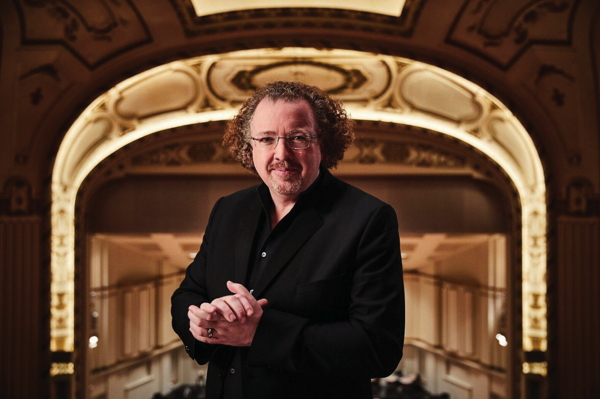 Review: Music of mourning and morning with Denève and the SLSO
By Chuck Lavazzi
Pre-COVID, the opening number at a symphony concert was likely to be a relatively short and dramatic "curtain raiser" like Honegger's "Pacific 231" or a popular crowd pleaser like Barber's "Adagio for Strings," to name just two openers from St. Louis Symphony Orchestra (SLSO)  concerts in the recent past.
[Find out more about the music with my symphony preview.]
But that, as they say, was then. This week's SLSO concerts open with a pair of works for string orchestra played attaca (i.e., one after the other with no pause) which, as Music Director Stéphane Denève notes in his opening remarks, combine to deliver a message of mourning followed by one of hope. Given the current state of the world at large and our nation in particular, that feels very apt.
It also feels apt that the longer of the two works was written in 1945 as an elegy for the death of an entire civilization by an elderly composer only a few years from his own death.
The SLSO strings tuning up
Ricard Strauss's "Metamorphosen" for 23 solo strings was written in the wake of the destruction Germany brought upon itself during World War II and particularly for the bombing of the National Theatre—the home of the Bavarian State Opera, Orchestra, and Ballet—by the allies in 1943. The theatre was completely restored to its prewar glory and re-opened in 1963, but poor Strauss never saw it, having died in 1949.
The prevailing mood is one of lamentation, a fact emphasized by the way a theme derived from the Marche Funebre of Beethoven's "Eroica" winds its way though the entire 28-minute composition, like a dark thread. There are moments of near-joy and even hope, including some glorious passages for the entire ensemble rendered with stunning power and beauty by the SLSO strings, but in the end the work fades to a quiet, resigned conclusion.
This is a piece I had only encountered in the past on recordings, which sometimes turned the composer's complex counterpoint into sonic fog. Performed live, with the 23 string players spread out across the entire width of the stage, that fog dissipated, replaced by a clear web of sound in which the individual musical lines were clearly audible and easy to follow. Staging aside, primary credit for that resplendent result goes to the skill of the musicians in the string section and to Maestro Denève's masterful command of Strauss's intricate musical structure. A hearty "bravi" is due to all involved.
So much for the mourning from 1945. The hope was delivered hard upon its heels by Takashi Yoshimatsu's "And the Birds Are Still..." from 1998. It's a much shorter work—usually around seven or eight minutes—but packs a lot of striking imagery into that brief period.  To my ears, it sounds like a day in an avian friendly garden, with awakening birds suggested by the violins playing soft triplet motifs over a drone in the lower strings that conjures up images of a world slowly emerging from sleep. It builds to a happy climax, followed by a brief pause, after which individual players begin to chime in with their own diverse songs. Eventually night falls and the violin birds we heard at the beginning return with their syncopated song, gradually fading out to pianissimo and pianississimo (pp and ppp in musical notation) as they retire for the evening.
The musical texture of "And the Birds Are Still..." is far more delicate and transparent than that of the "Metamorphosen," which leaves individual players more exposed—possibly risky in a less solid ensemble, but sheer poetry with the SLSO strings. It all added up to a moving and ultimately blissful 35 minutes or so that provided a welcome respite from the madness that dominates our media these days.
The SLSO winds ready for Dvořák
A long stage change came next, as the string players were replaced by ten members of the SLSO wind section along with Principal Cellist Daniel Lee and Principal Bass Erik Harris in a nuanced and good-humored rendition of Anton Dvořák's D-minor Serenade, Op. 44. Composed in only two weeks in January 1878 (the first movement was completed in one day) just as the 37-year-old composer's career was taking off, the Serenade is, its opening key not withstanding, a warmly cheerful piece.
Mr. Denève highlighted and enhanced the work's good cheer without neglecting its more poetic moments. The Menuetto second movement was a good example, starting lyrically and then transitioning to a positively boisterous furiant in the central trio. There was excellent playing by the entire wind ensemble, which consisted of Xiomara Mass and Cally Banham on oboes, Scott Andrews and Tzuying Huang on clarinets, bassoonists Andrew Cuneo and Felicia Foland with Ellen Connors on the contrabassoon, and a stellar trio of horns: Thomas Jöstlein, Victoria Knudtson, and Tod Bowermaster. I found the horns especially impressive in the dramatic central section of the Andante con moto third movement as well as in the happy ascending triplets that bring the work to a celebratory close.
As it was last week, the audience was kept small (around 100 people, roughly 3% of Powell's capacity) and physically distanced as part of the SLSOs COVID-19 safety protocols, but the applause and audience response felt louder than last week. Whether that denoted increased size or just more enthusiasm I can't say, but it was a good thing either way.
There are two more performances of this wonderfully uplifting program Friday and Saturday at 7:30 pm, October 23 and 24.  You can find more information and program notes at the SLSO web site, along with details on the many changes that have been made in seating, ticketing, and even the hall's infrastructure in response to the pandemic. To purchase tickets, though, you have to call the box office at 314-534-1700; they're not being sold on line.  Note that Saturday performances of this and other concerts in the "re-imagined" fall season will not be broadcast on St. Louis Public Radio, which continues to present rebroadcasts of earlier SLSO concerts every Saturday night at 8.
Related Articles