Classical
Classical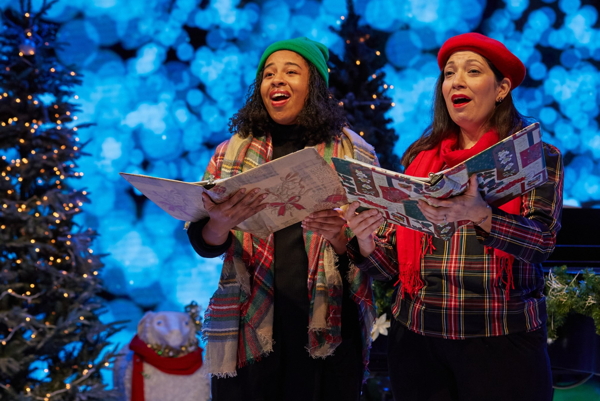 Review: Opera Theatre's Holiday Concert offers classic seasonal cheer
By
It's December. In the performing arts world, that would normally mean at least one of the following: a stage adaptation of Dickens's "A Christmas Carol" (probably with music), Handel's "Messiah," Tchaikovsky's "The Nutcracker," or just anything with visions of sugarplums.
L-R: Ryan Johnson, Angel Riley,
Benjamin Taylor, Stephanie Sanchez,
Alex Rosen
But it's 2020 and an unchecked pandemic has filled hospitals and emptied theatres and concert halls. That doesn't mean you can't find plenty of musical holiday cheer; it's just that you'll be enjoying it online instead of in person.
Opera Theatre has gotten into the spirit of the season early with their Holiday Concert. Available all month for on-demand streaming from their web site, it's the first program in their 2020-21 Digital Studio series. It stars a talented cast of five singers (most of whom are alumni of OTSL's Young Artist program) accompanied by pianist Mauro Ronca under the skillful direction of OTSL Artistic Director James Robinson and conductor Roberto Kalb. The show is a holly jolly mix of traditional Christmas carols, Great American Songbook classics, and a well-chosen set of festive numbers from the worlds of opera and operetta.
Recorded at the Levy Opera Center on the Webster University campus, the Holiday Concert is an impeccably staged event, complete with a seasonal set of fake snow and Christmas trees backed up by digital projections by Greg Emetaz that can change the scene in an instant from a snowy forest to Art Hill to the Gateway Arch. The performers are all decked out in cold-weather garb courtesy of Costume Coordinator Stacy Michele Harris, and even their music books have colorful gift wrap covers. In short, it's a visual treat as well as an auditory delight.
Not only do the singers sound heavenly as an ensemble in the opening set of traditional carols, but they each get a chance to shine in solo and small-group numbers as well.
Baritone Benjamin Taylor is the program's first soloist in a celebratory rendition of the classic spiritual "Go Tell It On the Mountain," complete with a joyful final verse by the whole group. Next, soprano Angel Riley and mezzo Stephanie Sanchez combine their clear, well-matched voices in a moving performance of "Oh Holy Night" (the English version of Adam's "Cantique de Noël"). The trio of tenor Ryan Johnson, bass Alex Rosen, and Mr. Taylor follow with, appropriately, "We Three Kings of Orient Are." Mr. Rosen's powerful low notes are especially impressive in the "Myrrh is mine" verse as well as in the final verse of "Let It Snow" later.
L-R: Mauro Ronca, Angel Riley, and the ensemble
In the second half of the concert, Ms. Riley and Mr. Taylor get a chance to display their operatic chops with some soaring high notes in the "Brindisi" from "La Traviata," followed by Mr. Johnson's impassioned "Dein ist mein ganzes Herz" from Lehar's "The Land of Smiles." Then the whole ensemble has plenty of fun with of a pair of numbers from "Die Fledermaus."
For me, though, one of the most moving things in the entire program was Ms. Sanchez's heartfelt "Have Yourself a Merry Little Christmas." Written by Ralph Blaine and Hugh Martin for the 1944 film "Meet Me in St. Louis," the song's wistful hope that "through the years we all will be together / If the fates allow" seems especially appropriate in the Age of COVID.
Opera Theatre's enchanting Holiday Concert is available on demand through December 31st. It offers a welcome dose of peace on earth and goodwill to all at a time in our nation's history when both seem to be in short supply. For more information on the concert as well as the rest of OTSL's 20201 Digital Sudio series, visit the company web site.
Related Articles