Classical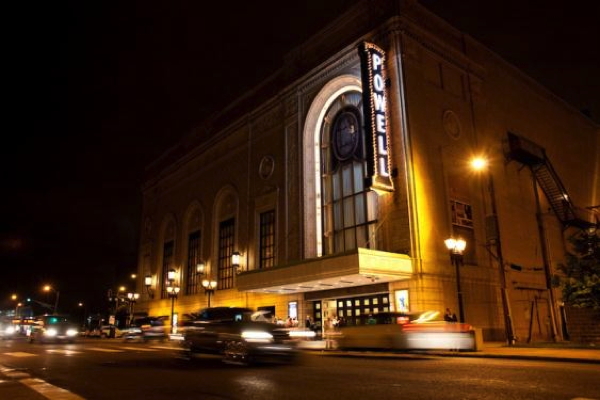 Symphony News: SLSO announces its live spring concert series
Written by

Chuck Lavazzi
Powell Symphony Hall went dark almost exactly one year ago due to the rapidly spreading SARS-CoV-2 pandemic, but the St. Louis Symphony Orchestra (SLSO) quickly found multiple ways to stay in touch with its audience during the hiatus via its web site, its YouTube channel, rebroadcasts of previous SLSO concerts at St. Louis Public Radio, and the monthly "Night at the Symphony" series of concert highlights on Nine Network television.
Last October, when COVID-19 infections seemed to be decreasing locally, the orchestra returned to live concerts at Powell. Working with a team of infectious disease specialists from Washington University, the SLSO developed a plan to insure the safety of both audiences and SLSO staff. That included a strict limit on audience size: originally 100, which gradually increased to 150.
Stéphane Denève conducts
All went well until case counts began to climb in early November, and the SLSO was obliged to cancel the last concert in the series. It was recorded on the Powell Hall stage, though, and is available through April 10th as part of the orchestra's spring digital series.
There's good news today, however, as the SLSO announced a return to live concerts in a format very similar to the one from last fall. Indeed, aside from an increase in the maximum house size to 300 (less than half of the 725 maximum deemed safe by local public health experts), the experience should be identical to what it was last October and November.
What was the experience like? Having attended nearly all of those concerts, I can attest to the fact that it could be disconcerting at times. The nearest audience members were rows away, the orchestra was smaller (especially for the two-week chamber music series), and the house was much quieter.
The programs were shorter as well, running around an hour with no intermission.  There were no concessions and no mingling in the lobby before the concert. Audience members entered through separate doors, depending on where they were sitting, and parties were kept at least six feet apart both entering and leaving.
But any oddness was overwhelmed by the pleasure of once again experiencing live music among real people.
The new series, which runs from March 26th through May 15th, will feature an intriguing assortment of works old and new. The repertoire includes "greatest hits" like Beethoven's Symphony No. 7, Prokofiev's "Peter and the Wolf," and Mendelssohn's Violin Concerto with our own Celeste Golden Boyer in the solo spot. But there are also newer works like "Vesper" by contemporary Estonian composer Ester Mägi, "The Day Dawn" by Britain's Sally Beamish, and "Death of the Poet" by the young (b. 1993) Philadelphia-based composer TJ Cole.
Stephanie Childress
SLSO Music Director Stéphane Denève will conduct the majority of the concerts, but the ever-popular Leonard Slatkin will put in a guest appearance with a program of works by Britten, Ravel, and Ginastera. SLSO Assistant Conductor Stephanie Childress will make her debut in a pair of concerts that will include the Beamish piece along with music by Britten, Dvorak, and Mozart.
As was the case last fall, masks are mandatory, along with physical distancing and good hand hygiene. There will also be plenty of hand sanitizer stations, should you forget to bring your own.
So if you have been missing the sound of great music live at Powell, mask up and head on over to Grand Center. Spring is here, and while it will still be a while before we can return to something like pre-pandemic normal, every little bit helps.
The Essentials: The St. Louis Symphony Orchestra's 2021 live concert season kicks off on March 26th as Stéphane Denève conducts the orchestra and violin soloists Kristin Ahlstrom and Stephanie Childress in a program of works by Bach, Ester Mägi, Arvo Pärt, and Shostakovich. Performances are at 7:30 pm Friday and Saturday and 3 pm Sunday, March 26-28, at Powell Symphony Hall in Grand Center. Ticket information is available at the SLSO web site and at the box office at 314-534-1700.
Related Articles