Classical
Classical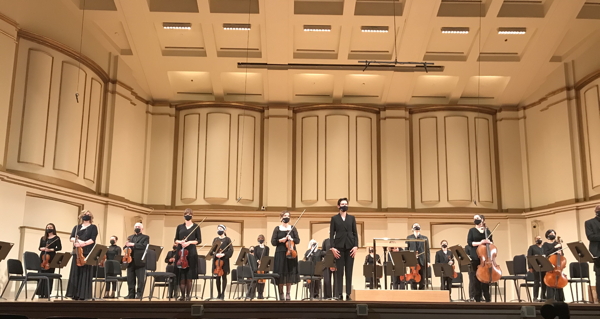 Review: Stephanie Childress has a spring in her step in her SLSO conducting debut
By Chuck Lavazzi
"Spring work," wrote famed naturalist John Muir, "is going on with joyful enthusiasm." By that standard, there was over an hour of spring work on display at Powell Hall last weekend (April 9-11) as the St. Louis Symphony Orchestra's newly appointed Assistant Conductor Stephanie Childress led the SLSO strings in a cheerfully blooming program of music for strings by Britten, Dvořák, and contemporary British composer Sally Beamish.
[Find out more about the music with my symphony preview.]
As Ms. Childress noted in her introductory chat with the audience, the common thread among the three works was childhood. Britten used tunes recycled from his youthful compositions (he began writing at the age of 5) in his "Simple Symphony"; Dvořák's "Serenade for Strings" was inspired, in part, by the birth of his first child; and Beamish dedicated "The Day Dawn" to her friend Christine McKemmie, whose daughter Zoe had just died. "[T]he piece symbolizes new beginnings," she wrote, "recalling the sense of calm Chris felt on the day of the funeral, dawning bright after a week of rain."
Originally written with student ensembles in mind (and when the composer himself was only 20), Britten's symphony is, in indeed, simple enough for both young audiences and performers, but it's also sophisticated enough to appeal to adults. And in the hands of a polished professional ensemble like the SLSO strings, it yields delightful details of wit and nuance that might escape less experienced players.
This was very apparent in Ms. Childress's interpretation, which brought out the rambunctious fun of the "Boisterous Bourrée" first movement, delivered delicate and cheerful precision in the "Playful Pizzicato" second, and was sweetly nostalgic in the "Sentimental Sarabande." A lively romp through he "Frolicsome Finale" brought the entire business to a most successful conclusion. Indeed, the echoes of that last movement continued to frolic in my memory for days afterwards.
Beamish's "The Day Dawn" is a more serious affair for a larger ensemble (around 40 players, twice the size of the Britten symphony) and with a degree of musical detail that made me glad I was seated close enough to the band to hear it all clearly. Opening with an early spring sunrise in the low strings followed by a pop-up thunderstorm and a return to sylvan tranquility, it's a richly evocative piece that conjures up images of the Scottish highlands and the Shetland islands that provided the work's titular folk tune.
That tune is heard most clearly in the dramatic central section and again at the very end, played simply and sweetly by violinists Celeste Golden Boyer and Erin Schreiber, but it seems to me that it lies at the heart of the sonically layered and richly contrapuntal body of the work as well. The orchestra played it with heart and polish under Ms. Childress's sympathetic direction.
Dvořák's Op. 22 "Serenade" concluded the program. It's a work that has always been a favorite of mine and, based on her pre-concert comments, a favorite of Ms. Childress's as well. Certainly her reading of it was loving and finely shaded—clearly the product of someone attuned to the sunny springtime mood (the work was completed in May 1875)—that permeates the serenade's five melody-saturated movements.
That said, there were times when I found her approach perhaps a bit too loving and lyrical. I would have preferred a brisker tempo in the Moderato opening movement, for example, and a bit less lingering over the poetic trio section of the Tempo di valse second movement. There was, on the other hand, a bracing energy to both the Scherzo and the final Allegro vivace as well as real beauty in the sentimental Larghetto, so on the whole I can't complain. It was a fine performance, and perfectly played by all concerned.
This was Stephanie Childress's debut as a conductor (she appeared as a violin soloist with the orchestra March 26-28), and it was intriguing to watch her at work. Her podium style was elegant and precise, neither flamboyant nor overly reserved. I had the sense that she felt great confidence in the expertise of her orchestra and was content to simply keep them moving in the direction they had already carefully rehearsed.
London Symphony violinist Hugh Bean once opined that conducting "is the strongest evidence I've yet seen that telepathy, in one form or another, exists." Seeing Ms. Childress in action, I'm inclined to agree.
Next at Powell Hall: Ms. Childress returns Friday at 11:30 am, Saturday at 7:30 pm, and Sunday at 3 pm, April 16-18, to conduct Luigi Boccherini's "Overture in D major," Mozart's "Sinfonia concertante" (K.364), and the third of Respighi's "Ancient Airs and Dances" suites. Only 300 tickets will be sold for each performance and strict health protocols will be in place. For more information, visit the SLSO web site.
Meanwhile, the SLSO's digital concert series continues with on-demand performances of "Night Music" (which I reviewed on March 31) through April 24 and "The Heart of the Matter" through May 8.
Related Articles