Classical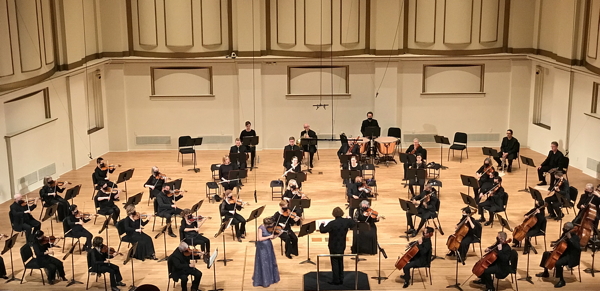 Symphony Review: An evening of crowd pleasers ends the SLSOs 2021 spring season
Written by

Chuck Lavazzi
The great violinist Joseph Joachim once described Mendelssohn's Violin Concerto in E minor, op. 64 as "the heart's jewel." That jewel got an elegant 24 karat setting last night (Thursday, May 13th) from Second Associate Concertmaster Celeste Golden Boyer and the St. Louis Symphony Orchestra (SLSO) under Stéphane Denève.
[Find out more about the music with my symphony preview.]
"I'm a poetic conductor," said Maestro Denève in a 2019 interview. "I think that the Holy Grail of music is the tune, the melody." There are heaping helpings of melody in Mendelssohn's concerto, and they were served up to perfection by Mr. Denève and Ms. Boyer in a performance that, while it strongly emphasized the poetic, did not stint on the dramatic
"Death of the Poet"
The drama was most apparent in the stormy opening and the crackling first movement coda, while the lyricism was clearly heard in the gentle Andante second movement. Towards the end, it felt almost like a lullaby, gentle and loving. The final movement, Allegretto non troppo; Allegro molto vivace, raced along happily, making the most of Ms. Boyer's light but silky tone and the pinpoint precision of her fingering. Her sound did not strike me as particularly robust, but it nevertheless had plenty of nuance, as her brilliant and varied first movement cadenza clearly demonstrated
She gave this somewhat overly familiar music her own spin, in short, which is no mean feat in these media-saturated days
The concert opened with a local premiere: "Death and the Poet" by Philadelphia-based composer TJ Cole. Inspired by "Death of the Poet Walter Rheiner" by German expressionist painter Conrad Felixmüller, it's a dark, powerful work that seemed to echo elements of the Marche funebre movement of Beethoven's "Eroica" and Mahler's Symphony No. 9. It got a gripping performance by Mr. Denève and company, building inexorably to the desperate scream before gradually trailing off into something that is either acceptance or resignation.
Beethoven's Symphony No. 7
I was also impressed by their ability to maintain their concentration despite repeated bizarre vocalizations by an audience member during the hushed tremolos of the work's final moments
The concert concluded with another certified crowd pleaser, Beethoven's Symphony No. 7 in A major, op. 92. Conducting without a score, Mr. Denève and the band delivered a Seventh that was a fine mix of power and clarity. The famous Allegretto second movement had the strong, steady pace of a religious processional. The rapid-fire Presto third movement benefitted from impressively precise attacks and cutoffs, and melodic fragments got tossed from player to player like musical ping-pong balls. And the Allegro con brio final movement was appropriately rousing, with some excellent work by the horns and trumpets. It was, in short, a wide-ranging and well-structured reading that never failed to please, earning a proper standing ovation
This is the final concert of the SLSOs 2021 series and will be repeated Friday and Saturday, May 14th at 15th, at 7:30 pm. This is the last opportunity to hear the orchestra live until this fall; don't miss it. Only 300 tickets will be sold for each performance, and strict health protocols will be in place. For more information, visit the SLSO web site
Meanwhile, the SLSO's digital concert series continues with a concert from last fall's chamber music series featuring works by Debussy, Ravel, and the mightily underrated Germaine Tailleferre through May 22.
Related Articles