Classical
Classical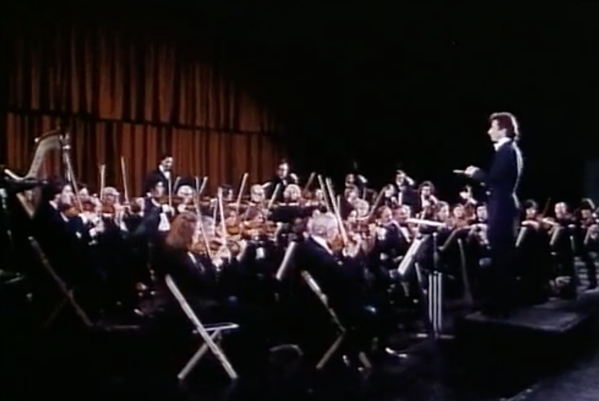 Symphony Digital Preview: A carnival atmosphere
By Chuck Lavazzi
July 15 though August 14, the St. Louis Symphony Orchestra (SLSO) continues their digital video concert series with a program originally recorded April 1-3 with a live audience at Powell Hall. The emphasis was on the coming of spring with music by Copland, Honegger, and Saint-Saëns—although only one of the three works on the program explicitly refers to anything meteorological.
L-R: Aaron Copland, Samuel Barber,
Gian-Carol Menotti, 1945
Photo by Victor Kraft
The title notwithstanding, that work is not the one that opens the program: the 1970 suite from Aaron Copland's 1944 ballet "Appalachian Spring." Copland composed the score in response to a commission from legendary dancer/choreographer Martha Graham and the talented amateur pianist-turned-arts patron Elizabeth Sprague Coolidge for an as as-yet unnamed ballet. Indeed, his original working title was simply "Ballet for Martha" because, at the time, all he knew was that he was writing a ballet for Ms. Graham.
"I was really putting Martha Graham to music," he would later recall. "I had seen her dancing so many times, and I had a sense of her personality as a creative office. I had—really in front of my mind I wasn't thinking about the Appalachians or even spring. So that I had no title for it. It was a ballet for Martha, was actually the subtitle that I had. "
The ballet didn't get its official title until shortly before the premiere, when Ms. Graham suggested "Appalachian Spring" based on lines from the Hart Crane poem "The Dance":
O Appalachian Spring! I gained the ledge; Steep, inaccessible smile that eastward bends And northward reaches in that violet wedge Of Adirondacks!
So the "spring" is more a reference to the aquatic feature than to the season, although since the poem overall is about the coming of spring it would not be too much of a stretch to see it as a reference to both.
Dating from a time in Copland's career when he was trying to write in a more popular and accessible style, the score for "Appalachian Spring" is direct and uncomplicated in its appeal. That is only fitting, since the ballet scenario is equally straightforward, telling the simple story of a young couple in rural Pennsylvania starting their life together and building their home with the help of their neighbors and the local preacher.
Although the ballet was originally scored for a small ensemble of 13 players, Copland created a suite scored for full orchestra in 1945, followed by a full orchestra version of the complete score in 1954. The suite you'll hear this weekend, prepared and premiered by Copland in 1970, brings us full circle by returning to the 13 instruments of the original
The next work on the program is the one that's explicitly seasonal: Arthur Honegger's "Pastorale d'été" ("Summer pastoral"). Composed in and inspired by a 1920 summer vacation in the Swiss Alps, it powerfully evokes the misty languor of a mountain sunrise, complete with shimmering strings, avian twittering from the flute, and a long, sensuous melodic line from the horn and oboe. Things become more lively about halfway through in a section marked "vif et gai" (lively and cheerful), with a woodwind tune that could be a kind of Swiss version of the traditional Morris Dance, and finally the sun breaks through in full orchestral glory. Apparently you can only dance for so long at that altitude, though, as the iridescent atmosphere of the opening soon returns and the work ends with a contented sigh in the strings.
The first page of the score for "Pastorale d'été" bears a quote from "Aube" by the surrealist poet Arthur Rimbaud: "J'ai embrassé l'aube d'été" ("I kissed the summer's dawn"). As capsule descriptions go, it's not half bad. In his comments in the program notes, SLSO Music Director Stéphane Denève describes the work as "tender, charming, and impressionistic… If you close your eyes, Honegger's sun delicately warms you." Listen to this performance by the Lusanne Chamber Orchestra and see if you don't agree.
The concerts conclude with a work that needs little introduction: Saint-Saëns's witty 1886 suite "La Carnaval des animaux" ("The Carnival of the Animals"). The composer wrote the piece primarily for the private amusement of his musical friends and explicitly banned its public performance during his lifetime, afraid that it might eclipse his more serious work in popularity.  
Subsequent history has apparently proved him correct. Ogden Nash wrote comic verses to accompany each of its fourteen movements for a 1949 recording by Andre Kostelanetz, a tradition that has become popular during the intervening decades, especially at "family friendly" concerts. His rhymes also show up in an abridged (ten movements) and rearranged 1976 cartoon version of the work, "Bugs and Daffy's Carnival of the Animals," with an orchestra conducted by Michael Tilson Thomas.
Originally scored for an eleven-player ensemble that included two pianos, xylophone, and glass harmonica  (a once-trendy instrument invented by Benjamin Franklin), "Carnival of the Animals" is usually heard in a full orchestra arrangement, so it should be fun to see it done live with the original instrumentation.
Players of the glass harmonica are rare these days, so I expect a glockenspiel or other more mainstream instrument will stand in for it (I have a recording where a regular harmonica was used, which is almost as odd). That said, you can hear a bit of "Aquarium," the movement for which the glass harmonica was intended, performed on what looks like a historical reproduction of an original instrument on (where else?) YouTube.
The Essentials: Stéphane Denève conducts the St. Louis Symphony Orchestra, with pianists Alessio Bax and Lucille Chung, in music by Copland, Honegger, and Saint-Saëns, in an on-demand digital video recording of a concert performed liveat Powell Symphony Hall April 1-3. The concert is available from July 15 through August 14 at the SLSO web site.
Related Articles