Classical
Classical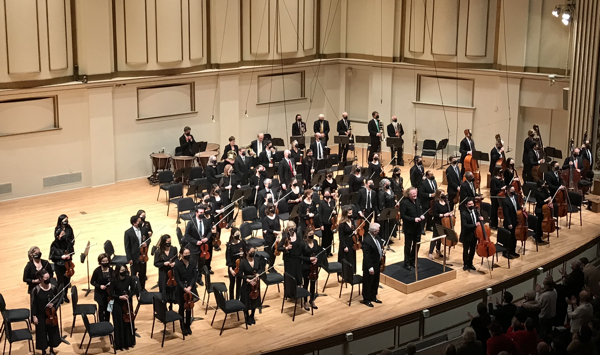 Symphony Review: The SLSO spreads peace, joy, and hope with the help of Bach and Mendelssohn
By
Stéphane Denève opened the St. Louis Symphony Orchestra concert Saturday night (February 12) by declaring his hope that the evening would bring a feeling of "peace and hope and real spiritual joy" to all. I'd say that hope was fulfilled. It certainly was for my wife who, unlike yours truly, was raised Protestant (my dad was devoutly RCC) and attended a church school through sixth grade.
[Find out more about the music with my symphony preview.]

I mention that because the underlying non-musical theme was the Protestant Reformation. Indeed, the work that closed the program was Mendelssohn's "Reformation" Symphony (the second he composed but the fifth and last published), which makes extensive use of Martin Luther's hymn "Ein feste Burg ist unser Gott" ("A Mighty Fortress is Our God"). That's not to say you had to be Protestant or even very religious to find the evening gratifying—I certainly did and (ahem) heaven knows I'm neither—but I think there was an extra layer of spiritual meaning for those who were.
Eva Kozma
The concert opened with a pair of works by 20th century arrangers/conductors Leopold Stokowski and Walter Damrosch based on Luther's hymn. Stokowski's contribution is an orchestration of the original that begins softly and moves the tune around among the different sections of the orchestra before ending with a proud declaration by the entire ensemble, complete with the horns held pavillons en l'air ("bells up" in English) for maximum effect. Overall, it's less spectacular than his more famous arrangements and a marked contrast to Damrosch's transcription of Bach's elaborately contrapuntal "Ein feste burg" Chorale Prelude, BWV 720.
Playing them back to back without pause, as was done this weekend, produced a single, coherent work that opened with simple reverence and built to a jubilant climax. It was beautifully played, with a special shout-out due to Associate Principal Horn Thomas Jöstlein for his solo in the Stokowski and laurel wreaths to the whole band for playing Damrosch's more complex orchestration with hi-def clarity.
Up next was an aural palette cleanser in the form of Haydn's "Sinfonia concertante." Written exactly 230 years ago (February and March 1792) for the first of the composer's two visits to London, it was Haydn's only essay in this popular late-18th century genre, which was essentially a concerto with multiple soloists. Haydn wrote his in response to a "Sinfonia concertante" for solo violin and viola by his former pupil Pleyel from the year before. He upped the ante by replacing the viola with a cello and adding solo parts for oboe and bassoon, thereby providing soprano and baritone double reeds to go with the soprano and baritone strings.
Jelena Dirks
The four soloists play off each other quite a bit, so ideally you want players who are comfortable working together. That's what we had the last time the orchestra played this work in 2014 and it's what we got this time as well, and for the same reason: the soloists were all members of our own SLSO. Assistant Principal Second Violin Eva Kozma had the most visible role, given the prominence of the violin part, and she filled it splendidly. Haydn gives the violinist some of the best bits, including a sequence in the finale that is either a mock operatic recitative or a bit of typical Haydn humor in which the violin has to restate the main theme three times before the orchestra "gets it."
Cellist Bjorn Ranheim had his share of neatly executed star turns as well, including some fast virtuoso passages and a bit in the end in which he and Kozma dash off short flourishes at the very tops of their registers just before the final chords. Haydn doesn't give Principal oboe Jelena Dirks or Principal Bassoon Andrew Cuneo as many opportunities to show off, but they made the most of the ones they did have, with a fine combination of sagacity and sensibility. When they played together as a quartet, the result was so harmonious that they might have been, to paraphrase Mr. Keats, four souls with but a single thought.
At the podium, Denève pulled it all together with a reading that got all of Haydn's fleet-footed elegance and good humor just right.
Bjorn Ranheim
The "spiritual joy" of which Denève spoke earlier was on full display in the second half of the concert, with radiant performances of the Act I prelude to Wagner's "Parsifal" followed by Mendelssohn's "Reformation" Symphony. The decision to pair them was inspired by the fact that both open with versions of the "Dresden amen", a six-note phrase that was a popular way to sing "Amen" for both Catholic and Protestant congregations in the 19th century.
It turned out to be a sound decision. Denève led the band in a luminous reading of the "Parsifal" Prelude that displayed the transparent beauty of the SLSO strings and the burnished splendor of the brass sections. The segue from that to the quiet statement of the "Dresden Amen" in the majestic opening of Mendelssohn's symphony felt entirely natural, even though the two works otherwise have as little in common as their creators.
Andrew Cuneo
Conducting from memory without a score, Denève led the SLSO in a joyous and uplifting Mendelssohn Fifth. Originally intended for a celebration, on June 25th 1830, of the 300th anniversary of the Augsburg Confession, the "Reformation" Symphony can easily come across as a triumphal affirmation of the victory of Protestantism over Catholicism. The final movement, with its heavy reliance on "Ein feste Burg," certainly encourages that approach. But in Denève's hands the feeling was more one of devotion than revanchism. The first movement, while not lacking in drama, lacked the angry energy that I have sometimes heard in other performances. The Allegro vivace second movement was more graceful than usual, with some pristine playing by the oboes in the trio, and the Andante third movement, with its carefully sculpted phrases, was just sentimental enough to be truly touching.
The final movement was the crowning glory of this "Reformation," with a final Allegro maestoso statement of Luther's hymn that felt not so much heroic as reverent. This was music of fellowship and healing—a "choral symphony without the chorus," as Denève described it in his pre-concert remarks. It made me hear this familiar work in a different way. My congratulations.
Next at Powell Hall: The regular season pauses for a series of special events this coming weekend and next, including "Lift Every Voice," the annual Black History Month Celebration, on February 25th. Then Dmitry Sinkovsky makes his SLSO debut as conductor, violinist, and countertenor next month in a program of music by J.C. Bach, Antonio Vivaldi, and George Frideric Handel. The St. Louis Symphony Chorus, which has been unable to perform for some time due to the pandemic, returns in these concerts with Mozart's "Requiem." Performances are Friday at 7:30 pm, Saturday at 8 pm, and Sunday at 3 pm, March 4-6.
Related Articles