Classical
Classical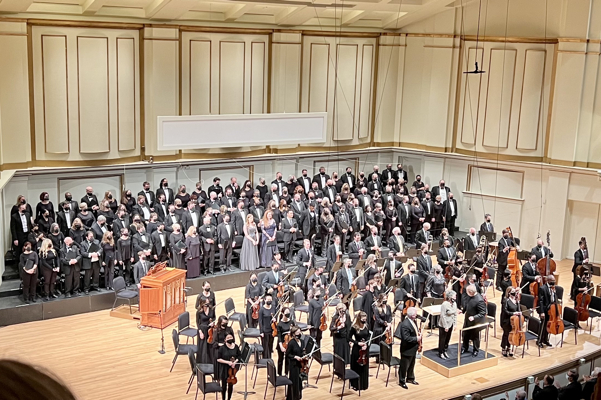 Symphony Review: The SLSO delivers a first rate Mozart evening despite last minute changes
By Chuck Lavazzi
It's not easy for big institutions like the St. Louis Symphony Orchestra (SLSO) to change course abruptly but on the relatively rare occasions when necessity has demanded it, they've proved to be remarkably nimble in doing so. Last weekend's program (March 4-6) was a good example.
[Find out more about the music with my symphony preview.]

The original plan was for Russian conductor, countertenor, and violinist Dmitry Sinkovsky to conduct Mozart's Requiem in D minor, K. 626 along with a mix of works by J.C. Bach, Vivaldi, and Handel. Sinkovsky would have played the violin in a Vivaldi concerto and sung two Handel arias in addition to leading the orchestra.
Patrick Summers
All that changed early last week when, according to an SLSO press release, Sinkovksy was "unable to travel to St. Louis," resulting in his replacement with Houston Grand Opera Artistic and Music Director Patrick Summers. That meant that while the "Requiem" stayed on the program, everything else had to go.
Which, as it turned out, was not a bad thing at all. The program went from mostly Mozart to all Mozart, and it was all so well done that once you got past the printed program inserts, there was nothing to even hint at last-minute changes.
The revised program began with the overture to "La Clemenza di Tito," which, like the Requiem, was composed in the last year of Mozart's life, 1791. As befits an opera that is serious without being tragic—nobody dies because Good Emperor Titus insists on forgiving all his enemies—the overture is majestic and vigorous. Summers's interpretation was resplendent, especially in the final statement of the martial opening theme, and played with perfection.
Jennifer Johnson Cano
Photo by Fay Fox
One of the characters Titus pardons is Vitellia, who spends most of the opera plotting against Titus and exploiting the noble Sesto towards that end. In her aria "Non più di Fiori" she finally sees the error of her ways and resolves to confess everything. Mezzo-soprano Jennifer Johnson Cano brought it to dramatic, deeply felt life Friday night. She has a big voice with solid low notes and put it to good use both here and in the "Requiem" later.
A tip of the critical hat is also due to SLSO clarinetist Ryan Toher, who performed the basset horn obbligato part that Mozart added to the aria for his friend, the clarinet virtuoso Anton Stadler. Toher played the bubbling arpeggios and long melodic lines with fluid grace.
Roger Kaza
Writing works for his friends was, as Summers pointed out in pre-concert remarks, a common practice for Mozart. For his friend Joseph Leutgeb he wrote four horn concertos which have since become part of the core repertoire for the instrument. Principal Horn Roger Kaza took us into intermission with a skillful and nuanced rendition of the second of the four concertos. He had a reserved stage presence but a good feel for the light, precise, and cheerful nature of the work that brought enthusiastic applause from the audience.
Before raising his baton for the final work of the evening, the Requiem, Summers asked for a moment of silence for the people of Ukraine, thereby giving an already powerful work an extra sense of immediacy. Amy Kaiser's SLSO Chorus, silenced for two years by the pandemic (which has also brought its share of unnecessary death), gave eloquent voice to the music, singing with perfect clarity while masked (singer's masks having been on the market for a while now). The contrapuntal passages—and there are plenty of them—were impressively precise, and the big dramatic sections like the "Dies irae" and "Rex tremendae" were formidable.
Summers's operatic background was apparent in the well-paced theatricality of his interpretation. It has often been said of Verdi's "Requiem" that it was one of his best operas, and I think the same is true of Mozart's. Or would have been if he had lived to finish it. The sense of dramatic continuity in Summers's reading made it easy to forget that the only part Mozart completed in its entirety was the opening "Introitus—Requiem." The rest represents a mix of Mozart, his pupil and copyist Franz Xaver Süssmayr, and possibly a few others as well.
L-R: Erica Petrocelli, Jennifer Johnson Cano,
Nicholas Phan, Soloman Howard
Soloists Jennifer Johnson Cano, soprano Erica Petrocelli, tenor Nicholas Phan, and bass Soloman Howard were all in excellent form. Howard's big, rolling voice blended well with both Amanda Stewart's flawless trombone solo in the "Tuba mirum" and Phan's ringing vocals. I'm not sure what the logic was of having Petrocelli deliver her two short solos from downstage right in front of the small positive "box" organ, but doing do nicely highlighted those moments, both in Friday night's performance and in the Saturday night broadcast.
It was, in short, a potent and moving evening. And a reminder that what's done at the last minute can still be first rate.
Next at Powell Hall: Stéphane Denève returns to conduct the orchestra and pianist Jean-Yves Thibaudet in Saint-Saëns Piano Concerto No. 5 ("Egyptian") along with Dukas's ballet "La Péri," a suite from Stravinsky's "The Firebird," and the world premiere of "Goddess Triptych" by contemporary composer Stacy Garrop. Performances are Saturday at 8 pm and Sunday at 3 pm, March 12 and 13. There's also a special one-hour "Crafted" concert of the Dukas and Stravinsky works on Friday at 6:30 pm, March 11 that includes drink specials and complimentary snacks.
Members of the SLSO will also perform a concert of contemporary works for chamber ensemble and video at the Pulitzer Arts Foundation on Tuesday and Wednesday at 7:30 pm, March 8 and 9. As is often the case with Pulitzer events, however, both nights are sold out at this time because the performance space there is very small.
Related Articles