Classical
Classical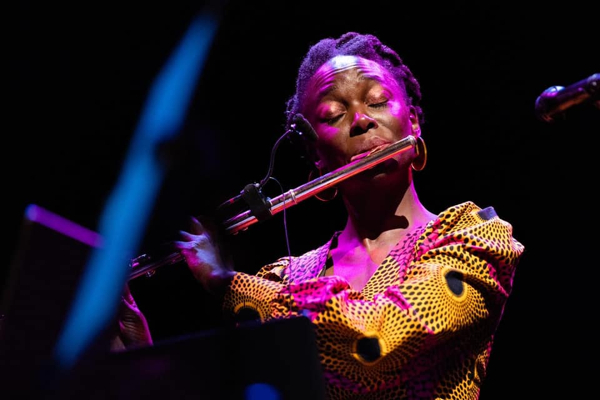 Symphony Review: Nathalie Joachim's 'Fanm d'Ayiti' highlights the SLSOs season opener
By Chuck Lavazzi
St. Louis Symphony Orchestra Music Director Stéphane Denève began the second of the opening pair of concerts of the 2022/23 season on Sunday, September 18, with a hearty "bonjour," as he usually does ("bon soir" for evening shows). This time, though, he went on to remind us that words of welcome were especially relevant because the concert came at the end of the 10th anniversary of Welcoming America's "Welcome Week."
[Find out more about the music with my symphony preview.]

"Through Welcoming Week," states the non-profit's web site, "organizations and communities bring together neighbors of all backgrounds to build strong connections and affirm the importance of welcoming and inclusive places in achieving collective prosperity."  The SLSO's welcome took the form of a musical travelogue that took the audience to Italy, Tunisia, Spain, Haiti, and Bohemia (or, as it is now known, the Czech Republic). Under Denève's sympathetic baton, it was two hours of music that brought joy to the heart and an occasional tear to the eye, and I wouldn't have missed it for…well, the world.
It's traditional to open a concert with a brief, upbeat work. Usually it's also a well-worn favorite. This time, however, it was a piece that hadn't been heard locally in over 20 years: the 1922 suite "Escales" ("Ports of Call") by the under-appreciated Jacques Ibert (1890-1962). Its three movements take us on a 15-minute visit to multiple Mediterranean venues. Yes, the composer's tone painting borders on the cliché (a tarantella for Palermo, Iberian dance rhythms for Valencia, etc.) but the colorful orchestration and irresistible melodies are entertaining nevertheless.
Nathalie Joachim and the Spektral Quartet
"Escales" provides some substantial solos for the woodwinds in general and for the oboe in particular. That's especially true in the "Tunis – Nefta" movement, dominated as it is by its sinuous, "snake charmer" melodic line, but the truth is that all three movements feature the oboe prominently. Principal Oboe Jelena Dirks's rich and flexible sound served Ibert exceptionally well and her solo bow was richly deserved. Under Denève's knowing direction, the entire band exploded like a musical kaleidoscope. Great fun.
Next, we were off to Haiti for a suite based on the Grammy-nominated 2019 album "Fanm d'Ayiti" ("Women of Haiti) by flutist, composer, and vocalist Nathalie Joachim (b. 1983), who was also the flute and vocal soloist. The concert version of "Fanm d'Ayiti" consists of five of the original album's eleven tracks arranged for orchestra, voice, and flute, along with the recorded voices of a girls' choir from the Haitian town of Dantan and the voice of Joachim's grandmother, whose death in 2015 served as the original inspiration for the work.
This orchestration of the intimate original has its pluses and minuses. The expanded sonic palette allows Joachim to add layers of musical color that weren't possible with the modest forces on the original album, but the difficulties inherent in mixing the recorded sound and a live microphone with the orchestra seriously muddied some of those sonic hues.
For me, the music had the most impact when it used the least amount of amplified sound. A good example is the fourth movement, "Madame Bellegarde," which begins with a recording of the tune sung by Joachim's grandmother and then continues with an affecting setting for voice and viola, accompanied by the strings, harp, and vibraphone. Joachim and Principal Viola Beth Guterman Chu clearly drew considerable pleasure from their fine collaboration.
The opening "Prelid" was equally blissful, with radiant vocals and a virtuoso flute solo by Joachim that sparked a spontaneous ovation, and the closing "Fanm d'Ayiti," was an inspiring tribute of the valor and resilience of the island nation's women: "Women of Haiti stand / Like all valiant women / To reclaim our rights / To say freedom lives."
Words to live by, and words to banish the mad, angry darkness that sometime seems to be enveloping our world.
After intermission, which included a champagne toast to the new season led by Maestro Denève, it was time to hop into the Wayback Machine, set the dial for 1889 Bohemia, and revel in Anton Dvořák's Symphony No. 8, Op. 88. Written at a time of great happiness in the composer's life, which followed hard on the heels of a time of considerable grief, the Eighth is perhaps the best single example of Dvořák's ability to mingle smiles and tears with a series of ravishing melodies.
Stéphane Denève conducts the SLSO
Photo courtesy of the SLSO
The fact that all this rests on some solid musical architecture is not readily apparent. "Dvořák's is an art that conceals art," writes The Guardian's Tom Service, "and which appeals on many different levels precisely and paradoxically because this symphony's initial impact is so powerful, because Dvořák has distilled his melodic gifts to their symphonic essence." That's not something you necessarily need to be aware of as a listener, but it's vital for the conductor to have a grasp of it. Otherwise the Eighth can feel somewhat rambling and episodic.
When he last conducted the piece here in 2015, Maestro Denève (then a guest conductor) gave us a performance which, persuasive as it was, occasionally struck me as somewhat idiosyncratic. Either his approach has changed in the intervening seven years or (more likely) my own view of the work has evolved, because this time around I felt his reading was quite seamless and indicated a clear vision of the "deep structure" of Dvořák's musical thought. The fact that he was conducting from memory (i.e. without a score) seemed to reinforce that idea.
Either way, it was immensely satisfying. This was a Dvořák Eighth that maintained a sense of momentum even during the seemingly static second movement, with its forlorn bird calls in the woodwinds and the "mortal storm" that threatens to overturn everything. The third movement Allegretto grazioso was a perfect balance of mirth and melancholy, and the final pages of the concluding Allegro ma non troppo were a boisterous bombshell.
Let me not staunch the flow of encomiums without heaping some praise on the SLSO woodwinds, including (but by no means limited to) Principal Flute Matthew Roitstein (first rate solos in the first and last movements especially), along with clarinetists Ryan Toher and Principal Scott Andrews. Principal Cello Danny Lee and his compatriots also deserve praise for their delivery of the important melodic role Dvořák gave them. Dvořák arguably wrote some of the best cello music of the 19th century, after all, so it's good to hear it done do well.
Next at Powell Hall: Justin Freer conducts the orchestra in Alexandre Desplat's score for "Harry Potter and the Deathly Hallows Part 2" while the film is projected on the hall's big screen. Showings are Friday and Saturday at 7 pm and Sunday at 2 pm, September 23-25. The regular season resumes the following weekend as Stéphane Denève conducts Tōru Takemitsu's "Night Signal," Qigang Chen's L'Éloignement ("Distance"), and Mahler's "Das Lied von der Erde" ("The Song of the Earth") with soloists Kelley O'Connor and tenor Clay Hilley. Performances are Friday at 7:30 pm Saturday at 8 pm, September 30 and October 1.  The Saturday concert will be broadcast live, as usual, on St. Louis Public Radio and Classic 107.3.
Related Articles