Classical
Classical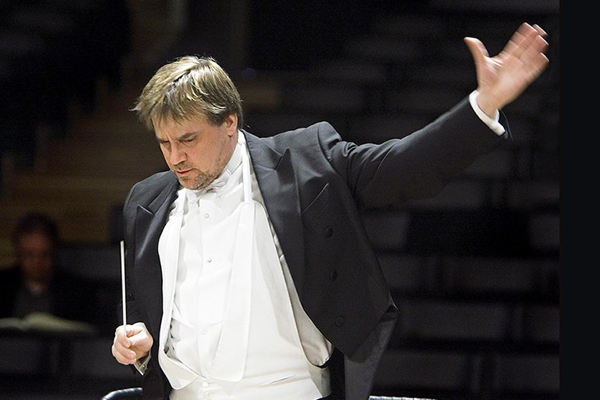 Symphony Review: John Storgårds's Beethoven Fourth warms up a chilly program
By Chuck Lavazzi
It was pleasantly warm inside Powell Hall Saturday night as John Storgårds led the St. Louis Symphony Orchestra and violinist Leila Josefowicz in a program of works by Sibelius, Helen Grime, and Beethoven. For the first half of the evening, though, the musical climate was as chilly as the real one outside.
[Find out more about the music with the KDHX symphony preview.]
For me, the music of Jean Sibelius has always conjured up images of pines, snow, and brisk northern winds. His 1908 tone poem "Night Ride and Sunrise" certainly evokes a wintry nocturnal journey on horseback, as a repeated "galloping" motif eventually gives way to blazing themes in the brasses and strings that suggest the rising sun.
Storgårds, whose experience with the music of his fellow Finn is extensive, infused his interpretation with a strong sense of urgency and high drama. The rapid tempo of the opening set the stage admirably and built inexorably to those big chords at the end. It was a thrilling performance, enhanced by excellent playing all the way around, although Principal Horn Roger Kaza and the seven (!) other members of his section deserve a special nod.
The emotional temperature of Grime's 2016 Violin Concerto, which had its American debut at last weekend's concerts, is also rather chilly. Essentially a 22-minute assemblage of minimal variations on a brief melodic fragment, the concerto reminded me of Dorothy Parker's famous quip tabout a Katherine Hepburn performance running "the gamut of emotions, from A to B." The concerto is a work with a narrow emotive range that rarely goes beyond a kind of aggressive anguish. Even at its current length, it feels too long.
Leila Josefowicz
Photo: Chris Lee
It's also an absurdly difficult work. It was written in collaboration with and first played by the phenomenal Swedish violinist Malin Broman and was designed to showcase what Grime calls the "ferocity, power, and passion" of her playing. That being the case, I'd say Leila Josefowicz was the perfect match for this concerto since ferocity, power, and passion perfectly describe her fiercely committed performance.
Josefowicz attacked the music with an athletic intensity that sometimes made it feel like she was doing battle with it. Which seems only fair, given the hair-raising difficulty of the solo part. She tore into the rapid runs, widely spaced double stops, and other technical hurdles with the authority of the virtuoso she clearly is and got an enthusiastic ovation from the audience in return.
The concert closed on a far warmer note with Beethoven's Symphony No. 4 in B-flat, Op. 60. Written during a stay at the lavish Silesian country estate of one of Beethoven's major patrons, Prince Lichnowsky, during one of the composer's rare spells of good health, the Fourth radiates good humor. And good humor is what it got from Storgårds and the band, along with a bracing sense of momentum. Even the lyrical Adagio second movement flowed along with a strong rhythmic pulse, and the final movement was downright celebratory.
The Fourth has more than its share of neat little solo moments for many of the first chair players, including Principal Flute Matthew Roitstein, Associate Principal Oboe Phil Ross, Principal Clarinet Scott Andrews, Associate Principal Horn Thomas Jöstlein, and Principal Bassoon Andrew Cuneo. Beethoven gives the bassoon some especially nice moments in this symphony, including a little musical joke in form of a quiet descending motif when you least expect it at the very end. Those moments were in good hands with Cuneo and fellow bassoonist Julia Paine.
Storgårds is, as I have noted in his previous appearances here, a magisterial presence on the podium whose readings display a compelling degree of energy and emotional commitment. Saturday night's concert was very much in line with those earlier appearances. It sent me out into the chill "suffused with an incandescent glow." What more could you ask for on an unusually brisk fall night?
Next at Powell Hall: Stéphane Denève returns to conduct the orchestra and members of the chorus in a celestial-themed program consisting of the world premiere of Guillaume Connesson's "Astéria," "Primal Message" by contemporary American violist/composer Nokuthula Endo Ngwenyama, James Lee III's "Sukkot Through Orion's Nebula", and Holst's ever-popular "The Planets." Performances are Friday at 7:30 pm, Saturday at 8 pm, and Sunday at 3 pm, November 18-20. The Saturday concert will be broadcast live on St. Louis Public Radio and Classic 107.3.
Related Articles