Classical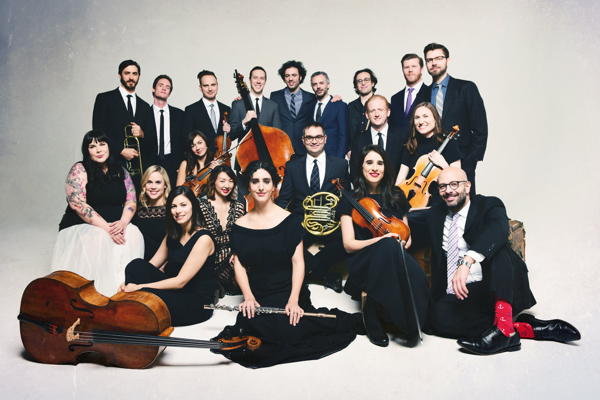 Happy classical holidays
Written by

Chuck Lavazzi
Well, here it is Christmas Eve and while it's unusual to open presents a day early, I have one for you here that just won't keep: a free Spotify playlist of classical holiday music.
Of course, my definition of "classical" is, shall we say, fluid. Or just make that idiosyncratic. You might not see some of these are "classical music" in the traditional sense. And some are "classical" only in the fact that the performers are generally considered to be classical musicians.
But what the heck, it's free, right?
Here are the albums and artists represented.
Apollo's Fire: Christmas on Sugarloaf Mountain. Known primarily for their performances of Baroque music, this innovative group has been known to branch out into other areas. This particular release "celebrates the ancient Celtic folk carols that were brought to America by the Irish immigrants – and then transformed into soulful Appalachian carols." It debuted at #3 on the Billboard Classical Chart when it was release in 2018
The Players: Christmas. OK, maybe this oddball ensemble of British buskers led by ex-Roxy Music art-rockers Phil Manzanera and Andy Mackay isn't really a classical group, but they play with a cohesion and gusto that's just irresistible. And they all play acoustic instruments, which is good enough for me.
Pro Cantione Antiqua: A Medieval Christmas Feast. I first stumbled on this album way back in the LP days and was immediately captivated by the way it evoked the quiet mystery of the medieval era. For this 1986 disc, the a cappella vocal group partnered up with the Medieval Wind Ensemble.
The Baltimore Consort: Christmas Music (Bright Day Star). I have several albums by this group, which brings an unbuttoned sense of theatricality to early music. I will also confess to being a massive fan of soprano soloist Custer LaRue. This 2009 release is a mix of traditional seasonal tunes, at least some of which are so old they're new again.
The Waverly Consort: A Renaissance Christmas Celebration. What can I say? I'm a sucker for early music.  This 1977 release is a winner. It eventually became the basis for an annual holiday show, "The Christmas Story."
The Boston Camerata: A Renaissance Christmas. The Boston Camerata's roots are in early music, but (like many such ensembles) they have also branched out into other areas such as the 2019 "Free America!" disc of Revolutionary War popular songs. I have included their Baroque Christmas album in the playlist as well.
Marie-Claire Alain: Daquin: Noëls pour orgue (Noels for organ). The name of Louis-Claude Daquin (1694-1772) might not be familiar, and with good reason. While famous as a harpsichord and organ virtuoso in his time he does not appear to have been a prolific composer. His twelve "Noëls" are keyboard fantasias on popular French Christmas songs. I first discovered them on a Musical Heritage Society LP back in the 1960s and they still say "Christmas" to me.
Leonard Bernstein and the New York Philharmonic with the Mormon Tabernacle Choir: The Joy of Christmas. I had to include at least one big-band carol bash in here. This one dates from 1960 and features the blitzkrieg power of the choral group my late friend Bryce used to refer to as the "Mormon Brass Knuckle Choir." Unsubtle but fun.
Sir Colin Davis and the London Symphony Orchestra with the John Alldis Choir: An Olde English Christmas. Very much in the same vein as the previous, but with a British slant. Recorded in 1980, it has the advantage of somewhat cleaner sound than the Bernstein disc.
The Gabrielli Consort and Players: A Venetian Christmas. Described as the First Mass of Christmas at St. Mark's as it might have been celebrated in Venice circa 1600, this 2001 release consists mostly of the antiphonal music of Giovanni Gabrielli (1554/5 – 1612) along with the "Missa 'Praeter rerum seriem'" by Cipriano de Rore (1516 – 1585).
The Taverner Consort, Choir, and Players: The Carol Album. Lots of very old carols in this 1989 disc conducted by Andrew Parrott. Parrott formed the group back in 1973 to feature English renaissance music.
Various: The Big Christmas Box. Originally a subsidiary label of the now defunct Vanguard Recording Society, The Bach Guild still offers its many "Big Boxes" (so called because they contained anywhere from 3 to 10 hours of music on big boxes of CDs) at its own web site. Most (if not all) are now available as digital downloads both there and at Classic Select World. The Big Christmas Box includes performances by Alfred Deller, the Canterbury Choristers, and even a few music boxes.
The Knights: The Knight Before Christmas. A self-described "musical collective," The Knights are "flexible in size and repertory" and "dedicated to transforming the orchestral experience and eliminating barriers between audience and music." This 2021 release demonstrates that with innovative arrangements of a wonderfully varied collection of seasonal songs old and new. It includes one of only two versions of "The Little Drummer Boy" that I can actually listen to.
The Imani Winds: This Christmas. I guess you'd describe the Imani Winds as a contemporary classical/jazz crossover group. They specialize in new music, but this 2008 album consists of traditional carols and Great American Songbook classics.
Arthur Fiedler and the Boston Pops: Pops Christmas Party. Yeah, I know: how mainstream can you get? But it's festive as all get out and includes a terrific performance of one of my favorites, Leroy Anderson's "Christmas Festival."
Cally Banham and Cortango: Cor Christmas. This is a "home team" thing. Banham is the Principal Cor Anglais (English Horn) with the St. Louis Symphony Orchestra. For this 2018 solo debut, she's backed up by her classical/jazz/tango fusion group Cortango as well as the Adam Maness Trio and the Trombones of the St. Louis Symphony. The arrangements are brilliant, which is why the "Little Drummer Boy" on this album is the second of the two versions I can actually listen to.
Maggie Sansone and Ensemble Galilei: Ancient Noels. As the title says, it's an assortment of medieval and renaissance carols from around the world in which Sansone's hammered dulcimer is prominently featured.
The Vienna Symphony conducted by Steven Mercurio with vocalists Placido Domingo, Sarah Brightman, Helmut Lotti, and Ricardo Cocciante: Christmas in Vienna V. This was originally issued as "A Gala Christmas in Vienna" in 1998. It's essentially a holiday "pops" concert from Vienna that includes some more contemporary numbers along with the usual favorites.
Quire Cleveland: Carols for Quire from the Old and New Worlds, V. 3. This is probably the most variety you'll find in any holiday album anywhere, ranging as it does from "The Coventry Carol" to Tom Lehrer's "(I'm Spending) Hannukah in Santa Monica." Seriously. Quire Cleveland is, as the name implies, a Cleveland-based a cappella choir with a wide-ranging repertoire.
New York's Ensemble for Early Music: A Medieval Christmas. Yes, more Very Early Music from the days of drafty castles and pointless battles. Still lovely stuff.
The Choir of King's College Cambridge: Benjamin Britten: A Ceremony of Carols, Op. 28. Written for a three-part treble chorus (which usually means a boys choir) and harp, this 1942 composition evokes visions of a medieval Christmas service, complete with a Processional and Recessional.
Orchestre de la Suisse Romande conducted by Ernest Ansermet: Rimsky-Korsakov: Suite from "Christmas Eve." First performed in 1895, this operatic adaptation of Gogol's story "Christmas Eve" is rarely seen these days, but you will hear this orchestral suite every now and then.
The City of Prague Philharmonic Orchestra conducted by Gavin Sutherland: Victor Hely-Hutchinson (1901 – 1947): "A Carol Symphony." This four-movement work can be more accurately described as a set of chorale preludes on popular Christmas carols for orchestra. Also on this album are Bryan George Kelly's "Improvisations on Christmas Carols," Patric Stanford's "Christmas Carol Symphony," and carol arrangements by Philip Lane.
If that looks like a lot of music…well, it is. It's just a little over a full day of holiday cheer. Grab some eggnog (or whatever) and enjoy. Merry Christmas, Happy New Year, and happy holidays of all kinds (Kwanzaa, Hanukah, Festivus, Saturnalia, Ramadan or whatever else floats your winter solstice boat).
Related Articles