Classical
Classical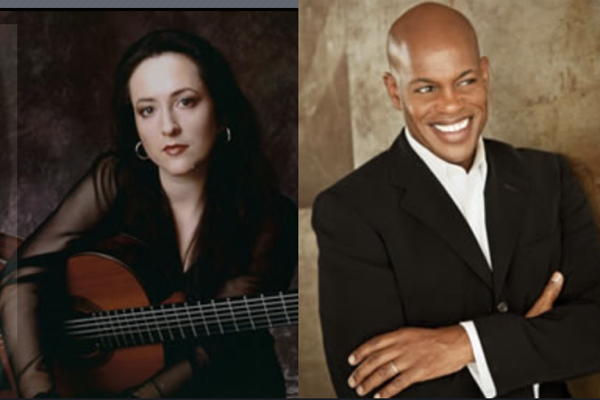 Review: Luque and Sykes easily hit a curveball at a St. Louis Classical Guitar concert
By George Yeh
Life threw several curveballs at the fifth concert of this season by St. Louis Classical Guitar last Friday night (January 20), the second of its "Special Blends" concerts at The Sheldon, both before and during the concert. The originally scheduled ensemble had been Duo Virtuosi, violinist Bojidara Kouzmanova and guitarist Virginia Luque. However, late in 2022, St. Louis Classical Guitar announced an artist change, with baritone Jubilant Sykes taking the place of Ms. Kouzmanova, with Ms. Luque still on the bill. No worries there, though, as finding substitute artists is par for the course for classical concert planners (besides them both being with the same artists' agency).
On the night, though, someone did not quite factor in the touring production of "Les Misérables" at the Fox Theatre at the same start time. Ms. Luque and Mr. Sykes were thus stuck in traffic, leading to a 10-minute "delay of game". Again, however, no problem, as the organization's executive director Brian Vaccaro took the opportunity to plug upcoming events, as any good arts impresario should, especially now, but especially for a reason to be discoursed upon at the end of this review.
The next curveball was a frozen iPad, just as Ms. Luque was about to start her first set, consisting of the "Danza Brasileira" by Jorge Morel (1931-2021), "Rumores de la Caleta" by Isaac Albéniz (1860-1909), and the "Serenata Espanola" by Joaquín Malats (1872-1912, and not "1972-1921", on the printed insert, a P.D.Q. Bach moment there, besides the erroneous years on both ends). Besides the frozen iPad, if the late arrival limited warm-up time for Ms. Luque, it didn't show, as she played with aplomb and assurance. She also provided her own spoken program notes, including anecdotes of performing the Morel work in front of the composer, without knowing that he would be in the audience, and recalling from her childhood that the Malats was the first guitar work that she'd ever heard live in concert, and that this experience inspired her to learn the guitar.
Mr. Sykes then joined Ms. Luque for the next set, four Spanish and Portuguese songs arranged for baritone and guitar: "Pampano Verde" by Francisco de la Torre (1470-1504), "Caçador" by Laurindo Almeida (1917-1995), "La Rosa y El Sauce" ("The Rose and the Willow") by Carlos Gustavino (1912-2000), and "Boi-Bumbå" by Waldemar Henrique (1905-1995, first name spelled as "Valdemar" in the insert). The next curveball happened when Ms. Luque's iPad re-froze, leading Mr. Sykes to use the same "technology" shrug-quip by Ms. Luque. More seriously, Mr. Sykes noted that this concert was the first time that he and Ms. Luque had ever worked together, where they first met in person only that week. While Ms. Luque's guitar was discreetly miked, as is standard for St. Louis Classical Guitar concerts, Mr. Sykes sang this set unamplified, as well as off book. He clearly didn't need amplification, as his voice easily filled the hall, and he knew how to tailor his voice for each song. One gaffe in St. Louis Classical Guitar's program insert was the lack of sung texts. Perhaps to make up for this, Mr. Sykes provided his own brief, engaging introductions and synopses to 3 of the 4 selections.
To close the first half, Ms. Luque performed 4 of her own original compositions, "Sangre Gitana", "Nostalgias de mi Terra", "Lamento", and "La Romeria". Before "Sangre Gitana", she noted the presence of "Gypsy" (not the currently PC term, but her word choice) ancestry in her own family background, as one influence on her writing. The characteristic fingerprints of Spanish guitar writing are present as well, and each work shows variety from each other, with "La Romeria" providing an upbeat close just before intermission. For the flamenco-style selections, she had a second guitar on stage, one from St. Louis and not her own, as she could only carry one instrument with her for airplane travel.
The next curveball was Immediately after intermission, when Ms. Luque brought on an 8-string guitar for an unannounced and unidentified musical selection. The guitar aficionados oohed and aahed upon hearing the instrument, very understandably, as the two additional lower strings added quite a resonant depth to its sound. Following very appreciative applause and Ms. Luque's handing the instrument to Mr. Vaccaro, Mr. Sykes then returned, thinking that it was time for his next selection with Ms. Luque. However, the first programmed item in the second half was "Vernano Porteño" by Astor Piazzolla (1921-1992), which the demo piece was definitely not. After Mr. Sykes' return backstage, Ms. Luque then performed the Piazzolla. Piazzolla's music was very trendy and the hot thing in his last years and for a decade or so after his death. Listening to his music today, his stylistic mannerisms are all the more apparent, well past the point of ossified cliché, even if they're at least his clichés and no one else's. "Vernano Porteño" was a multi-instrument original, and in this arrangement for solo guitar, was perhaps the evening's one work that defeated solo arrangement, though Ms. Luque did her best to cloak that situation.
The printed program had the "Lamento" by Rique Pantoja, but the artists omitted that and went directly to the next item, an arrangement of the classic Gershwins (yes, plural –lyrics by Ira, music by George; can't have the one without the other) song "But Not for Me". Here, Mr. Sykes used the microphone, "not for volume, but for effect", which makes total sense, as a microphone can allow a given singer to focus on expression and nuance, without worry about unamplified vocal projection into a spacious hall. In my opinion, he could have sung this off-mike, with all the nuance that he wanted, because of the relatively intimate size and the very live sound of The Sheldon, and for the earlier-mentioned and eventually-to-be-discussed reason. To these ears, it seemed as though he was trying very hard, perhaps a bit too hard, to scale down his voice, once he figured things out (perhaps in the very moment), and he sang very softly indeed at times when on-mike.
Ms. Luque then soloed again wonderfully, in the lively triplet-rhythms of "Misionera" by Fernando Bustamante (1915-1979). Mr. Sykes returned for Rodgers and Hammerstein's "It Might As Well Be Spring", again sung on-mike, and scaling down his voice. The last solo number from Ms. Luque followed, the "Gran Jota" by Francisco Tárrega (1852-1909), again dispatched with flair. (The program insert erroneously credited this work to Ms. Luque.)
The final set moved into musical territory where Mr. Sykes would probably claim greater familiarity and authority, namely spirituals. The first two spirituals were "Sometimes I Feel Like a Motherless Child" and "Were You There", both of which Mr. Sykes sung on-mike. This seemed like a surprise, until it became clear that Mr. Sykes was again going for nuance rather than belting it out. The third spiritual, "Witness", Mr. Sykes sang off-mike, but more importantly, unaccompanied, and again without bombast. This was the night's last curveball, and last selection, with no encores. This final surprise was perhaps a gesture of thanks from Ms. Luque to Mr. Sykes for his late jump-in, where she literally let him have the last word.
To close things out with the promised item for discourse: the audience size was quite small, about 70. This was literally fewer people than the number of individuals on the donor list in St. Louis Classical Guitar's program book. A larger crowd would have mitigated the Sheldon's lively acoustic and not forced Mr. Sykes to scale back so extremely when singing on mike. St. Louis Classical Guitar's earlier Sheldon "Custom Blend" concert back in November, with Grisha Goryachev, had maybe 65 in the audience. On their main "Guitar Masters" series at the 560 Music Center, Jason Vieaux got a modest 3-figures crowd for his wonderful concert this past December, in the 1100-seat main hall.
Maybe it's a question of marketing. Or perhaps some COVID worry is still present among the old St. Louis Classical Guitar audience. The means to address the latter, at least, are simple: besides staying up-to-date with the latest COVID vaccine booster, it's still OK to mask up at concerts, as "no longer required" doesn't mean "stop wearing it when not wearing it doesn't make sense". That aside, if people still wonder why the Post-Dispatch eliminated performing arts reviews (and STL outlets like KDHX and the Riverfront Times are stepping into the breach), the audience size here might sadly demonstrate one example of why. Ms. Luque and Mr. Sykes deserved a much larger crowd than 70.
The next St. Louis Classical Guitar concert is on Saturday, February 18, at 7:30 at the 560 Music Center. The featured performer will be Jiji, who will also conduct a master class the following day. Information on this and other upcoming events is available at the St. Louis Classical Guitar web site.
Related Articles