Classical
Classical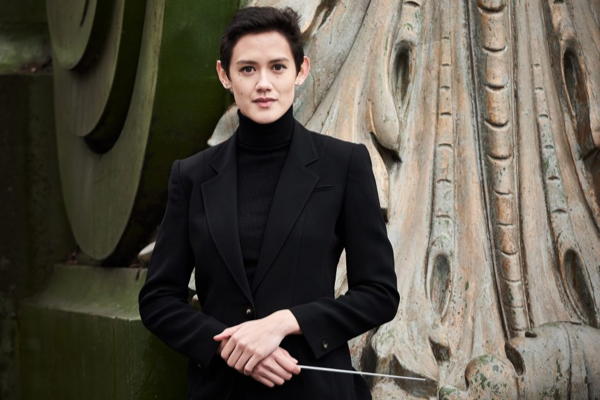 Symphony Review: Stephanie Childress leads the SLSO in three boundary-crossing works
By Benjamin Torbert
In March, the Saint Louis Symphony often turns to guest or assistant conductors, and last weekend (3 March 2023) Maestra Stephanie Childress took the audience on a vivid trip though contemporary classical music and then back to the 18th and 19th centuries in three works, each situated across boundaries of nationalities, or artistic periods, or artistic modes. Her conducting elicits energy and passion from the orchestra with great precision and a remarkable economy of gesture.
[Find out more about the music with the KDHX symphony preview.]
No infantilizing descriptor such as 'prodigy' properly captures Childress' outsized talent. Her multipotentialite youth has seen her speed past obstacles the seniors enjoy placing in their juniors' way. She has excelled at conducting both opera and orchestral music, two rather different endeavors despite their employing the same equipment and similar personnel, and she has competed at the highest levels as a violinist. Now, as the Sid and Jean Grossman Featured Conductor for the SLSO, we should enjoy her talents while she's here—like Gemma New, it's likely the directorship of some orchestra soon awaits her. This performance featured her versatility in both contemporary and long-19C repertory.
Three years ago, Childress conducted the world premiere of the program's first work, Oswald Huỳnh's "Gia Ðinh" ("Family"). The composer and bandleader have since refined the piece, which dramatizes the diasporic life of Vietnamese peoples. As Huỳnh (1997-) himself explains, the piece achieves this by presenting Vietnamese folk songs, presented not in their entirety but fragmented and diffused throughout broader orchestral composition. This scattering unfolds across a wide complement of winds, brass and percussion, the usual suspects of course, but also piccolo, bass clarinet and contrabassoon.
In the first movement ("Cha nào con nấy" / "Like father, like child"), the strings often played wispy harmonics, with the folk song seeded by a principal string player, and then spreading about the stage, navigating a sea of staggeringly varied orchestration, muted trumpets, harp, growling timpani. I'm reminded of mid-20C black and white film renderings of light refracted in dense forest, or splintered shafts of light at night. A whisper of flutes closed the first movement. Huỳnh's own notes contextualized the second movement ("Không có gì bằng cơm với cá, không có gì bằng má với con" / 'There is nothing like rice with fish, there is nothing like mother with child') with colonization and the trauma of war. The movement quoted a Vietnamese Catholic chant and subjected it to the same diffusion and near-disappearance in the expansive variety of work assigned the whole orchestra. A dizzying array of effects proliferated: thwapping pizzicato in the strings, a wobbling, rubber band-like oboe, muted low brass, xylophone and marimba surfing atop. Childress somehow commanded all this action with a calm beat in her right hand and not too many theatrics with her left. Slippery portamento in the trombones gave way to widespread, powerful fourths falling into oblivion to close the second movement. A tonal song fragment arose in the last movement ("Một giọt máu đào hơn ao nườc lã" / 'Blood is thicker than water'), again from eerie string harmonics, echoed in the flutes, but it was concussed by martial blasts, a shock wave through the orchestra. The coda returned some of the opening music, the 'celli anchoring a vaguely John Williams-esque figure, abutted by snare drums, all fading away into the caress of the harp, accented by the triangle.
This work would be well served by repeated hearings, since so much occurs in just ten minutes. The work dramatized a recurring theme at the SLSO this year, diasporic movement elsewhere from East or Southeast Asia, with Huỳnh's motives of Vietnamese song often disappearing into a larger orchestra fabric, but mushrooming anew over and over. Composer and conductor bowed together; Huỳnh and Childress are contemporaries, and orchestral music is in good hands in the late-Millennial cohort. For all our present-day anxiety over audience-building, über-talented young creators and performers abound.
A brief interval, purposed for moving a grand piano onto the stage, provided space for reflection preceding quite a shift in repertory, and the last two programmed works engaged in one of the most enduring conversations in classical music, that between proto-Romantic works of the Classical period, and later works squarely situated in Romanticism. Like a deceptively light-seeming dessert with, perhaps, sour cherry liqueur, Peter Henderson's mastery of the piano made a delicious treat of Franz Joseph Haydn's Keyboard Concerto № 11 in D major (1784). Haydn (1732-1809) had seen a younger generation headlined by Mozart transform the keyboard concerto into nearly coequal conversation between the soloist and the ensemble, and also the rise of a newfangled instrument, the fortepiano, which like today's piano afforded musicians more varied color and dynamics than the harpsichord. The forward-looking D major concerto lives near the end of the Classical period but includes proto-Romantic virtues.
In the first of three movements, marked vivace and lively indeed, Henderson showered Powell Hall with the A subject in a beautiful light tone, the piano "breathing" effortlessly. Like Mozart, Haydn will stick his nose a little around the corner from the tonic, and anticipating Beethoven, the strings stop and start again—in previous periods, music habitually proceeded unhaltingly until a movement's end. Childress ported her calm precision to this older work, and Henderson made his cadenza both churn romantically and shine classically, with a stern left hand and an ebullient right. Even prettier was the second movement, un poco adagio, contemplative, with a stately introduction ceding to a slight chromaticism and a dialogic touch. While Haydn's music lacks a program, and if his orchestra spoke a language, it would do so in German, the chat unfolded to me with an exploratory air, the orchestra responding in four chords as  "oh, yes, that's right" to the piano's "well I don't really know." But the piano was unconstrained by the orchestral chorus, Henderson's tone like a floating bird that scarcely need flap its wings, navigating the drafts. His piano worked through its minor key thoughts in a relatively unbothered final cadenza; unlike the nearly modern Romantic period, the music says, if this is how it is, we'll be OK." That solace transitioned after a two-second caesura to a "Hungarian" rondo, the strings remaining slightly more perturbed than the piano, which uttered its dance of "yes I hear that, but" with less concern and more joy. Henderson executed it with comprehensive charm.
He added an encore, Haydn's Adagio in F, Hob. XVII / 9, a rarity. I communicated with Henderson, who said he found it when Alfred Brendel included it as a B-side in an early 1980s Phillips record of Haydn sonatas. Almost too lovely, it demonstrates a softness that more-antique keyboards simply couldn't, and like № 11, it looks forward to the 19C.
After intermission, we arrived smack in the middle of the Romantic period. Water enjoys a great history in Classical music, and Robert Schumann's Third Symphony, "Rhenish" gives the audience a big old riverboat ride. Like his contemporary Wagner, Schumann (1810-1856) sources the Rhine from the key of E♭, and channels its life-giving force. But unlike the music of Wagner, or Berlioz, Schumann's program, a travelogue, doesn't exhibit its wires and call attention to its own narrative—the name came after composition (1850/51). Like Huỳnh's and Haydn's works before intermission, standing in between Vietnam and the West, or betwixt two Austro-German periods, we have another work in a liminal space, this time between the 19C contest between "absolute" music unassociated with an extramusical idea, and programmatic music.
Childress piloted the Rhine with controlled aplomb, her left hand gestures so subtle, but the orchestra inviting us in an energizing advertisement for German tourism. In the opening movement, her boat rose and fell vividly on the water's surface. In the scherzo, she traced a filmic arc in the ¾ time ländler, the horn section bright and the pizzicato ending stirring as everyone but the lowest voices dropped out. In the nicht schnell (not fast) third movement, she coaxed softer winds and strings—here, I think, Robert and Clara Schumann take a picnic lunch. In five movements, like Beethoven's "Pastoral" Sixth symphony, "Rhenish" reaches its greatest drama in the fourth, moving to the parallel minor key and depicting the monumental Gothic cathedral of Köln. The trombone chorale made its striking appearance, matching the gravitas in the French horns. It's the most capital-R Romantic movement, and the orchestra compelled me to google photos of the cathedral immediately upon leaving the Hall. But Schumann liked obscuring programmatic elements slightly, and the concluding movement's forceful brass chorale could be arriving anywhere, in a frantic gallop to the finish. Childress' body language here became her most animated of the evening, a rousing close to the evening's exploration of works in between lands, periods, and modes of expression.
Next at Powell Hall: Stéphane Denève conducts the St. Louis Symphony Orchestra and pianist Vikingur Ólafsson in a one-night-only preview of the program they will take on the orchestra's March European tour. The concert consists of Prokofiev's The Love for Three Oranges Suite, Grieg's Piano Concerto, and Rachmaninoff's "Symphonic Dances." The concert takes place on Thursday, March 16, at 7:30 pm. Stephanie Childress will conduct the SLSO Youth Orchestra and Concerto Competition winner Ayan Amerin in the Allegro non troppo from the Violin Concerto in D major, by Brahms and the Symphony No. 5 by Shostakovitch on Sunday, March 19 at 3 pm. The regular concert season resumes in mid-April.
Related Articles