Classical
Classical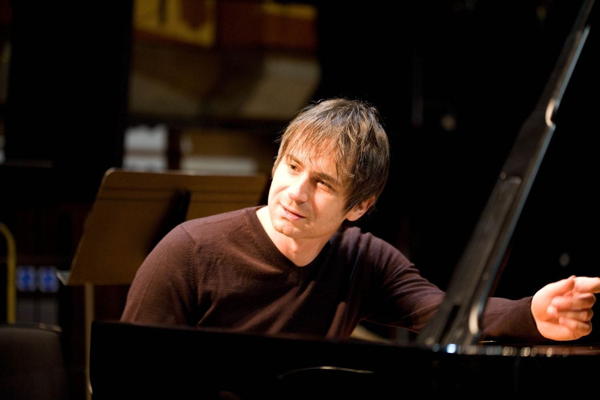 Symphony Review: Denève and the SLSO rock out with the 'Rite'
By Chuck Lavazzi
Back in the spring of 2020, Music Director Stéphane Denève and the St. Louis Symphony Orchestra (SLSO) planned a season closer that included the score of a ballet that literally caused a riot at its 1913 premiere, "Le Sacre du Printemps" by Igor Stravinsky (1882–1971). Unfortunately, COVID-19 shut the season down in March and we never got to hear the orchestra's much-anticipated performance of that remarkable score.
[Find out more about the music with my symphony preview.]
Until this past weekend (Saturday and Sunday, April 29 and 30), that is. Coming at the end of a concert that had already brought us pristine renditions of the colorful tone poem "Apu" by Gabriela Lena Frank (b. 1972) and the valedictory Piano Concerto No. 3 by Béla Bartók (1881–1945), "Sacre" was an exhilarating, pulse-pounding thrill ride. It not only delivered the big, ear-shattering climaxes, but it also honored the many intimate orchestral details that can get overlooked in performances that place too much emphasis on the more "rock and roll" moments of Stravinsky's provocative big band blowout.
Stéphane Denève and the SLSO
"Sacre du Printemps" curtain call
I have always thought that a good "Sacre" ought to sound like it could go completely off the rails at any moment. The composer baked that into the score with crashing dissonances, frequent changes in the number of beats per bar, and unusual instrumental sonorities (like forcing the bassoon up to the top of its register in the opening measures). In the same manner as a properly executed "mad" scene in the theatre, "Sacre" should create the illusion that total chaos lurks around the corner while always being completely under control. By that standard, Saturday night's performance wasn't just good, it was legendary.
Principal Bassoon Andrew Cuneo handled that tough opening solo line expertly, setting the stage for a series of virtuoso performances by all the members of the orchestra. The eight (!) horns were in wonderful form, with special props to Tod Bowermaster and Victoria Knudtson doubling on Wagner tubas; ditto for Andrea Kaplan on the alto flute. They were working with instruments that, I expect, they rarely have to play and doing so expertly. Stravinsky's score demands a lot from the players and got it from both the regular orchestra members and the additional musicians hired for this event.
Denève has a knack for taking familiar music and making it sound brand new, bringing out sonic details that are not always clear in other performances, making creative use of silence as a musical element, and generally shining new light on corners of the music that are sometimes in darkness—or (to push the simile to the breaking point) at least in dim light. His Beethoven Ninth in 2020 was an excellent example. So was this "Sacre." It packed a powerful punch, but (to mix metaphors) did so in a velvet glove.
But then, the whole evening was immensely satisfying. It began with a scintillating run through Frank's fanciful "Apu" which, like "Sacre," is based in folk traditions. Unlike "Sacre," it describes a mischievous spirit (the titular Apu) rather than a savage sacrifice. It delights rather than stuns, enchanting the ear with unusual orchestral combinations and a wide assortment of percussion instruments. There's a particularly challenging passage for the marimba and xylophone in the final movement that was fun to watch as well as hear as Alan Stewart and Kevin Ritenauer jumped back and forth between instruments and occasionally played nearly on top of each other. The flutes and other wind instruments were kept quite busy as well, a nod by the composer to the dominance of that instrumental family in the folk music of Andean Perú.
The first half of the program concluded with the Bartók concerto. Like Frank, the Hungarian composer/pianist made extensive use of folk material and is cited by her as a primary source of inspiration.
L-R: Stéphane Denève, Piotr Anderszewski
Soloist Piotr Anderszewski was once dubbed "amusician of both power and sensitivity" in a New Yorker review of a recital of the works of Bach, a composer Anderszewski has recorded extensively. Saturday night he fully lived up to that description, dancing through the first and third movements with style and grace while bringing a hymn-like serenity to the second. That he and the orchestra did this despite a bizarre vocal outburst from an audience member down on the first floor is a tribute to their extraordinary concentration on the music.  His style was fluid, his sound both translucent and powerful.
When Stéphane Denève made his SLSO debut back in 2003 his soloist for Haydn's Piano Concerto in D major was Piotr Anderszewski. "The give and take between Denève and soloist Piotr Anderszewski was lovely to behold," I wrote at the time [https://www.waxwingwebs.com/thedoge/slso030919.html], "and the resulting performance a solid display of teamwork among soloist, conductor and orchestra." Nearly two decades later it's clear that (to paraphrase Mr. Shakespeare) age cannot wither nor custom stale their solid partnership.
One of those Bach recordings I referred to above, by the way, was a 2002 Erato disc of Partitas 1, 3, and 6. Anderszewski gave us a sample of that as an encore: the "Sarabande" BWV 825. The simple elegance and subtle voicing of the performance was a perfect counterpart to the Allegro vivace finale of the Bartók concerto. It was also appropriate, given that Bartók once said that Bach "showed us the transcendent significance of counterpoint."
Many SLSO concerts have threads of connectivity running through them. This one, perhaps, had more than most.
Next at Powell Hall: Stéphane Denève returns for the season finale, conducting the St. Louis Symphony Orchestra, Chorus, and Children's Chorus in another major piece of unfinished business from 2020, the 1846 "légende dramatique" by Hector Berlioz, "La damnation de Faust." The soloists will be the same team originally slotted for 2020: soprano Isabel Leonard as Marguerite, tenor Michael Spyres as Faust, and bass John Relyea as Méphistophélès. Performances are Friday at 7:30 pm and Saturday at 8 pm, May 5 and 6.
The Saturday concert will be broadcast live on St. Louis Public Radio and Classic 107.3. It will also be the last SLSO performance in Powell until renovation is completed in 2025.
Related Articles