Classical
Classical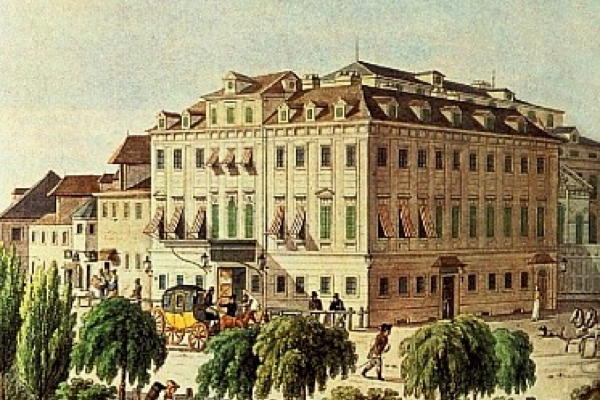 Symphony Preview: These are a few of my favorite things
By Chuck Lavazzi
This Friday and Sunday, November 3 and 5, Music Director Stéphane Denève conducts the St. Louis Symphony Orchestra and pianist Paul Lewis in a program that I pretty much guarantee will include at least one of your favorites. It certainly includes my favorite of the five piano concertos of Ludwig van Beethoven (1770–1827).
[Preview the music with the SLSO's Spotify playlist.]
"Beethoven Letronne" by Blasius Höfel
Licensed under Public Domain
via Wikimedia Common
The concerto in question is Beethoven's Fourth in G major, Op. 58, composed in 1806 and first performed in March 1807 at a private concert at the home of Prince Franz Joseph von Lobkowitz. The public got its first exposure to it at an infamous four-hour concert on December 22nd of the following year at Vienna's Theater an der Wien, with the composer as both soloist and conductor.
That concert was such an unpleasant, ill-prepared disaster that it was not until Mendelssohn revived the work in 1836 that it began to catch on with the public, which has loved it ever since.
The Fourth is my favorite in part because it's so concise. I don't think there's a spare note in the entire work, and everything is perfectly proportioned. It's also remarkably innovative for its time in that it begins with a short declaration by the solo piano which is then taken up by the orchestra. Normal procedure would have been to have the orchestra state all the major themes before the piano made its first entrance. Instead, the movement seems to grow out of a dialogue between the soloist and the orchestra.
The second movement is a dialogue between the soloist and the band as well, but this time it's in the form of a call and response, in which dramatic pronouncements by the orchestra are met, at least initially, with more subdued and lyrical material by the soloist.
This unusual structure has given birth to a notion (first advanced by Beethoven's biographer Adolph Bernhard Marx in 1859) that the movement was inspired by the story of Orpheus's descent into Hades. When I first heard this movement, though, it conjured up the image of an argument (or maybe a debate), with the aggressive stance of the orchestra met, at first, with attempts at calm reason, then with agitation, and finally with a kind of resignation. It's as if, after trying in vain to calm and placate its orchestral partner, the piano finally sighs and say, "OK, OK, you win. Let's just drop it."
It is, in any event, hard to say what Beethoven actually had in mind. The bottom line is that when the movement comes to its tragic conclusion, I have always felt a need to exhale slowly and then bask in the relief of the jolly, Haydnesque Rondo finale.
"In the 4th piano concerto," said Joshua Weilerstein on his "Sticky Notes" podcast this past June, "Beethoven turns his entire musical brand so to speak upside down. Instead of a blazing fire, we get a gentle warmth, instead of drama, we get tenderness. And instead of virtuosity, we get a practically transcendental level of simplicity."
Speaking of Orpheus in the underworld, the work immediately preceding the Beethoven concerto is the popular "Dance of the Blessed Spirits" from Act II Scene 2 of the opera "Orfeo ed Euridice" (1762) by Christoph Willibald Gluck (1714–1787)—a pairing that surely isn't coincidental. In the opera it accompanies a ballet that introduces a scene set in Elysium. The work's prominent role for the flute has made it a favorite among folks like James Galway (whose recording is on the SLSO's Spotify playlist), while the serene mood it creates has earned it a place on albums and playlists emphasizing music for relaxation.
Maurice Ravel in 1925
en.wikipedia.org
After intermission it's back to the Baroque as re-imagined by Maurice Ravel (1875–1937). Written between 1914 and 1917, "Le Tombeau de Couperin" began life as a six-movement solo piano work that invokes the style and form of the 17th century French keyboard suites epitomized by François Couperin (1668–1733). Each of the movements was dedicated to a friend of Ravel's who died in World War I. That lends a dual meaning to the work's title since "tombeau" literally translates as "tomb" but musically it means "tribute to" or "in memory of."
That sounds like it ought to be music for lamentation. Instead it's a bubbly, graceful, and altogether charming work, especially in the 1919 four-movement version for full orchestra that will be on the program this weekend. James M. Keller describes Ravel's orchestration as "crystalline"—the perfect adjective as far as I'm concerned.
"Crystalline" would not be a bad description of the sound of the final work on the program, the Symphony No. 1 ("Classical), Op. 25, by Sergei Prokofiev (1891–1953). It's not a word one would use to label most of the composer's output, and thereby hangs a tale.
Prokofiev's "Classical" symphony came about in part as a reaction by the composer to his growing reputation as an aggressive modernist—said reputation springing from his spiky Piano Concerto No. 2 and his electrifying "Scythian Suite." He also felt that he was becoming too dependent on the piano as a compositional medium. So in 1917, with the socialist revolution exploding around him, he retreated, sans piano, to a village outside of St. Petersburg and completed the symphony he had begun the previous year.
Prokofiev in New York, 1918
Photo by Bain News Service
"When our classically inclined musicians and professors (to my mind faux-classical) hear this symphony, they will be bound to scream in protest at this new example of Prokofiev's insolence," wrote the composer in his diary. "But my true friends will see that the style of my symphony is precisely Mozartian classicism and will value it accordingly, while the public will no doubt just be content to hear happy and uncomplicated music which it will, of course, applaud."
Audiences have been applauding ever since.  The symphony does, indeed, take the Classical style and give it a distinctly 20th-century sound. It will also give our orchestra's string section something of a workout as it demands a lot from them, with rapid passages in the first movement and a high soft entry in the second, and generally requires players that can handle the lightness and transparency of the orchestration.
The Essentials: Stéphane Denève conducts the SLSO and piano soloist Paul Lewis in a program consisting of Gluck's "Dance of the Blessed Spirits" from "Orfeo ed Euridice," Beethoven's Piano Concerto No. 4, Ravel's "Le Tombeau de Couperin," and Prokofiev's Symphony No. 1 ("Classical"). Performances take place at the Touhill Center on Friday at 7:30 pm and Sunday at 3 pm, October November 3 and 5.  The Friday performance will be broadcast Saturday evening, November 4, at 7:30 pm on St. Louis Public Radio and Classic 107.3 and will be available for streaming for a limited time at the SLSO web site.
Related Articles