Classical
Classical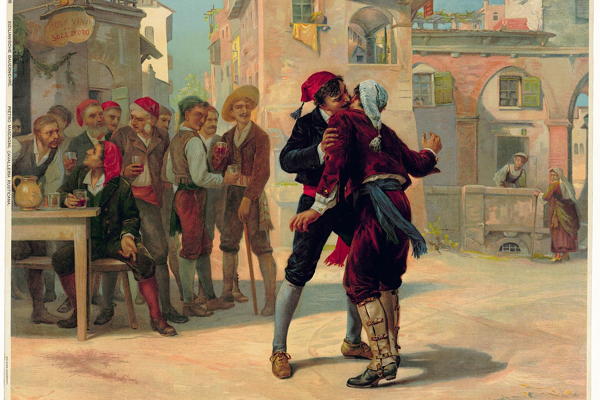 Symphony Preview: The real thing
By Chuck Lavazzi
It has been a few years since the St. Louis Symphony Orchestra and Chorus gave us an "Opera in Concert" evening—that is, a program consisting of a classic opera performed without the usual theatrical accoutrements—so the performances at the Stifel Theatre this weekend (November 11 and 12) of the 1890 Melodramma "Cavalleria rusticana" by Pietro Mascagni (1863–1945) is most welcome.
[Preview the music with the SLSO's Spotify playlist.]
Santuzza pleads with Turiddu
By Anonymous restored by Adam Cuerden -
Gallica, PD-US
"Cavalleria rusticana" is usually translated as "Rustic Chivalry" which, to anyone unfamiliar with it, probably conjures up images that are considerably at odds with the subject matter of Giovanni Targioni Tozzetti's libretto. Based on the novella and play of the same name by Sicilian author Giovanni Verga (1840–1922), the opera takes place during one fateful Easter morning in a 19th century Sicilian village. The "chivalry" is actually the traditional vendetta resulting from a mix of love, betrayal, and jealousy.
For the record, here's a plot summary from Opera Online:
It is Easter morning in a Sicilian village.  A sad, anxious girl, Santuzza, is looking for her lover Turridu, who betrayed her and went back to his former fiancée, Lola, who had meanwhile married the wealthy Alfio when he returned from the army. Santuzza tries in vain to win back her lover. Mad with jealousy, she tells Alfio, the cuckolded husband, about Lola and Turridu. At that point, Turridu's fate is sealed. Alfio provokes him to a duel. After saying goodbye to his mother [Lucia], Turridu leaves for his fatal meeting.
Needless to say, nobody lives happily ever after.
Written for a one-act opera competition sponsored by the publisher Edoardo Sonzogno, "Cavalleria Rusticana" was Mascagni's first and most enduring hit, and it was a whopper. It won the competition (besting 72 rival operas), enjoyed a triumphant premiere at the Teatro Costanzi in Rome, and was immediately taken up by opera houses in Europe and the USA. "For over a century," writes Venetian musicologist Michele Girardi, "it has found a place in the repertory of leading singers and conductors from Mahler, who conducted it in Budapest and included it in the programmes of the Vienna Staatsoper, through Levi and Weingartner and on to Karajan, among more recent performers." These days it's usually paired with "I Pagliacci" (1892), the only real hit by Ruggero Leoncavallo (1857–1919).
"Cavalleria Rusticana" is generally regarded as the first (and certainly most successful) example of the operatic genre known as verismo in which (to quote Stanley Sadie in his 1990 "History of Opera") "opera moved into line with the other arts of the late 19th century in its readiness to accept the daily life of common people, even (indeed especially) at its most squalid, as apt material for treatment." The parallel Italian literary movement of the same name, championed by Verga and Luigi Capuana, was in turn part of a broader European movement called "naturalism," the principal exponent of which was Émile Zola.
All of this was itself a reflection of the social, cultural, and technological upheaval that characterized the late 19th and early 20th century. The old Imperial world order was crumbling, and populism (for both good and ill) was on the rise. Stories of great heroes and villains of the past no longer seemed all that relevant. Even today, opera and other forms of theatre are largely grounded in reality. Mascagni and those who followed in his wake were on the cusp of a major change in the performing arts, whether they realized it at the time or not.
But, of course, historical significance isn't what has kept "Cavalleria rusticana" an active part of the repertory for nearly a century and a half. For that, credit the composer's melodic inventiveness, the fast-moving story, the tight dramatic structure, and the compelling passion of the characters. In a promotional video at the SLSO Facebook page tenor Jimmy Stevens (Younger Brother in Union Avenue Opera's "Ragtime" back in August) describes it "some of the most action-packed music you're going to hear in an 80-minute period." I'd say that about covers it.
The orchestra will be conducted by James Gaffigan, who gave us an impassioned evening of Brahms and Mendelssohn with SLSO back in 2014. A graduate of Rice University (my alma mater), Gaffigan has extensive credits on both the concert and opera stages, a fact reflected in his 2023/2024 performance schedule. Less than a month after this weekend's concert, he'll be back at the Komische Oper [sp?] Berlin (where he was just appointed General Music Director) conducting, among others, Tchaikovsky's "Eugene Onegin," Rimsky-Korsakov's "The Golden Cockrel," and Wagner's "Flying Dutchman," along with a New Year's Eve concert and an innovative program that combines Bruckner's Symphony No. 6 with music from David Bowie's 1977 album "Heroes." And this after a season that will have included conducting gigs with major orchestras around the world.
The SLSO Chorus will be led by guest director Andrew Whitfield, who did such a fine job directing the Opera Theatre Chorus this past summer.
The Essentials: James Gaffigan conducts the St. Louis Symphony Orchestra and Chorus in a concert version of Mascagni's "Cavalleria rusticana" Saturday at 7:30 pm and Sunday at 2 pm, November 11 and 12, at the Stifel Theatre. The cast consists of soprano Heidi Melton as Santuzza, mezzo-soprano Katherine Beck as Lola, contralto Meredith Arwady as Lucia, tenor Antonio Poli as Turiddu, and baritone Anthony Clark Evans as Alfio. 
Related Articles