Classical
Classical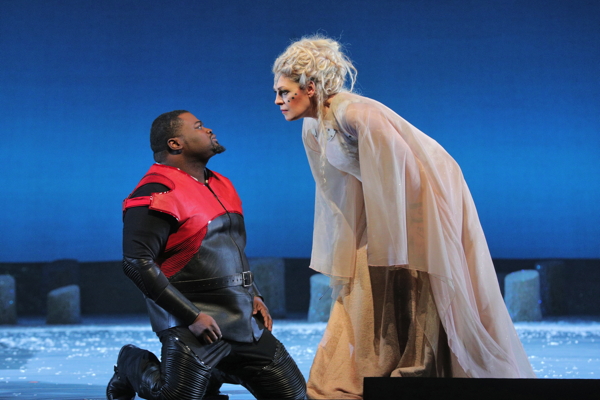 In Chicago, a bravura performance in the title role highlights Lyric Opera's 'Norma'
By
We arrived in Chicago the last weekend in February just in time for the final night of Lyric Opera's splendid production of Vincenzo Bellini's Norma. With a truly memorable performance by soprano Sondra Radvanovsky in the absurdly demanding title role and a first-rate supporting cast, this was a demonstration of just how compelling a great bel canto opera can be.
The role of Norma, the Druid high priestess who loves neither wisely nor well, is widely regarded as one of the most difficult roles in the repertoire. It's a big part, and not just because of its length; its wide emotional and musical range requires a daunting combination of vocal flexibility, physical stamina, solid acting ability, and a dynamic stage presence. From the moment she first appears on stage, we must believe that this is someone who could command an army as well as the passionate attachment of a Roman general.
Ms. Radvanovsky had everything the role required. Her "Casta Diva" brought down the house with wild applause and spontaneous shouts of "Brava!" She was imperious. She was conflicted. She raged, sighed, and swooned -- and all with a wonderfully seamless and powerful voice.
She was backed up by an equally stunning cast headed by tenor Russell Thomas as the feckless Roman general Pollione and mezzo Elizabeth DeShong as the young priestess Adalgisa -- a part almost as demanding as that of Norma. 
Riccardo Frizza made an impressive Lyric conducting debut and stage director Kevin Newbury brought the drama to vivid life.  Under Michael Black's direction, the chorus was splendid, as always.
This Norma was as pleasing to the eye as it was to the ear, with David Korins's sets and Jessica Jahn's costumes evoking a kind of Game of Thrones version of Roman Empire-era Gaul.
Norma ended its run on Friday, February 24, but the Lyric Opera season continues until late May, with productions of Carmen, Eugene Onegin, and beginning in late April, My Fair Lady. All performances are at the Civic Opera House in the Chicago Loop.
Related Articles