Classical
Classical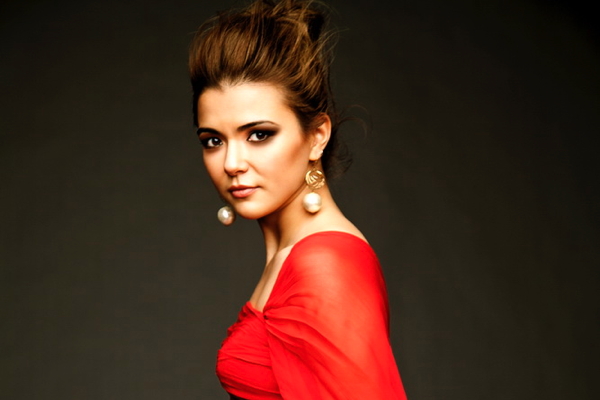 The St. Louis Symphony Orchestra and soloists offer a Spanish-flavored treat to be thankful for
By
There's a lot to be thankful for at Powell Hall this weekend (November 24 -- 26, 2017) as Jun Märkl conducts the St. Louis Symphony Orchestra in a colorful program that is a feast for the eyes and ears.
[Find out more about the music with my symphony preview.]
Things got off to a festive start Friday night with a performance of Ravel's 1919 Alborada del gracioso that positively sparkled with grace and wit. Inspired by the mischievous and vulgar clown figure of 16th century Spanish comedy--the gracioso of the title--this lively and brilliantly orchestrated work got crisp and precise direction from Mr. Märkl and brilliant playing from all the musicians. That included Principal Bassoon Andrew Cuneo, who had just the right touch in the seriocomic solo that introduces the elegiac middle section, as well as the trumpets and horns in the rapid-fire triplets in the lively beginning and end.
More brilliant playing followed, this time by violin soloist Karen Gomyo. Decked out in a red floor-length gown, she cut a striking figure as she took the stage for wonderfully sympathetic reading of Ernest Chausson's haunting 1896 miniature, Poème. Inspired by a romantic novella by Turgenev, the Poème rises from a hushed, mysterious introduction to a passionate and technically demanding cadenza before eventually dying away in a flurry of soft trills--equally demanding, if less flashy. Ms. Gomyo handled all the demands with apparent ease, and did so without stinting on the dark romanticism at the heart of the music.
The first half of the concert concluded with a straightforward virtuoso vehicle, the 1883 Carmen Fantasy by the Spanish violinist/composer Pablo de Sarasate. Sarasate's skill was legendary and this mini-concerto assembled out of themes from Bizet's opera bristles with technical challenges, including an elaborately ornamented version of the famous Habanera and the insanely fast finale, based on the Act II Danse bohème. Ms. Gomyo took it all in stride, bringing out all the yearning of the former as well as the flash and fire of the latter. As was the case in the Poème, her focus on the music was intense.
After intermission, the Spanish theme continued with a performance of Manuel de Falla's 1925 revision of a ballet that premiered in 1916, El amor brujo (usually translated as "Love, the Magician"). Originally commissioned by flamenco dancer Pastora Imperio, the ballet is infused with Andalusian folk elements and the percussive spirit of flamenco.
The spooky scenario, about a young woman trying to free herself from the obsessive intentions of her unfaithful husband's ghost, reads like something that would have been more appropriate around Halloween. There is dark, brooding music here--especially in the opening sequence, with its vivid evocation of a nocturnal cavern--but also moments of brilliance, like the famous "Ritual Fire Dance." There are even a few smoldering, passionate songs for the smoky tones of a mezzo soprano--a nod to the cante jondo, a dark and dramatic style of singing associated with the flamenco tradition.
This is immensely compelling stuff, and it got a powerfully theatrical performance from Mr. Märkl, the orchestra, and vocal soloist Catalina Cuervo. Although a soprano and therefore presumably singing at the bottom of her range, Ms. Cuervo nevertheless sounded entirely comfortable with her three highly charged, "take no prisoners" songs, delivered with a fierce intensity that was completely compelling. She also cut a commanding figure on stage with a form-fitting red gown, silver nails, and some very flamenco poses and foot stomping.
Mr. Märkl's interpretation exuded that same dramatic intensity, and was filled with neat little details, like the pointed snap of the viola trills in the "Ritual Fire Dance." He got great playing from the orchestra, including powerful moments from the horns and heartfelt solos from Principal Cello Daniel Lee and Concertmaster David Halen in the "Dance of the Game of Love." I can't recall the last time I saw any version of El amor brujo live (the SLSO hasn't done it since 1998), so it was a pleasure to see it performed so well.
Friday night's concert ended with one of the longest crescendos in musical history, Ravel's 1928 Boléro. Ravel himself apparently began to view it in somewhat the same way that Rachmaninoff came to view his equally popular Prelude in C sharp minor: as a career milestone that eventually became a millstone. But it's still a piece that never fails to entertain.
It certainly did that Friday night, with a brilliantly conceived performance that built expertly from the almost inaudible opening with snare drum and plucked strings to the massive orchestral crash of the final pages. Yes, Boléro is almost guaranteed to work as long as the conductor doesn't get in Ravel's way, but even so this was a performance that packed a real punch and brought down the house.
It helped, of course, that Mr. Märkl had an ensemble of virtuosos to work with. That includes, but is certainly not limited to, Associate Principal Clarinet Dana Haskell, Principal Bassoon Andrew Cuneo, Associate Principal Flute Andrea Kaplan, and Principal Trombone Timothy Myers. Guests Nathan Nabb and Jeffrey Collins on soprano and tenor sax, respectively, brought the same jazzy feel to their solos that they did the last time the SLSO played this piece in 2015. And let's hear it for Principal Percussionist Will James. Seated just behind the violas, he had the difficult and somewhat thankless role of playing the same snare drum figure repeatedly for around 17 minutes. There ought to be a medal for that.
The St. Louis Symphony Orchestra's mostly Spanish post-Thanksgiving feast repeats Saturday night at 8 and Sunday at 3, November 25 and 26, at Powell Symphony Hall in Grand Center. The music continues next weekend with an all-Vivaldi program conducted by Nicholas McGegan.
Related Articles