Classical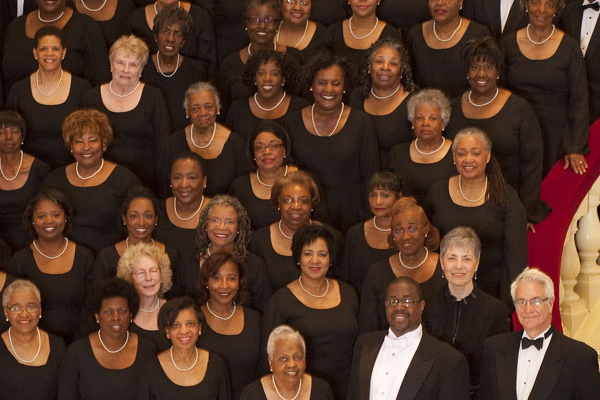 Symphony Preview: Christmas time is here
If you can't wait until December 25th to open your presents, take heart; the St. Louis Symphony Orchestra has some musical stocking stuffers for you right now.
December 14: Kevin McBeth leads the IN UNISON® Chorus in A Gospel Christmas -- The originally scheduled soloist, Grammy Award-winning jazz vocalist Dianne Reeves, has had to cancel due to unexpected health concerns. Appearing in her place will be St. Louis native Brian Owens, an accomplished singer and recording artist in his own right. The program will include Gospel favorites, popular Christmas tunes, and Yuletide classics like Adolphe Adam's "Oh Holy Night," with tenor Robert Jackson doing the high-flying solo. There's even a soulful version of the "Hallelujah Chorus" from "Handel's Messiah: a Soulful Celebration" by Paul David Wilson. Tenor Curtis McGruder will be the featured soloist for that one.
Celebrating its 21st season with the SLSO, the IN UNISON® Chorus is "an all-volunteer, 120-voice auditioned ensemble that performs a variety of musical styles, with a focus on the interpretation, performance, and preservation of the music of African-American and African cultures." Kevin McBeth, who became director of the chorus in 2011, is Director of Music at Manchester United Methodist Church and serves as full-time administrator for the Music Ministry, which includes 18 choral and handbell ensembles, involving nearly 500 youngsters and adults.
Note that this show always sells well and, in fact, only a limited number of tickets are available as this is being written.
December 15-17: The Mercy Holiday Celebration -- Resident Conductor Gemma New leads the orchestra and Holiday Festival Chorus (consisting of students from local schools and colleges conducted by Kevin McBeth) in a program of traditional carols and seasonal pop songs. The featured soloist is singer and actor Doug Labrecque, whose stage credits include the roles of both the Phantom and Raoul in the Harold Prince production of Phantom of the Opera.
The program this year includes one of my all-time favorite Christmas medleys, Leroy Anderson's A Christmas Festival, along with selections from Tchaikovsky's The Nutcracker, a mix of traditional and contemporary holiday songs, a "Holiday Sing-Along," and a suite from Alan Silvestri's score for the film Polar Express. There will also presumably be the annual "surprise" visit from Santa (usually played by the ever-charming Whit Richert). "Pops" events like this are usually big moneymakers for the orchestra and great fun as well. Only a dedicated Scrooge could complain.
December 19: The Bach Society Christmas Candlelight Concert -- Soloists Scott Kennebeck , Martha J. Hart and Sari Gruber join the Bach Society Chorus and Orchestra for Handel's Messiah and the usual assortment of traditional holiday carols. What makes this annual program truly special, though, is the candlelight procession that starts the second half.
The lights dim, and the members of the Bach Society walk down the aisles singing, each with an electric candle. If you're lucky enough to be sitting downstairs in the orchestra section, you find yourself surrounded by singers - some carrying the melody, some harmony, enveloping you in a constantly changing kaleidoscope of sound. Charles Ives would have loved it. It's a St. Louis tradition and every music lover should get to experience it at least once.
This isn't an SLSO event, but the SLSO is handling the ticketing and it does take place in Powell Hall, so I figured it's fair game for this article.
December 21-23: The Music of John Williams -- SLSO Music Director David Robertson is a great admirer of the work of famed film composer John Williams, and his concerts of Williams film music have become something of a holiday tradition in recent years.
Mr. Williams, who will turn 86 in February, is probably the best known and most frequently recorded film music composer of the last 100 years. He's certainly one of the most honored, with five Oscars, four Golden Globes, 22 Grammys, seven BAFTA awards, and, for all I know, a partridge in a pear tree. With 49 Oscar nominations, he is the second most-nominated individual in that award's history. His most visible work has been for blockbusters like Jurassic Park, the first Harry Potter film, the Indiana Jones films, and the Star Wars series, but Mr. Williams's involvement with the film music business extends all the way back to his days as a jazz keyboardist and film and TV studio pianist. Remember piano riff for Peter Gunn? That's him.
The program for this year hasn't been released yet, but the SLSO web site promises music from ET, Schindler's List, The Cowboys, Superman and Star Wars. If the concert two years ago was any indication, I'd expect selections from the Harry Potter films as well and if a program this close to Christmas doesn't include the popular "Christmas Memory" song from that Home Alone, I'll eat my mistletoe.
Related Articles