Classical
Classical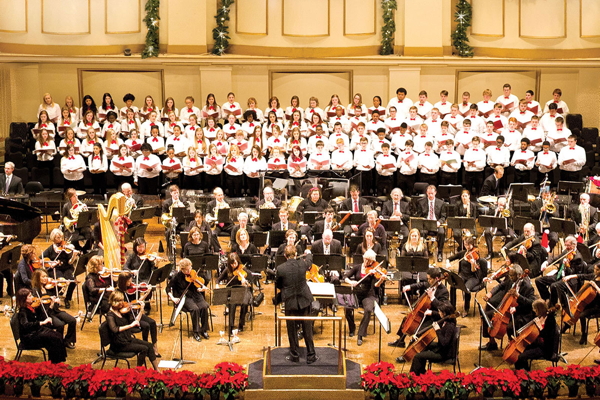 A holly jolly Holiday Festival with the St. Louis Symphony Orchestra
By
What with one thing and another, I haven't been feeling much in the holiday spirit lately, a situation not helped by seeing people walking around in t-shirts a week before Christmas. If that's the New Normal, get me a time machine, please.
Friday night (December 15th, 2017), though, the St. Louis Symphony Orchestra came to the rescue with its annual holiday show. What with the festive music, the seasonal décor at Powell Hall, and the potent Poinsettia Punch served at the bar, I soon started feeling like a right jolly old elf.
Things got off to an exuberant start as SLSO Resident Conductor Gemma New led her forces in a lively and nuanced performance of Leroy Anderson's Christmas Festival, an ingeniously arranged collection of classic carols that I have loved ever since I played the trombone part in my high school orchestra. I dare anyone not to smile at the finale, which combines "Adeste Fideles," "Joy to the World," and "Jingle Bells" in clever counterpoint.
This was my first chance to see Ms. New when she wasn't playing second fiddle to dinosaurs, and I have to say I was very taken with her elegant and fluid style on the podium and her charm as the evening's MC. Not every conductor is comfortable with a wireless body mic, but she seemed right in her element.
Up next were a couple of traditional carols arranged by Mormon Tabernacle Choir music director Mack Wilberg and performed, as is the case every year, by the Holiday Festival Chorus, composed of singers from area high schools. Ms. New conducted "Ding! Dong! Merrily on High" and then yielded the baton to chorus director Kevin McBeth for "Still, Still, Still." The kids sounded great, as they always do, and thanks to some fairly tasteful amplification they also were easier to hear than has sometimes been the case in the past.
Guest vocalist Doug LaBrecque took the stage next for engaging performances of "It's the Most Wonderful Time of the Year" (combined with "The Christmas Waltz") and "White Christmas." Mr. LaBrecque's theatrical background guaranteed a strong connection with the lyrics, and his strong tenor made his microphone a bit superfluous.
Ms. New brought the focus back to the orchestra with three all too brief selections from The Nutcracker. It was nice to have the "Dance of the Sugar-Plum Fairy," with an impeccable celesta solo as well as solid counterpoint from Diana Haskell and Tzuying Huang in the clarinet section, but I really wish we could have had the "Waltz of the Flowers" as well.
The Holiday Festival Chorus brought the concert's first half to a rousing conclusion with Mr. Wilberg's "Carol to the King," with its lively "fife and drum" interchanges among the flutes, trumpets, and snare drums.
The pop orientation of the concert continued in the second half, starting with a suite from Alan Silvestri's music for the film Polar Express (arrangement by Jerry Brubaker, Chief Arranger of the US Navy Band for 13 years). That was followed by something I hadn't heard before: the "Christmas Lullaby" by contemporary English composer John Rutter, who seems incapable of writing a Christmas song that isn't irresistible. If you've heard his "Donkey Carol" or Shepherd's Pipe Carol," you know what I mean.
Mr. LaBrecque returned as well to give us smooth takes on a couple of Great American Songbook standards and to take on the narrator role in Randol Alan Bass's cinematic treatment of "The Night Before Christmas," which he did with real theatrical flair. Backed by the chorus, he also turned in a performance of Adolphe Adam's "O Holy Night" that showed off his solid low notes and wide range.
Whit Richert's irrepressible Santa made his usual appearance, bringing out a child from the audience to "conduct" the orchestra in "Sleigh Ride," and the evening concluded with "A Holly Jolly Sing-Along." It was, in short, a program as bright as the blinking lights Roger Kaza and his fellow horn players attached to their instruments and as cozy as a red Christmas sweater (which, of course, I was wearing).
Sponsored by the Mercy Health System, the St. Louis Symphony Orchestra Holiday Festival continues tonight at 7:30 pm and Sunday at 2 pm, December 16 and 17, at Powell Hall in Grand Center. It's a bit less classically oriented this year than it has been in the past, but brimming with good cheer as always.
Seasonal events continue at Powell Hall, with the Bach Society's Christmas Candlelight Concert on December 19, The Music of John Williams (with David Robertson back at the podium) on December 21-23, Dreamworks Animation in Concert December 29 and 30 and, of course, the New Year's Eve Celebration (Mr. Robertson's last one as Music Director) on the 31st. They're now selling standing room tickets for that last one, which will give you some idea of how popular these holiday concerts can be.
Related Articles