Classical
Classical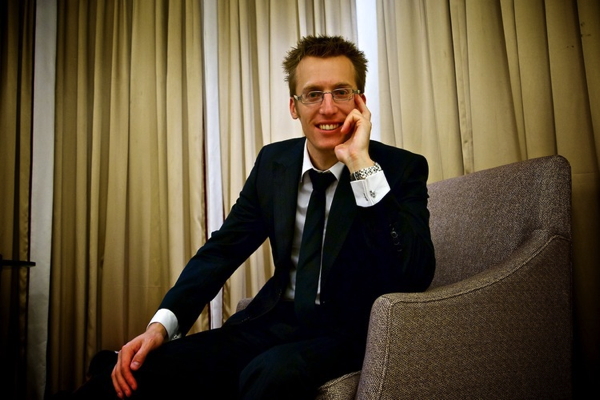 Symphony Preview: Fast away the old year passes
By
The week between Christmas and New Year's Eve is often a quiet one in Lake Woebegon, but the St. Louis Symphony Orchestra has a couple of big events coming up for the final weekend of 2017 nevertheless.
Friday and Saturday, December 29 and 30, 7 pm: DreamWorks Animation in Concert -- DreamWorks Animation is the animated film division of DreamWorks Studios, which was originally founded in 1994 by Steven Spielberg along with former Disney executive Jeffrey Katzenberg and recording industry mogul David Geffen. The DreamWorks Animation division of has been in the forefront of the digital animation revolution for nearly two decades now, with hits like Shrek, Kung Fu Panda, and Puss in Boots, to name only a few. The company has been very shrewd about producing animated movies that appeal to both kids and adults, with plenty of fast, colorful 3-D action mixed with sophisticated humor and sly parodies of pop culture. It has also engaged some of Hollywood's leading composers to write scores for its hit films.
DreamWorks Animation in Concert features music by, among others, Alexandre Desplat, Danny Elfman, Alan Silvestri, and Hans Zimmer. The concert features music from Mr. Peabody and Sherman, How to Train Your Dragon, Rise of the Guardians, Monsters vs. Aliens, and many other DreamWorks hits, with clips from the movies on the big screen to accompany the music. It's a kind of big, post-Christmas gift box for lovers of animation and film music.
Conducting the orchestra is composer and multi-instrumentalist Nicholas Buc. A graduate of New York University and a recipient of the Elmer Bernstein award for film scoring, Mr. Buc written for film and TV world-wide and has conducted a number of "in concert" film programs, including Pixar in Concert, Raiders of the Lost Arc, and Back to the Future.
Sunday, December 31, 7:30 pm: BMO Private Bank New Year's Eve Celebration - David Robertson conducts the orchestra for the last time as SLSO Music Director in the annual New Year's Eve gala. The SLSO web site promises "an enchanting evening full of magical music and unforgettable surprises." And by "surprises" they mean "the concert program" because that is, in fact, a secret that won't be revealed until the music starts.
Still, we can make educated guesses based on previous years. Expect lots of good humor, both from the music and from Mr. Robertson, who can be a very funny guy when he gets his hands on a microphone. In 2012, for example, the orchestra did Morton Gould's "Tap Dance Concerto" and featured some good-natured sing-alongs with the audience. Dance music has, in fact, been a major part of the New Year's concerts. And waltzes are always associated with New Year's Eve in any case.
The concert is immensely popular and is, in fact, sold out as this is being written. But don't despair! In 2015 St. Louis Public Radio began broadcasting the concert live and will do so again this year, starting with pre-concert conversations at 7 pm.
Related Articles