Classical
Classical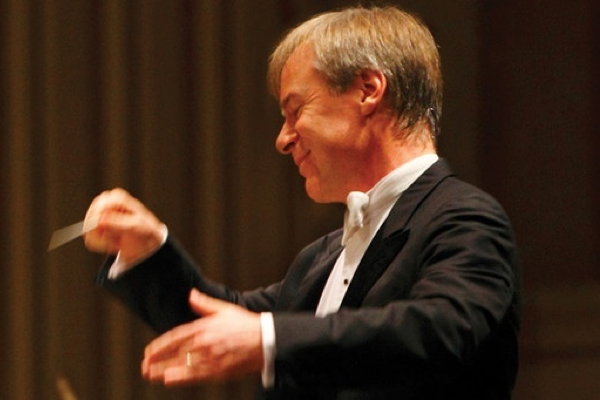 David Robertson's final New Year's Eve concert is a bittersweet joy
By
The St. Louis Symphony Orchestra's 2017 New Year's Eve concert was, I expect, a somewhat bittersweet occasion for both the audience and conductor David Robertson. It was the last one he will conduct as Music Director--his contract expires at the end of this season--and over the dozen seasons of his tenure he has endeared himself to local audience as well as to yours truly.
Although I have been covering the SLSO for many years now, this was my first opportunity to attend the annual New Year's Eve celebration. I had read about what a festive occasion it was and I was not disappointed. With Mr. Robertson chatting and cracking jokes between numbers, the evening was nicely balanced mix of classics both light and substantial, along with more popular numbers and even an excerpt from the score Charlie Chaplin wrote for his film Modern Times.
The orchestra first performed the Modern Times score back in 2007 as the film played out on the screen. Associate Principal Oboe Cally Banham played the English horn solo in the film's big tune, "Smile," back then in her first season with the SLSO and she repeated it on Sunday, to beautiful effect, along with Principal Horn Roger Kaza.
Mr. Robertson has always been effusive in his praise of the SLSO musicians, and the program he put together for his final New Year's concert gave many of them chances to shine. That included, but was hardly limited to, Principal Trumpet Karin Bliznik in the Liszt/Doppler Hungarian Rhapsody No. 2, Mr. Kaza in Ravel's Pavane pour une infante défunte, and the entire percussion section in John Adam's dynamic Short Ride in a Fast Machine.
Concertmaster David Halen also turned in an impressive violin cadenza in the Hungarian Rhapsody, immediately following which Mr. Robertson held up a sign that said "Wow!" It was one of the many funny bits that Mr. Robertson distributed freely throughout the concert, and which added to the celebratory atmosphere. This was an evening as bubbly as the champagne available at the bar.
That's not to say that there weren't more solemn moments. Reflections of the way the SLSO became a representative of the St. Louis area after the events in Ferguson led to a moving performance, with members of the IN UNISON Chorus and Symphony Chorus, of the setting of the spiritual "Deep River" that concludes Michael Tippet's oratorio A Child of Our Time. It was preceded by an equally powerful a cappella rendition of "Swing Low, Sweet Chariot," with IN UNISON director Kevin McBeth taking the podium so that Mr. Robertson could join the singers.
Mr. Robertson would take the vocal solo spot later in the evening [delete comma] with "Trouble" (from The Music Man), accompanied by the chorus and orchestra under the baton of Chorus Master Amy Kaiser, who tap danced her way out to the podium. Like, I said: bubbly.
There was also a haunting performance of Moonlight (from Britten's Four Sea Interludes from Peter Grimes), in recognition of the orchestra's highly praised Carnegie Hall performance of the complete opera back in 2013. This is music that demands a lot, especially in the delicately scored opening and conclusion, but the SLSO musicians did it to perfection.
Speaking of perfection, what could possibly have been better than SLSO violinists Xiaoxiao Qiang and Joo Kim, in their bright formal gowns, playing the hell out of Sarasate's flashy Navarra? This short work is typically demanding of its two soloists, with rapid passages and a LOT of harmonics, but they carried it off in excellent style.
The concert concluded with a rousing Candide Overture (another piece that asks a lot of the orchestra), followed by an unexpectedly charming encore as Mr. Robertson's young sons Nathan and Alex took up violin and piano, respectively, to join the band in "The Missouri Waltz" while their mom, pianist Orli Shaham, captured them on video with her smartphone. After which, we all sang "Auld Lang Syne" and made our various ways home, filled with both seasonal cheer and the understanding that this was something like the end of an era.
Like I said: bittersweet.
The St. Louis Symphony Orchestra resumes its regular season January 12th and 13th, as Mr. Robertson conducts the orchestra and violinist Augustin Hadelich in Britten's Violin Concerto, Shostakovich's Symphony No. 1, and a suite from the opera Powder Her Face by Thomas Adès. The concerts are, as always, at Powell Hall in Grand Center.
Related Articles