Community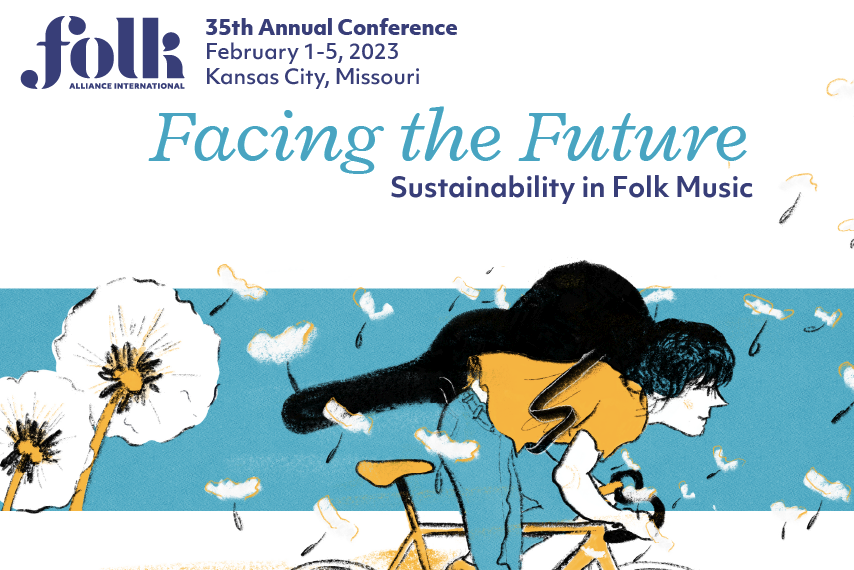 KDHX Media Sponsorship Event Profile: The 2023 Folk Alliance International Conference
Written by

KDHX
 The Folk Alliance International Conference, presented by Folk Alliance International, is the world's largest gathering of the folk music industry and community.
The 2023 Folk Alliance International Conference will be held at the Westin Crown Center Hotel in Kansas City, Missouri from Feb. 1st through Feb. 5th. The theme of the 2023 Folk Alliance International Conference is Facing the Future: Sustainability in Folk Music. 
For more information, Folk.org. 
Mission:
Folk Alliance International's mission is to serve, strengthen, and engage the global folk music community through preservation, presentation, and promotion.
Vision:
Folk Alliance International's vision is to advocate for the folk music community; create thoughtful, intentional growth; be a respected organization within the music industry; and continue to produce high profile, meaningful events. 
Values: 
FAI values diversity, equity, inclusion, and access, strives to ensure gender parity in all its programming, celebrates multiple languages and cultures, and actively welcomes participation from marginalized, disenfranchised, and underrepresented communities. We believe that greater diversity throughout the organization allows Folk Alliance International to:
Build a more creative and compassionate community. Folk music has historically been inclusionary at all levels and by nature brings community together. It has often been a part of movements for social and political change.
Spur awareness of other cultures and perspectives. We value sharing knowledge and conducting ourselves in a respectful manner. Interaction with a broader membership base introduces us to traditions from different countries and regions, along with perspectives of sub-communities within Folk Alliance International. Openness to and acceptance of these varied interests and perspectives will lead to greater inclusion and participation.
Provide enhanced opportunities for the organization and members. These additional viewpoints and communities will support our intrinsic value by fostering international and multicultural understanding, allowing FAI to make a greater impact in the music community and the world at large. We also believe that bringing greater diversity to the organization will challenge our assumptions while revealing our similarities. It will have indefinable, intangible, and unpredictable effects. The costs of international expansion are worthwhile and of value.
FOLK ALLIANCE INTERNATIONAL: Preserve. Promote. Present.
Preserve. In our aim to preserve the folk genre, our Lifetime Achievement award was created to honor the cultural impact of legendary folk music figures.
Promote. Our annual conference brings together 3,000 members of the folk community and features showcases, educational panels and workshops, networking, and more.
Present. In addition to our annual conference, which serves an international audience all in one place, we present our Finest Folk showcasing series at our Kansas City office and other national showcasing events in the roots genre.
Who are we? 
Folk Alliance International (FAI) is an international arts nonprofit and NEA-designated National Arts Service Organization based in Kansas City, Missouri, USA. Founded in 1989, we're a community of passionate and driven artists, managers, agents, DJs, festivals, record labels, fans, and more. We exist to keep the tradition of folk music thriving through preservation, presentation, and promotion. Folk is more than just a genre of music. We're committed to the ethos of folk by creating a welcoming and inclusive space for all, no matter what it takes. We understand the value of folk music and where it fits in with the broader arts community and have dedicated our lives and careers to pushing the genre forward and breaking boundaries. We've built our community over the years to now include an expanded global network of more than 3,000 cultural sector entrepreneurs and leaders. Through our responsive programming built on the foundation of community building, and dedicated resources intended to support those who create this art form we love, we hope to continue sharing the music of the people for years to come. FAI is a proud member of the Alliance of Performing Arts Conferences (APAC) and the Performing Arts Alliance (PAA).
So… what is folk music? 
Folk is the music of the people, reflective of any community they are from. It's the banjo traditions that originated in Africa, it's mariachi ensembles, and it's electronic-infused fiddle tunes. We don't limit folk to any one genre or group of instruments. At its roots, folk music is how people have shared their stories through time that have survived long enough to be sung generations later. FAI programs a diverse array of sub-genres including, but not limited to Appalachian, Americana, Blues, Bluegrass, Celtic, Cajun, Global Roots, Hip-Hop, Old-Time, Singer-Songwriter, Spoken Word, Traditional, Zydeco, and various fusions.
---
By providing in-kind media sponsorship to local nonprofit organizations, KDHX exposes listeners to a variety of cultural, artistic and community experiences that entertain, promote discourse, and increase participation in our community.
For more information and to be considered for a KDHX Media Sponsorship, fill out the online Media Sponsorship Application.