Community Connections
Community Connections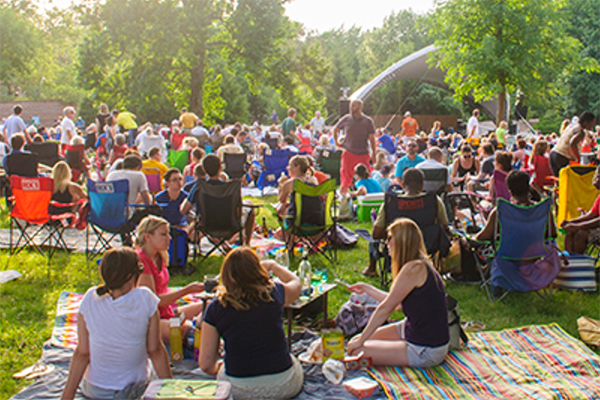 KDHX Media Sponsorship Event Profile: The Whitaker Music Festival
By Ronnie Wisdom
The Whitaker Music Festival is a beloved summer tradition that presents free Wednesday evening concerts under the stars.
The festival is funded by the Whitaker Foundation, which supports St. Louis arts and parks to promote common heritage, celebrate diversity and encourage vitality within the community. 
New this year, free advance reservations are required for admission to the Whitaker Music Festival (maximum of 10 admissions per reservation). 
Free reservations will be available three weeks prior to the first concert date (June 1) on May 11.  Reservations for each subsequent performance will be available one week before the concert date on the preceding Thursday morning. 
Free reservations will be available first to Garden members beginning at 10 a.m. and to the general public beginning at noon on each weekly on-sale date.  Reservations will remain available until the concert start time or until capacity of 5,000 reservations is reached. Please secure your reservations well in advance to guarantee entry. 
No glass bottles or firearms are allowed on Garden grounds. Security bag checks will take place at each entry location (Temporary Visitor Center and Cleveland Avenue Gate).
Free entry for those with advance reservations begins at 5 p.m. on each performance evening (last entry at 8:15 p.m.). KDHX DJs will spin live from 5-7 p.m. Live music begins at 7 p.m.
Free admission to the Doris I. Schnuck Children's Garden available from 5–7 p.m. (advance reservations not required for Children's Garden entry).  
​​2022 Whitaker Music Festival Schedule
June 1
Jeremiah Johnson Band
KDHX DJ "Soul Selector" Papa Ray 
June 8
Karen Choi
KDHX DJ Ace of Sonic Space 
June 15
Old Souls Revival
KDHX DJ Steve Pick of Sound Salvation
June 22
Annie and the Fur Trappers
KDHX DJ T.J. Muller of The Riverboat Shuffle 
June 29
Arcadia Dance Orchestra
KDHX DJ Sunny Boy Mason of Howzit Bayou? 
July 6
We Are Root Mod
KDHX's DJ sheBEATZ of She HEALz Radio
July 13
Sweetie and the Toothaches
KDHX DJ Caron of Wax Lyrical 
July 20
Mo Egeston All-Stars
KDHX's DJ Lady Jock of Music My Way 
July 27
The Soulard Blues Band 
KDHX DJ Jim Bruce of Higher Ground 
August 3
Old Salt Union
KDHX DJ Keith Dudding of Down Yonder