Community Connections
Community Connections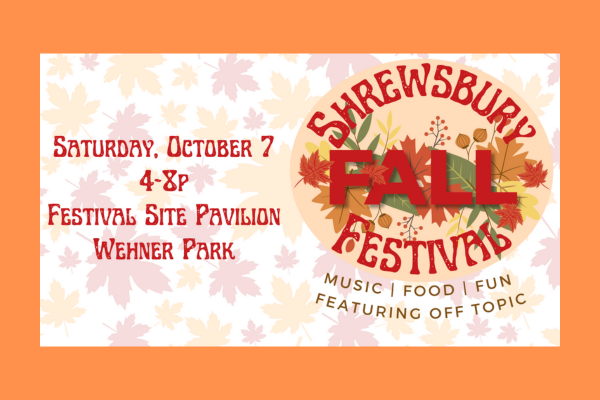 Community Spotlight: Shrewsbury Fall Festival
By
The city of Shrewsbury Parks and Recreation Department hosts their Annual Fall Festival on Saturday, October 7th from 4-8 pm in the Wehner Park Festival Pavilion located at 5200 Shrewsbury Ave.

The annual Shrewsbury Fall Festival celebrates the season with food, music, and fun for all ages.
For more information, click here.
---
Mission statement:
The Shrewsbury Parks & Recreation Department will provide well-rounded, quality programs and significant resources by anticipating and responding to customer needs, while enhancing the sense of a close, safe community for all current and future participants.
Parks and recreation services are often cited as one of the most important factors in surveys of how livable communities are. Parks provide gathering places for families and social groups, as well as for individuals of all ages and economic status, regardless of their ability to pay for access. Parks provide intrinsic environmental, aesthetic, and recreational benefits to our cities. They are also a source of positive economic benefits. They enhance property values, increase municipal revenue, bring in homebuyers and workers, and attract retirees.

The Shrewsbury Parks and Recreation Department provides a source of pride for our community. Our department manages several facilities indoors and outdoors. We oversee the City Center which includes 5 meeting rooms, a Grand Ballroom, gymnasium, as well as a weight room. Our four City parks include walking trails, pavilions, athletic fields, tennis courts and a family aquatic center. With these outdoor spaces, over 80% of Shrewsbury residents live within a 10-minute walk of a park.

In addition to the facilities the Shrewsbury Parks and Recreation department hosts a variety of Special events including our Annual Fall Festival, Tree lighting, and Summer Park Parties. Our staff provides a wide variety of programs suitable for all ages and abilities, including programs for kids, adults and seniors, summer camps, youth theater and a range of fitness classes among others.
View the Fall 2023/Winter 2024 Activity Guide